John Marcante, CIO and Managing Director, of Vanguard, the largest mutual fund company in the world, manages an organization of thousands of IT personnel people who support more than 14,000 employees. In a company where data is, essentially, the product, the IT organization must consider "continuous improvement" to be its steady state.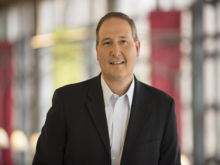 Last week, I posted a blog on Marcante's approach to leadership development. This week, I follow up with his take on communicating IT strategy with IT's business partners, and to driving innovation at Vanguard.
What is your approach to communicating IT strategy and value to the executive committee?
Our IT strategy journey has gone through several steps, resulting in a number of strategic and transformational initiatives. It started with examining the new and enduring trends impacting our IT organization: volatility in the financial industry, cyber threats that are ever more sophisticated and persistent, the fact that Vanguard is now a global company, and how technology continues to innovate at a staggering pace. These realities shaped our approach to defining our IT strategy.
The Flywheel:
In light of these new and enduring challenges and opportunities, we recognized the need to step back and envision our future state. Our leadership team used Jim Collins' "flywheel" concept to capture our core values and objectives for IT, and how we believe IT provides value to our business.
The Roadmap:
From there, we began to execute our strategy. We generated a multi-year roadmap of strategic initiatives, using our flywheel to prioritize. Some examples of in-flight initiatives include: an internal Net Promoter Score system for implementing closed-loop feedback with our business clients, new technology programs including cloud computing and Big Data; and globalization of our IT processes and support model.
The Scorecard:
To enable the transformation, we made some structural changes in our IT organization and ensure the right leaders were in the right seats to drive the change. Finally, we created a scorecard for IT to evaluate our progress. This scorecard has outcome-oriented measures for each dimension of our flywheel, giving us a concrete way to measure the value we produce for the company.
Our flywheel, roadmap, and scorecard have been very helpful when it comes to communicating our strategy and value to our executives. By mapping out that future state, and continuing to promote it in forums across the company, we've been able to build awareness and excitement for our plans. We're committing to a future where technology continues to be an enabler and accelerator of new products and services.
How do you build a culture of innovation into your IT organization?
CTO Office:
We created a formal CTO office not only to stay abreast of new technology but also to drive change internally. What is unique about our CTO office is that in addition to designing our next generation technical architecture, it also drives that design from concept to first production release. We are managing many of our bigger programs, including our cloud initiatives, through the CTO office.
Innovation Team:
Within our CTO office, we have an Innovation Team that partners with the business and IT to envision the possibilities of emerging technologies and increase the speed of their adoption. These teams take new ideas, concepts, and technologies through emergence, understanding, evaluation, experimentation, and, eventually, adoption.
To ensure we focus on the opportunities that add the most value, the team works with our business and IT partners to understand both business strategy and technical feasibility. This group comprises a newly-formed Innovation Council that helps us to better source and prioritize our innovation initiatives; it also gives the team access to guidance from senior leadership when they need additional support or funding to move forward.
Internal Crowdsourcing:
We also rely on the power of crowdsourcing to gather ideas. We hold an Ideation Challenge each year to solicit input from employees on themes like emerging technologies, architecture improvements, and IT wide processes. We then deepen our knowledge of selected topics by facilitating volunteer teams to conduct additional research and make recommendations on next steps to senior leadership. Employees also have the ability to make suggestions for incremental improvements and innovations via our Kaizen process.
Distributed Innovation Groups:
Promising ideas can be sourced through Distributed Innovation Groups (DIG). Potential projects are posted internally and employees can sign up for an individual project, or detail their skills and be matched to a project that best makes use of their abilities. Employees may also experiment with new technologies in a virtual lab dedicated to that purpose. As an example, our very first iPhone application was originally developed by a DIG team, and we currently have a DIG team experimenting with a Google Glass application.
We believe that allowing our employees to be innovative at work will result in higher engagement and productivity. To that end, we encourage our employees to participate in innovation initiatives, by allowing them some time away from their defined responsibilities, and inspiring them to participate in this model by communicating how their involvement contributes to our broader corporate goals.
About John Marcante and Vanguard
John T. Marcante is Vanguard's chief information officer and managing director of Vanguard's Information Technology Division. Vanguard is the world's largest mutual fund company with more than $2.6 trillion in global assets under management. Mr. Marcante oversees all aspects of Vanguard's worldwide technology agenda to serve clients and manage investments. Mr. Marcante, with more than 26 years of experience in the business and technology fields, joined Vanguard in 1993. After serving in a number of leadership roles throughout the company, he returned to the IT division in 2012 and was named Vanguard's chief information officer and managing director.
From 1998 to 2001, Mr. Marcante led Vanguard's Institutional IT organization, supporting Vanguard's Institutional Investor Group, which serves institutions, such as endowments and foundations, and is a leading provider of company-sponsored retirement plans.
Shortly after September 11, 2001, Mr. Marcante became the head of Global Technology Operations, focusing on data center management and disaster recovery. He was responsible for building out and managing Vanguard's global infrastructure.
From there, Mr. Marcante moved from IT to lead Vanguard's Unmatchable Excellence program in 2004, where he managed Black Belts throughout the company with the chief purpose of creating an internal Six Sigma and Lean consulting organization focused on helping Vanguard's businesses achieve their strategic goals. The following year, Mr. Marcante rotated to Vanguard's Advice Services organization, where he managed CFPs (Certified Financial Planners) with the mission of re-engineering how Vanguard serves clients with financial advice.
In 2006, Mr. Marcante assumed leadership of Vanguard's Asset Management Services and the Flagship group, which serves high-net-worth individuals. He led a major effort to reinvent the Flagship service model to maximize client loyalty.
Vanguard, headquartered in Valley Forge, Pennsylvania, is one of the world's largest investment management companies and a leading provider of company-sponsored retirement plan services. Vanguard manages nearly $2.7 trillion in U.S. mutual fund assets, including more than $380 billion in ETF assets. The firm offers more than 160 funds to U.S. investors and more than 120 additional funds in non-U.S. markets.