NEW YORK CITY — IBM will host the grand opening of its IBM Watson Global Headquarters at 51 Astor Place in the heart of New York City's "Silicon Alley" tomorrow morning. The 12-story building, designed by architect Fumihiko Maki (designer of Tower 4 of the new World Trade Center) and located just steps from the Cooper Union for the Advancement of Science and Art, will be the home base for more than 600 IBM Watson employees.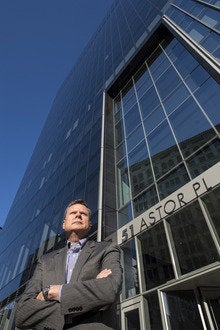 "Being part of Silicon Alley is very exciting," says Ed Harbour, vice president of the IBM Watson Group. "We're near NYU and Cooper Union. You always want to be close to where you can pull talent from universities. We're also not that far from Columbia and St. John's. The East Village is going through quite a revitalization. This is the place for Watson. We represent the new IBM. What better place to do it than Silicon Alley?"
Harbour adds that IBM has been busy building academic partnerships with many local colleges and universities to equip students with skills they'll need to excel in cognitive computing, big data and analytics. This fall, students at New York University (NYU) will be among the first nationally to take advantage of a cognitive computing curriculum, and City University of New York (CUNY) students are participating in a semester-long Watson Case Competition in which they are working to develop new applications based on Watson technology.
Tapping the Startup Community
But it's not just students who are bringing IBM to Silicon Alley. Harbour notes that IBM hopes to tap the Silicon Alley startup community by opening the headquarters' doors to area developers and entrepreneurs, hosting industry workshops, seminars and networking opportunities. The headquarters will provide a business incubator offering the technology, tools and talent to create and launch new products and businesses based on Watson's cloud-delivered cognitive intelligence.
[Related: IBM Uses Watson as Part of New Cloud Service]
The headquarters will feature an interactive client experience lab where clients can experience Watson and learn how Watson can help transform their businesses. It will also host a design lab for continuously enhancing the user experiences for cognitive applications and services used by IBM clients and partners.
"We have an 'immersion room' where you can actually feel like you're inside Watson's brain," Harbour says. "Watson actually lives here."
Watson Coming to a Country Near You
In addition to the New York City headquarters, the IBM Watson Group, which has more than 2,000 employees worldwide, is opening five strategically located Watson Client Experience Centers around the world that will host IBM Research and Design teams focused on client success by providing the support and skills needed to adopt the cognitive platform. The centers will be located in Melbourne, Australia; S ão Paulo, Brazil; London, England; and Dublin, Ireland.
[Related: IBM Looks to Outsmart Big Data Competition With Watson]
Coinciding with the grand opening, IBM also announced that it is adding new cognitive services that will be available on IBM Bluemix, its cloud-based platform for mobile and web app development. Bluemix runs on IBM's SoftLayer global cloud infrastructure.
The new services include the following:
User modeling. This service uses linguistic analytics to extract a set of personality and social traits from the way a person communicates. The service can analyze any communication the user makes available, such as text messages, tweets, posts, email and more.
Machine translation. This service converts text input in one language into a destination language for the end user. Translation is available among English, Brazilian Portuguese, Spanish and French.
Language identification. This service detects the language in which text is written to help inform next steps like translation, voice to text or direct analysis. Currently, the service can identify 15 languages.
Concept expansion. This service analyzes text and interprets its meaning based on usage in other similar contexts. For instance, it can interpret "The Big Apple" as "New York City." It can be used to create a dictionary of related words and concepts so that euphemisms, colloquialisms or otherwise unclear phrases can be better understood and analyzed.
Message resonance. This service analyzes draft content and scores how well it is likely to be received by a specific target audience. Currently, it can perform analysis against text written by people active in cloud computing or big data discussions, but IBM says future versions will let users provide their own community data.
Relationship extraction.
This service parses sentences into their various components and detects relationships between the components. The service maps the relationships between the components so that users or analytics engines can more easily understand the meaning of individual sentences and documents.
Question & answer. This service interprets and answers user questions directly based on primary data sources that have been selected and gathered into a body of data or "corpus." The service returns candidate responses with associated confidence levels and links to supporting evidence. The current data corpora on BlueMix focus on the travel and healthcare industries.
Visualization rendering. This service takes input data and graphically renders it as an interactive visualization that can range from a common business chart to more advanced layouts. The visualizations can be modified to match user needs, visual styling and types of data analyzed.