If you're tempted to buy Amazon's latest version of its Kindle Fire HDX 8.9 tablet ($379 and up) when it's released on Oct. 21, here's one more potential selling point: Free Washington Post content via a new WaPo app that comes preloaded on the new Fire tablet.
Notice that I wrote "potential" benefit. That's because, as of this writing, it's not clear how long owners of the new Fire will enjoy a free Post digital subscription, which otherwise costs $15 a month.
An Oct. 6 Businessweek.com article on the new WaPo app says only this:
"The app will be free for owners of the larger Kindle, at least at first…A Post spokesperson declined to comment."
Neither The Washington Post nor Amazon published press releases on their sites to disclose details on the app. And as of this writing, I'm still waiting to hear back from Amazon's PR department.
It's unclear if free WaPo content will be an ongoing benefit for new Fire tablet owners. However, if you want more reasons to consider buying one, check out Al Sacco's article from late 2013, "8 Things Kindle Fire HDX Does That iPad Air Can't."
Here's what we do know: The Android version of the new WaPo app, which serves up curated Washington Post content in a magazine-like, tablet-friendly format, is available now for free via Amazon's Appstore and Google's Play store. You get a one-month free trial, but after that, you have to pay to play, aside from the 20 free stories you get each month.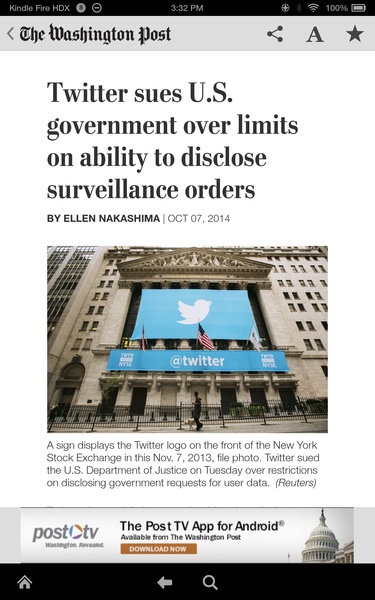 As of this writing, WaPo hasn't released a similar app for iOS. The Post's iPhone app was last updated Sept. 19; its iPad app hasn't been refreshed since Aug. 1.
All that aside, the new WaPo Android app is a winner. As much as I love the bite-size news summaries of Circa News and Yahoo News Digest, I still want to read longer-form news, particularly when consuming my morning mop-bucket-size latte. The WaPo app delivers the goods in a curated offering of the Post's news stories, opinions, and features, which are organized by topical categories for easy browsing. You can also download a digital version of the day's Washington Post print edition.
Releasing the WaPo app for Kindles and other Android devices is a shrewd, logical move by Amazon, whose leader, Jeff Bezos, bought the storied newspaper last year. Of course, it's hard to say if a free WaPo digital subscription will be enough to make shoppers click the site's "buy now" button for the latest Fire tablet (or, for now, its "pre-order" button). I also don't understand why The Washington Post and Amazon have been secretive about the details of this splendid new app.
In any event, the app is worth a download, if only for the 20 free articles every month. As David Carr of The New York Times recently noted, The Washington Post "is in the middle of a great run, turning out the kind of reporting that journalists — and readers — live for."
(Disclosure: I consult for a company that has Amazon as a client.)