BEVERLY HILLS, Calif. – Social media is an opportunity unfulfilled in Hollywood. It bears surprisingly little to no impact on the success of films and TV shows, according to a group of seven film studio executives speaking here at The Grill.
The social imprint of talent, while appreciated, rarely impacts the casting decisions made by these movie studio bigwigs. Working with actors who maintain large social presences is a plus, "but it certainly doesn't drive anything," says Sue Kroll, president of worldwide marketing and international distribution at Warner Bros. Pictures.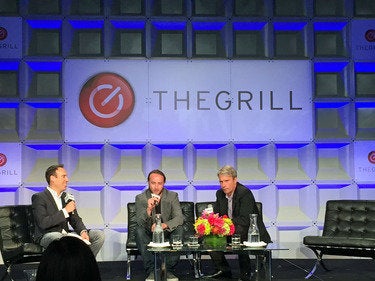 The most socially savvy actors in Hollywood will tweet something every day from the set or table readings "and it hasn't made a difference," Kroll adds. "If the combination of things is not right… it's not going to matter. You have to get the whole mix of it right, and [social media] alone is not enough."
[Related: Why Ello is Just an Overhyped Anti-Facebook Social Wannabe]
Facebook and Twitter have been courting film and TV studios for years, but the rather frank assessment by Kroll and her colleagues suggests they've done little to effectively win over those calling the shots in this town. Social media's ability to lift the reach and engagement of TV shows doesn't appear to be as solid as the latest research from Twitter shows.
Magic Trumps Social Reach of Talent
"All of us are in the business of creating magic for people. That magic is so much more important than the social reach of talent," says Greg Silverman, president of creative development and worldwide production at Warner Bros.
Facebook and Twitter aren't the first or the only social networks trying to gain the interest of major entertainment studios, they just happen to be the two largest players doing so today. Few individuals understand why Hollywood is so reticent to embrace social media more than Chad Hurley and Chris DeWolfe, co-founders of YouTube and MySpace, respectively.
The pair are no longer involved in the companies that brought them fame and fortune, but their thoughts on the future of social media carried a unique perspective here.
Hurley, now the CEO of the video creation platform MixBit, says he's intrigued by the rise of anonymous sharing but he believes identity still serves a greater purpose online. The instances where identity might be holding someone back from sharing content are rare, he says.
"If you want to become famous, you share it with the world," says Hurley, explaining why MixBit decided to drop the capability to upload videos anonymously.
[Related: How Facebook Plans to Control Digital Advertising]
"I'm still excited about the potential for video and I think there's still many problems yet to be solved," he says. "I still don't think there's tools to help the individual everyday user to make sense of the content they're using."
Hurley may be one of the pioneers of online video, but even he finds the current landscape complex and unwieldy at times. "I'm like everyone else, it's hard for me to keep up," he says, when asked where he watches video today.
Future Generations Will Know CNN and YouTube Stars
"The kids turn on the TV from time to time, but what I find interesting is that they're playing Minecraft while watching Minecraft videos," Hurley says. "Kids don't necessarily come home from school and turn the TV on anymore" because they're more likely to open their laptop to turn to their mobile devices for entertainment.
"I just think it's a mix and I think that the kids of the world growing up today will know CNN, but they'll also know some random YouTube stars," he adds.
[Related: A Look Inside the YouTube Culture]
While YouTube is still a dominant force with a persistent presence in Hurley's life, DeWolfe can't say the same about his previous venture. DeWolfe admits that he doesn't even peek at MySpace anymore. "I'm not saying anything good or bad, I'm just not sure what's going on there," he says.
DeWolfe has turned his attention to social gaming, an area that happens to be much more compatible and already beneficial for film and TV studios. Games for hit shows like "Family Guy" or "The Simpsons" will make hundreds of millions of dollars, says DeWolfe.
His strategy as the co-founder and CEO of SGN (Social Gaming Network) is to secure intellectual property rights for about 30 percent of all new releases. "As the App Store becomes increasingly more crowded, it's great to have IP associated with it," he says for mobile games trying to rise above the fray.
With the right brand blowing wind in your sails, the contribution margin from a game can be larger than a TV show, film or any other piece of content, he says. "You have to think about gaming first when you acquire IP or are making a piece of content."
DeWolfe says he'll keep working for the rest of his life as long as he can "generate happiness or distraction or enjoyment" in the lives of others. "I'm all about seeing people use a product that my company built," he says.