Three of the world's leading social networks — Facebook, Twitter and YouTube — are woefully lacking in their response to online abuse, harassment and violence against women, according to a new report card from the Association for Progressive Communications' Take Back the Tech campaign.
After commissioning research into the corporate policies of these companies, the group gave Twitter and YouTube a failing grade while Facebook received a D+ overall. All three received an F for their "absolute failure to take any visible action" on a public commitment to human rights standards.
All three companies were graded on five additional factors including the following:
Transparency around reporting and redress — Facebook: C; Twitter and YouTube: D
Simplified and easily accessible reporting mechanisms — C grades for all three
Responsiveness to needs of non-US/European women — F for all three
Engagement with stakeholder groups — Facebook: B; Twitter: C; YouTube: F
Proactive steps to eradicate violence against women — Facebook: C; Twitter and YouTube: F
[Related: Why Ello is Just An Overhyped Anti-Facebook, Social Wannabe]
Facebook: D+
Victims of technology-related violence will find that Facebook provides the most information about its reporting process, but few details are given about how complaints are dealt with and what tests or thresholds are applied, according to the study.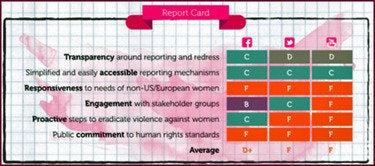 "Without information on the demographics and training of complaints handlers, it is difficult to know if there is any appreciation for cultural and international issues related to violence against women," the group writes.
Facebook is now consulting with stakeholders to improve processes and has taken at least one proactive step to eradicate violence against women by working with the National Network to End Domestic Violence on a privacy and safety guide for survivors, the research found.
[Related: How Facebook Plans to Control Digital Advertising]
Twitter: F
While Twitter does not provide data on the types or numbers of reports it handles related to violence against women, it does share significant information about circumstances of law enforcement cooperation.
Twitter expressed interest in opening a dialogue with women's rights communities beginning in the summer of 2013, but little if anything has materialized since then. "There is no indication that Twitter consulted women's groups or activists in the design of its grievance mechanism, nor is there any provision for feedback from the public and civil society on processes or mechanisms," Take Back The Tech writes in the report.
"No concrete or genuine steps were taken to promote women's rights and specifically address violence against women until public scandals and high-profile campaigns emerged."
YouTube: F
YouTube was the only company willing to be interviewed by the researchers working on this study. During which, it revealed that reports of abuse are sorted via an algorithm while high-profile or extremely sensitive reports go to a team of individuals from policy, legal and public relations departments. No records are kept on the individual making a complaint on YouTube.
[Related: A Look Inside the YouTube Culture]
YouTube shared no further details about its reporting process and provides no data about the types or numbers of reports it receives. The company's failing grade can also be attributed to it's lack of cooperation with stakeholders or community groups.
"YouTube has made no public effort to solicit feedback form the women's rights community as to the effectiveness of its responses to violence against women," the group writes in the report.
Take Back The Tech initiated its first campaign in 2006. The group says it will soon provide final reports with more details about its findings that were used in the report card on social media and violence against women.