YouTube stars are more popular than mainstream celebrities among U.S. teens, and the platform drives more sales than any other social platform today, according to recent research. YouTube has a commanding lead in the majority of categories, and nearly every company that's trying to give YouTube a run for its money is lost somewhere in the fog.
YouTube earned its place in the sun because of its massive reach, simple interface for both users and content creators, and a built-in audience for advertisers. The site offers all of this without shoving ads down its users' throats, says Joel Holland, CEO of VideoBlocks, a company that sells stock footage to brands and media companies.
"Online video advertising is this kind of new beast. There's a ton of inventory and everyone knows that there's a way to make it valuable, but it's very different than television advertising or any other sort of video advertising of the past," Holland says.
[Related: Social Media Still Has Little Marketing Impact in Hollywood]
Most video sites force users to watch pre-roll ads that can quickly create a negative impression of that brand. YouTube uses skippable ads that may seem counterintuitive, but advertisers ultimately benefit because they don't have to pay for unwanted impressions, according to Holland.
"They tout the fact that 75 percent of their ads are now skippable," Holland adds.
6 Billion Hours of Video Every Month
Each month YouTube sees more than a billion unique visitors who watch more than 6 billion hours of video. The platform reaches more U.S. adults aged 18 to 34 than any cable network, and 80 percent of its traffic comes from outside the United States, according to the company's latest figures.
A survey of 1,500 U.S. teens commissioned by Variety last summer found that the five most influential figures among Americans aged 13 to 18 are all YouTube stars.
The research also determined that YouTube stars score significantly higher than traditional celebrities when considering the characteristics most likely to influence purchases among teens. Teens said they appreciate YouTube stars' more candid sense of humor and lack of filters. The overall result is that YouTubers are considered more engaging, more extraordinary and more relatable than mainstream stars, who are seen as being smarter and more reliable, according to the survey.
[Related: Audience is Dead, Long Live Active Content Consumers]
"If YouTube stars are swallowed by Hollywood, they are in danger of becoming less authentic versions of themselves, and teenagers will be able to pick up on that," the report's author and celebrity brand strategist Jeetendr Sehdev told Variety. "That could take away the one thing that makes YouTube stars so appealing."
That authentic appeal is also fueling YouTube's ability to introduce new products and drive conversions, making it the strongest performer of all social networks on both of those key metrics. Of course being the leader in online video has its perks when the medium has proven to be such an important format for advertising.
YouTube is the only or last touch point in the path-to-purchase funnel 14 percent of the time, according to new research from AOL. The platform is also first in the funnel position by social network 18 percent of the time.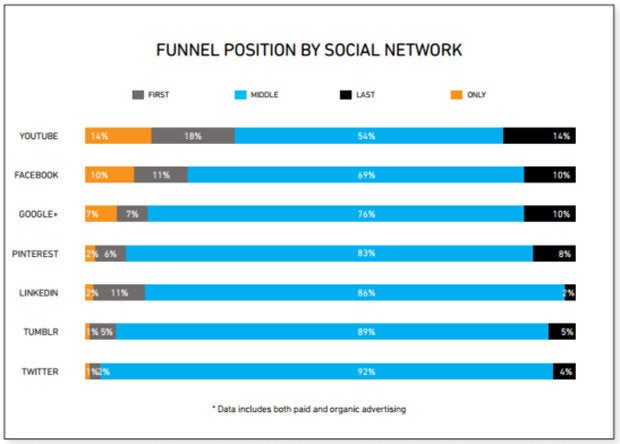 YouTube Competitors Face Uphill Battle
Facebook isn't far behind YouTube, and it introduces new products and closes sales at rates of 11 percent and 10 percent, respectively. Twitter ranks at the bottom of the pack based on data from 500 million clicks and 15 million conversions.
From the AOL report:
"Social media is much more likely than any other marketing channel to serve as a middle touch point (87 percent) along the path to purchase, which is an important part of the customer awareness and consideration of a product."
"While organic social advertising is usually a middle touch point that marketers can leverage to keep the consumers engaged and accelerate conversion, paid social advertising definitely works for new customer acquisition tactics, appearing many times as the first or only touch points."
[Related: A Look Inside the YouTube Culture]
So with so much going right for YouTube, who will finally give it a run for its money? The most frequently mentioned competitors, including Facebook, Instagram and Vine, all offer something special, but nothing that rises to the level of YouTube.
"Honestly, I don't see who is going to be jumping up to compete against them directly," Holland says. "When people are scrolling through their Twitter feeds and they come across a video, it's a short video to begin with and they're pretty much unwilling to watch a video advertisement."
"When you're in that casual couch-surfing browse behavior of scrolling through your Instagram feed, that willingness to stop and be interrupted by an ad is not there," Holland says. "It's not to say that super short-form content providers like that can't get it right, but they're fighting that battle."