Google remains the dominant source of Web-traffic referrals, with more than 25 percent of all website visits coming from the search engine, according to Adobe's third-quarter 2014 digital advertising report. The company's share of search spend dipped 1 percent year-over-year to 70 percent overall.
Despite Google's commanding presence in search, Bing and Yahoo both outperformed the company with higher revenue per visit than Google and other leading social networks.
Marketers should optimize their campaigns for Bing first to take advantage of the higher quality traffic before moving on to Google, according to Joe Martin, a senior analyst at Adobe.
"People are just converting better on it," he says. "I would attribute it to some of the tools that Bing has implemented," such as airfare prediction.
[Related: How to Make Sure Your Social Marketing Isn't Junk]
Traditional search engines are still producing a higher percentage of traffic and revenue per visit, but social networks like Facebook, Tumblr, Twitter and Pinterest are all gaining share and growing at a faster rate than Yahoo, Bing or Google, according to the research.
Retail and media sites are also doing well on social networks. Retail-referred visits from Facebook dropped 3 percent from the previous year, but the company maintains a strong lead even as Twitter drove the biggest year-over-year spike in retail — a growth rate of 52 percent.
[Related: Learn the Science of When to Post on Facebook and Twitter]
With the holiday shopping season approaching, Martin expects greater competition for revenue among all social networks in the current quarter.
"They all do really well in Q4, so you'll see Tumblr, Pinterest and Twitter will all compete with Facebook for revenue," Martin says. "It still seems that Facebook is a year-round thing that retailers are focusing on all year 'round."
Seasonal fluctuations aside, Facebook carved out a leading role in media distribution by referring three times as many media sites than Yahoo or Bing, according to Adobe. "Facebook is competing with search engines in the media space," says Martin.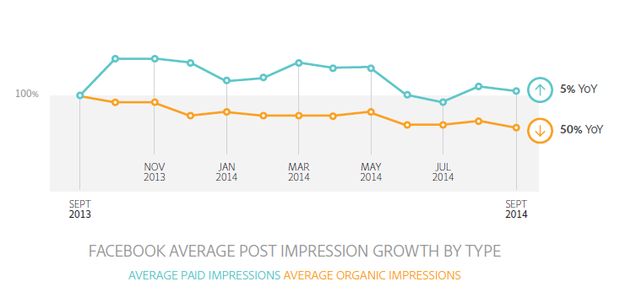 The most marked changed for Facebook comes on the heels of continued algorithm tweaks that are effectively limiting the reach of organic posts. Paid impressions are up 5 percent while organic impressions were cut in half during the past year.
"You can see a steady decrease in the amount of organic impressions that are being shown," says Martin. The decline in organic posts is not even close to being supplemented with paid traffic, he says.
[Related: How Facebook Plans to Control Digital Advertising]
Many marketers expected to see a direct increase in paid reach as a result of Facebook's changes, but that hasn't happened.
Finally, Adobe predicts search marketing spend will grow at least 20 percent over the next year, and 40 percent of all paid search traffic will come from smartphones at this time next year.