I love, love, love the idea of Acorns, a new Android app that promises to make it easy and affordable to invest your spare change. It's a shame getting started with the app is so frustrating. The process is so tedious, I bailed.
First, let's focus first on the terrific concept.
The free Acorns app, which recently debuted on iOS, lets you automatically round up purchases made with a credit card and invest the difference in your Acorn portfolio.
For example, if you spend $12.63 at your local coffee shop, Acorns rounds the number up to $13 and automatically adds the 37 cents difference to your portfolio. All those little rounded-up figures will presumably add up over time. You probably won't get rich, but you'll have more money than you would otherwise.
You can also use the app to make lump sum investments, up to $30,000 each.
By telling Acorns a little bit about yourself such as your age, income, net worth, and investment timeframe (how long you plan to invest before cashing in), the app recommends one of six portfolios of low-cost exchange-traded funds (ETF) and holdings.
You can estimate how much money your investment will earn over time by dragging left and right on a graph, and by dragging up and down to change your estimated monthly contributions.
How secure is all this? Acorns accounts are SIPC-insured, according to the developer. The service uses 256-bit SSL encryption, along with multi-factor authentication, automatic logouts, a passcode specifically for the app, and more. Still, I admit, I was a little squeamish giving Acorns my social security and AmEx numbers. Then again, I'm always a bit squeamish about this kind of stuff.
There's no fee for transactions. Instead, once you make an investment, the service costs $1 per month, along with a yearly management fee that ranges from 0.25 to 0.50 percent of your account's total assets.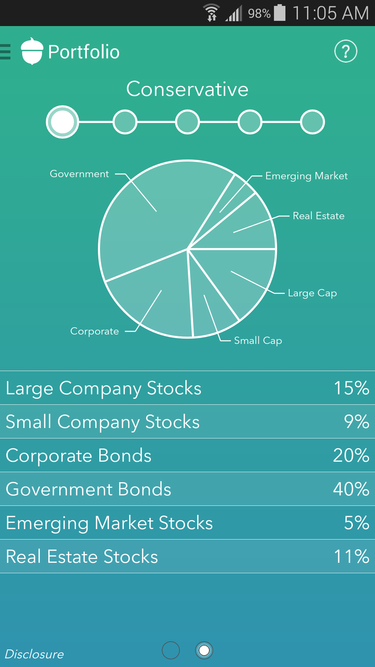 Now for the headaches.
My attempts to get through Acorns' three-step setup were surprisingly painful. I could write several paragraphs about my troubles, but I'll summarize the experience instead: No matter what I did, Acorns would not accept my online checking account login.
On my Android device, I was told repeatedly that I'd entered the login info incorrectly, even though I had used the same credentials to log in successfully in my desktop browser.
On my iPhone, I was told that the account "is currently not supported" — even though I use a major bank that's clearly listed in the Acorns app.
Another stumbling block: After I entered my address and clicked the check mark to indicate that I'm a U.S. citizen, Acorns stopped me from continuing my account setup, saying "I must be a U.S. citizen to use the Acorns application."
Thwarted on multiple fronts, I called Acorns' telephone support number. My call was answered right away by a pleasant support staffer who helped me get through some of the account set-up hurdles — except for the issue with my bank.
To make matters worse, you can't currently create an account using a Web browser. You must go through these painful account set-up steps using your smartphone or tablet keyboard. It's a great idea to use an external keyboard during the process, if you have one.
Acorns says it is working on a Web app. When it's available, I may give the service another try. Until then, I'll keep my spare change in a good ol' piggy bank. It's not as high tech, but it is a whole lot easier.