PricewaterhouseCoopers (PwC), a professional services network, this week released a lengthy report on wearable technology. Though the research focused largely on future consumer uses of wearables, it also touched on a number of enterprise-related topics.
Among the survey's most notable findings:
77 percent of respondents think one of the most important benefits of wearable technology is its potential to make employees more efficient and more productive at work.
70 percent of respondents expect their workplaces to permit the use of wearable technology.
46 percent say they think their companies should fund the wearable technology, rather than a BYOD (bring your own device) model.
For CIOs, wearable technology has real potential to both boost productivity and enhance the bottom line, but the IT department will need to act as tech ambassadors for the rest of the business, PwC says. "Making technology simpler to use" (81 percent) and "seamless integration with other devices" (41 percent) were seen as two of the leading motivators for the adoption of wearables.
PwC says CIOs and IT departments should be aware of the potential setbacks when introducing new wearable tech. For example, adequate training on challenging new devices that might seem foreign and unintuitive is key.
In addition, some wearables might "require a new set of design requirements and user experience requirements that IT may not have invoked in the past," the report says. That's because legacy systems were often designed to collect form-based data, but new wearable systems collect a variety of different information and feedback.
"CIOs and IT departments will need to figure out how to effectively unite the two approaches, new and old, until there is a clear argument for removing and replacing existing investments," according to the report.
The report offers five suggestions for organizations interested in wearable technology:
Assess the impact of wearable tech on productivity and health against your bottom line.
Envision how wearables can create new business opportunities.
Keep human-centered design at the forefront of your strategy.
Instill trust and be consistently transparent with what you do with employee data.
Recognize that the wearable category will continue to evolve.
Wearable Privacy, Dependency Concerns Users, But They Remain Optimistic
PwC surveyed 1,000 consumers, 314 of which use some form of wearable, as part of "The Wearable Future" report, and spoke with a handful of other wearable technology influencers and business executives.
The report also addresses the biggest areas of user concern regarding wearables Consumers fear that wearables will make them vulnerable to security breaches (86 percent); invade their privacy (82 percent); hurt their ability to relate to other people (72 percent); make them too dependent on tech (68 percent); lead them to own and use too many devices (65 percent); take away autonomy at work (54 percent); turn them into "robots" (52 percent); make their jobs unnecessary or redundant (47 percent), and make everyone look ridiculous (37 percent).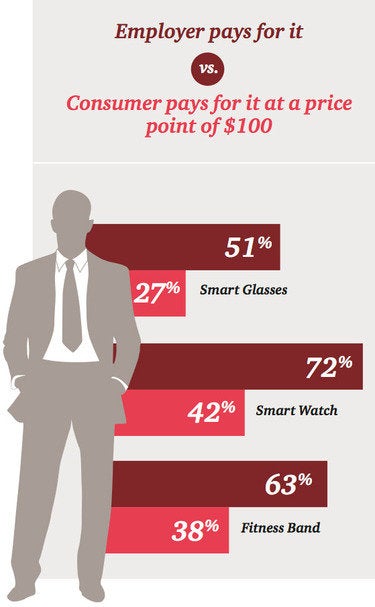 From an industry perspective, PwC says companies in the entertainment, media and communications (EMC) industries, as well as health, retail and technology, stand to benefit the most from mainstream adoption of wearable tech.
Specifically, 64 percent of millennial respondents (defined as adults ages 18 to 34) said they would be excited to try a wearable technology product introduced by an entertainment or media company. That compares to 42 percent of the general population.
[Related: Enterprise Wearables Present Tech Challenges and Management Pitfalls]
More than 80 percent of consumers think an important benefit of wearable technology is its potential to make healthcare more convenient. Employers and health company executives expect wearables to provide insights through data collection, according to the report. However, consumers hesitate to share health data with anyone other than their personal physicians due to privacy concerns.
PwC suggests that consumers could welcome an "apps formulary," or a collection of apps vetted by medical teams and possibly available through a "virtual apps pharmacy," to help wade through the thousands of health apps and devices.
Consumers, particularly millennials, want wearable technology in the retail space to reward them for being faithful customers, according to the reports. One in two millennials said they would be strongly drawn to a wearable with "apps/features that reward those who frequently use it."
More details on PwC's "The Wearable Future" report are available on the company's website.
AS