New social networks are seemingly born every week but few proudly condescend to the same degree as Luxy. Anyone seeking a high-speed dating app, described as "Tinder without the poor people," might find a perfect match in Luxy.
The app's premise is downright shocking. Luxy displays some of the worst conceit and snobbery imaginable by gleefully diminishing the value of any person who isn't rich or good-looking.
Judgmental screen swiping hit a new low, and Luxy is proud to be deliver it in an app that allow "users to weed out the poor and unattractive," according to the company's purposefully unnamed CEO. Luxy launched in the spring, but it caught on a month after its public relations consultant distributed a press release that caught the eyes — and ire — of many industry watchers. (The company is withholding the identify of its chief executive because it expects a wave of criticism.)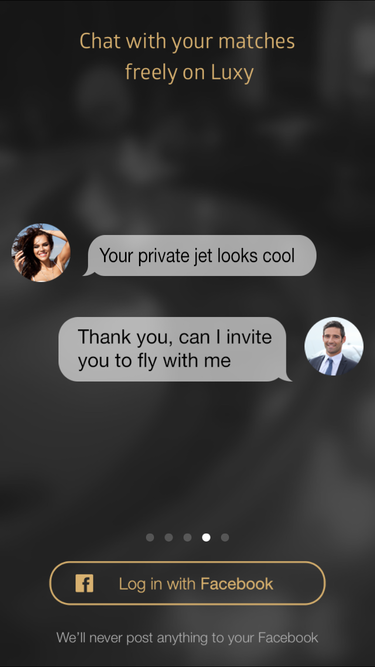 [Related Opinion: Why Ello Is Just an Overhyped Anti-Facebook, Social Wannabe]
Unattractive people and anyone making less than six figures a year need not apply, according to the company. Oddly enough, Luxy doesn't even enforce the rule. Luxy says it filters out low-income prospects by neighborhood, but I live in a low-income neighborhood and had no problem joining.
[Related Feature: Who's Really Using Tinder (and How Are They Using It)?]
In fact, the sign-up process was really too easy for someone as ugly and poor as me. After I gave the app permission to log in with Facebook and gave it access to my personal profile and other public information, I was up and running. Of course, that was after I falsified my annual household income. Luxy says it plans to develop a system to verify the income of its users, but until then it's opening itself up to online class wars.
Luxy's features and functionality end almost as quickly as they begin. You establish a basic profile and grant the app access to your location. Luxy then asks you to select your favorite luxury brands and hobbies.
You can choose "volunteering" as a hobby, which is nice to see, but the 51 luxury brands and other hobbies to choose from are very much tailored to the rich and fabulous. More than 3,000 members have joined the service as of earlier this month and they include "CEOs, entrepreneurs, investors, millionaires, beauty queens, fitness models, Hollywood celebrities, pro athletes, doctors, lawyers and so on," according to the company.
[Related News Analysis: Snapchat, Whisper Promise Privacy but Fail (Miserably) to Deliver]
Luxy isn't the first app or social network designed to be an exclusive club for the rich — check out Netropolitan for another obnoxious example. It also won't be the last. Until someone else with too much money builds something with even greater disdain for those less fortunate, Luxy is the new low in social dating.