I'm at my local Starbucks, drinking a seasonal concoction. (A no-whip caramel brûlée.) I'm listening to tinkly piano music on Pandora while I work. And I'm charging my iPhone using one of Starbucks' new Duracell Powermat wireless charging "spots."
On Tuesday, the global coffee giant announced the Powermat rollout for about 200 stores within the San Francisco Bay Area. It's the first phase of a larger U.S. rollout, and European and Asian locations are expected to get Powermat spots within a year, according to a Starbucks news release.
The Starbucks Powermat experiment has me wondering, as many of us prepare for the always-challenging holiday travel season, where else we're likely to find places to recharge our depleted devices. So I did a little research. Here's what I came up with:
* ChargeAll offers phone-charging stations at a variety of restaurants and retailers, including McDonald's, Hilton hotels, Whole Foods and The Cheesecake Factory. You can use the ChargeAll apps for iOS, Android and other platforms to help find the nearest charging locations.
* Though traditional power plugs can be hard to find in airports, many now offer power-charging stations. However, it's not always easy to determine where the stations are in advance.
San Francisco International's website, for instance, states that power outlets are "located throughout the terminals" and suggests that you "check out the Power Bars in the Terminal 2 food court." In my experience, Delta is one of the more generous airlines in offering power-recharging stations at departure terminals.
* Many modern airplanes have in-seat power ports, but more often than not, they're in business or first class cabins. In October 2013, Lifehacker compiled a list of airlines that offer power outlets, with details on where you can find them. The SeatGuru website and app also show you where to find power ports on specific aircraft.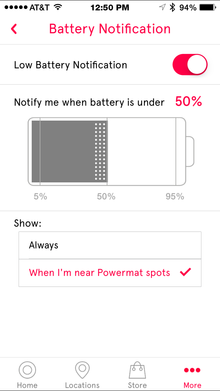 * It never hurts to carry extra power with you, of course. The Intocircuit Power Castle battery pack is a popular and inexpensive choice ($22 on Amazon) for recharging smartphones and tablets. It has a display that shows you how much juice remains and has a flashlight feature. If you need to recharge a laptop, the Energizer XP18000 ($160 on Amazon) looks like a solid choice. (I haven't tested either product.)
As for Starbucks' Powermat recharging spots, I tried them at two different locations. In both cases, recharging my iPhone was easy, if a tad slow. You simply attach the appropriate charging "ring" to your device and place the ring atop a similar ring at each Powermat spot. Starbucks offers three recharging ring options for different devices: Apple Lightning and 30-pin (for older iDevices), and micro USB, which fits many other mobile devices.
At one Starbucks location, I had difficulty finding an available Lightning recharger ring for my iPhone. So if you're a Starbucks regular, you might want to purchase a Powermat ring and keep it stowed in your bag. Starbucks stores sell them for $10 each.
One last thing that's worth a mention. The Powermat app for Android and iOS does some cool things in addition to helping you find Powermat spot locations. The app alerts you when your device's battery dips below a specific, customizable level (50 percent is the default), as well as when you're near a Powermat recharging spot.