The world of Android tablets is packed with options, ranging the gamut from budget devices with bare-bones functionality to cutting-edge, feature-packed tablets for the true gadget geek. With so many worthy choices, it can be a challenge deciding on the best tablet for you or a loved one.
The Amazon Kindle Fire HDX 8.9 (2014) and the Google Nexus 9 tablets are two of the latest high-end Android tablets. (The original version of the Kindle Fire HDX 8.9 has been discontinued and replaced by the new 2014 version, which is the tablet referenced in this story.) They're without question two of the best Android tablets on the market today, but they're each suited to specific types of users. When researching a new technology purchase, it can be helpful to not only consider a tablet's full feature set, but also the features it lacks.
[Related Feature: 8 Things Kindle Fire HDX Does That iPad Air Can't]
After spending a few weeks using both of these Android tablets, a handful of things jump out as important to know for anyone who's trying to decide between the two. Here are half a dozen things Amazon's updated Kindle Fire HDX 8.9 tablet can do that Google's Nexus 9 can't.
(Of course, this is only one side of the story. For the opposite take, read "6 Things Nexus 9 Does That Kindle Fire HDX 8.9 (2014) Can't.")
1) Kindle Fire HDX 8.9 (2014), Fire OS and the Amazon Ecosystem
The most notable difference between the Kindle Fire HDX 8.9 and the Nexus 9 is the Amazon tablet's customized Android OS, called the Fire OS. (My Fire tablet is running Fire OS 4.5.1 "Sangria" at the time of this story's publication.) Without getting into too many details about the interface differences between Amazon's version of Android and the "pure" version that runs on Google's Nexus 9, it is worth noting that the Fire OS offers a set of unique Amazon features not available on any other tablets.
For example, Kindle Fire tablet users who are also Amazon Prime customers can download certain Amazon Prime movies and TV episodes for offline viewing. That means you can watch it when you don't have an Internet connection, such as while travelling. The Nexus 9 doesn't support Amazon's Instant Video Android app, and you cannot stream Amazon content using its default Chrome browser. If you're an Amazon Prime or Instant Video customer, you might be disappointed with the Nexus 9's lack of support for these services.
The Fire HDX 8.9 also has a more full-featured version of Amazon's Kindle reading app, with unique features including one that shows you the most highlighted passages in Kindle books, as well as how many other readers highlighted those passages. The Kindle app on Fire tablets also integrates tightly with Amazon's Goodreads social network for readers. And books you're reading are always easily accessible from your Fire tablet's home carousel.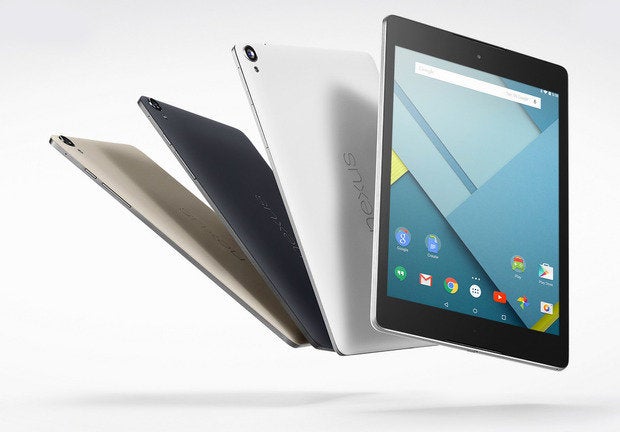 The Kindle Fire HDX 8.9 has Amazon X-Ray features for movies, music and TV. X-Ray lets you quickly pull up on-screen information about actors while watching a film or TV show or jump to the actors' other movies. You can also use X-Ray to display song lyrics as you listen to music.
These are just a few examples, but if you're invested in Amazon's content ecosystem, you'll get a lot more out of a Kindle Fire tablet like the Fire HDX 8.9 than if you're not an Amazon customer.
2) Kindle Fire HDX 8.9 (2014) Has More Storage, Configuration Options
Neither the Kindle Fire HDX 8.9 nor the Nexus 9 support memory cards, so what you see is what you get when it comes to on-board storage. Both tablets are very much multimedia oriented, so storage space is key.
The Nexus 9 offers two storage options, 16GB and 32GB, while the Kindle Fire is available with 16GB, 32GB or 64GB of storage. If you need more than 32GB of fixed storage space, the Kindle Fire HDX 8.9 is a better option than the Nexus 9.
3) New Kindle Fire HDX 8.9 (Mostly) Outshines Nexus 9 in Specs, Value
In a straight comparison of hardware specifications, the new Kindle Fire HDX 8.9 outshines the Nexus 9 in the majority of categories — but not all of them. Here's a quick high-level tech specs comparison.
The Kindle Fire HDX's 8.9-inch display is longer and a bit thinner than the Nexus 9's 8.9-inch screen. The Fire's 2,560 by 1,600 pixel display packs more pixels per inch (339 ppi) than the Nexus 9's 2,048 by 1,536 screen (288ppi).
[Related Feature: Using Amazon Kindle Fire HDX Tablets in the Enterprise]
The Kindle Fire HDX 8.9 is both thinner (7.8mm) and lighter (375 grams, Wi-Fi version) than the Nexus 9 (7.95mm and 425 grams, Wi-Fi version). The Kindle Fire HDX 8.9 has a 2.5 Ghz quad-core Snapdragon processor, and the Nexus 9 packs a 2.3 Ghz NVIDIA Tegra processor — though the Nexus CPU is 64-bit, while the Nexus processor is 32 bit. (You can read more about what the 64-bit processor, and a few other ways the Nexus 9 beats the Kindle Fire HDX in specs, in our companion story.)
The Kindle Fire HDX 8.9 is also a bit more affordable than the Nexus 9. You can get a 16GB, Wi-Fi version of the Fire HDX 8.9 for $379, if you agree to enable Amazon's ads on your home screen. (You can pay an additional $15, for a total of $394, to remove those "special offers" and customize your own home screen.) The 16GB, Wi-Fi Nexus 9 costs $399. The price differential increases, as well, as you add storage. For example, the 32GB Wi-Fi Kindle Fire HDX 8.9 costs $50 more than the 16GB version ($429, with special offers), while the 32GB Nexus 9 costs $80 more than its 16GB counterpart ($479).
4) Kindle Fire HDX 8.9 (2014) Supports Dolby Atmos Surround Sound
The new Kindle Fire HDX 8.9 is the first tablet to support Dolby's Atmos audio technology. Atmos is a new way to deliver cinema-quality surround sound using different audio channels that sound as if they're coming from a variety of different directions, include above.

Atmos did sound very cool when I tested it using Bose headphones and a few video clips Amazon sent my way, but it's still new, and relatively few movies support the technology. It supposedly works with any headphones, but again, if the source file doesn't support Atmos, you won't be able to take full advantage of the tech.
The Nexus 9 has HTC "Boom Sound," which also sounds good enough to me, but it does not offer the same level of "surround" audio.
5) Amazon Kindle Fire HDX 8.9 (2014) Has Firefly and Mayday
The Kindle Fire HDX 8.9 is the first Amazon tablet to get the company's Firefly feature. Firefly lets you point your tablet's rear camera at a variety of objects and symbols, including books, CDs, DVDs, video games, email addresses, phone numbers, URLs, artwork and QR codes, and it brings you to a page with more information and/or options to buy — usually from Amazon.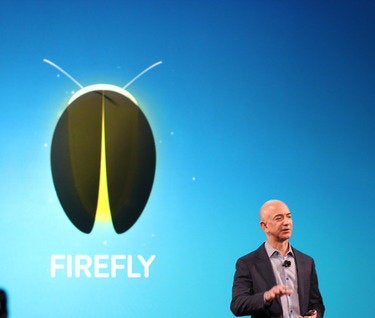 Amazon says Firefly can recognize more than 100 million different items. And the company says new Firefly technology that's "coming soon" to the Fire HDX 8.9 will be able to recognize more than 240,000 movies, TV episodes and songs, so you can easily find more information on films, shows and artists.
Honestly, I don't see all that much value in Firefly on the Fire HDX 8.9, because I rarely carry my tablet around with me unless I'm traveling or it's packed away in a bag, where it would be awkward to whip out and use Firefly. That said, there's nothing quite like Firefly available for the Nexus 9, so it is noteworthy.
6) Kindle Fire HDX 8.9 (2014) Has LTE, Nexus 9 LTE 'Coming Soon'
Google started shipping the Wi-Fi version of its Nexus 9 more than a month ago in early November, and at the time it provided no specific timeline for when the LTE version would be released. A couple of weeks later, T-Mobile became the first wireless carrier to announce specific release details for the LTE-capable Nexus 9, but it soon after delayed its planned early December release.
In other words, it's unclear when the LTE Nexus 9 will be available. The Kindle Fire HDX 8.9 is available with Verizon- and AT&T-compatible LTE in two storage configurations, 32GB and 64GB. If you seek an Android tablet with LTE, and you either need it before the holidays or simply don't want to wait for Google to release the LTE Nexus 9, the Kindle Fire HDX 8.9 is a better option.
For more information on the Kindle Fire HDX 8.9 visit Amazon's website. And check out Google's Nexus 9 page for additional details on its new tablet.
If you're interested in the other side of this story, read "6 Things the Nexus 9 Does That Kindle Fire HDX 8.9 Can't."
AS