Ranging from budget devices with basic functionality to cutting-edge tablets for gadget lovers, the world of Android tablets is packed with options. With so many choices, it's challenging to decide on the best tablet for you or someone on your gift list.
The Google Nexus 9 and Amazon Kindle Fire HDX 8.9 (2014) are two of the newest and best high-end Android tablets. (The original version of the Kindle Fire HDX 8.9 has been discontinued and replaced by the new 2014 version, which is the tablet referenced in this story.) However, each is suited to specific types of users. When researching a new technology purchase, it's helpful to not only consider a tablet's full feature set, but also the features it lacks.
After spending a few weeks with both of these Android tablets, a handful of things jump out as important to know for anyone who's trying to decide between the newest Kindle Fire HDX tablet and Google's latest Nexus tablet. Here are half a dozen things the Nexus tablet does that the Fire HDX 8.9 can't.
[Related Feature: Google's Nexus Lineup May Not Sell Well, But Still Challenges Android Makers]
(Of course, this is only one side of the story. For the opposite take, read "6 Things the New Kindle Fire HDX 8.9 Does That Nexus 9 Can't.")
1) Unique Nexus Experience for Android Purists
The thing that sets Nexus devices apart from other Android tablets, and the thing that makes them so attractive to "Android purists," is the fact that they are the first devices to get Android software updates directly from Google. In fact, they often get the latest software months, sometimes years, before other devices. The heavy-tailored versions of Android that tardily arrive on other Android devices are frequently bogged down with gimmicky features and bloatware that serves some carrier purpose just as much as it provides true value for the user.
The software that runs on Nexus devices — all Nexus devices, not just the Nexus 9 tablet, which is manufactured by HTC — is "purely Google," meaning it hasn't been modified by a third-party. My Nexus 9 is currently running Android v5.0.1 "Lollipop," and both the user interface and software experience are head and shoulders above what you get with an Amazon tablet. The version of Android on the Nexus also enables a number of features and functionality that are not available to Kindle Fire HDX 8.9 users.
For example, Android Lollipop's "material design" elements provide a much more modern, visually appealing and sleek navigation experience than the Fire OS. The Nexus OS is also designed to communicate with a range of other Android devices running Lollipop, so you can do things like quickly access files and information on your tablet after searching for them on your phone.
Android Lollipop offers much more granular control over application alerts and notification settings, as well as advanced controls to "pin" certain apps to your lock screen and limit the amount of information that's displayed on your locked display. You can also deem other compatible Android devices "trusted" using the Android Smart Lock feature, so your Lollipop phone or tablet remains unlocked while in range of the trusted gadget.
These are just a few of the unique features available in the Nexus 9 version of Android and not in the Fire OS. (You can find a more detailed list of new Lollipop features on Google's website.)
The Kindle Fire HDX 8.9 could at some point be updated to a tweaked version of Android 5.0, but even if it is, the software will be so heavily customized that it's impossible to predict which features will be available and which will be blocked. That's the real value of buying a Nexus device: You know that a carrier or third party, such as Amazon, won't block or modify any of the features or functionality that Google purposefully builds into its versions of Android.
The Fire OS is great for certain things — namely consuming Amazon content. Compared to the user experience of the Nexus 9, however, it feels simple, which is OK, and both limited and a bit long in the tooth, which is less OK.
2) Nexus 9 Has 50 Percent Bigger Battery Than Kindle Fire HDX 8.9
The Nexus 9 has a significantly larger battery pack than the Kindle Fire HDX 8.9. Specifically the 6,700mAh battery in the Nexus 9 has a capacity of nearly 50 percent more than the 4,500mAh battery in the Kindle Fire HDX 8.9. In my experience that doesn't exactly translate into 50 percent more battery life for the Nexus 9, probably because both devices have a number of battery-saving technologies that kick in a different times. I read Kindle books on both devices, with the screen brightness set to auto based on the system brightness, for multiple hours at a time, and the Fire HDX does seem to last notably longer during constant, heavy use.
3) Nexus 9 Has 64-Bit Processor Compared to Fire HDX's 32-Bit CPU
The Kindle Fire HDX 8.9 packs a slightly faster processor (2.5 Ghz Snapdragon) than the Nexus 9 (2.3 Ghz NVIDIA Tegra). However, speed isn't everything.
The Google Nexus 9 is the first Android tablet with a 64-bit CPU. The Kindle Fire has a 32-bit CPU. In other words, Google's Nexus 9 can run 64-bit Android apps, Amazon's Kindle Fire HDX 8.9 cannot.
What does that mean? According to NVIDIA, the beefy CPU should ultimately translate into "PC-class performance, extended battery life and great Web browsing."
The problem is that many current Android apps won't initially take advantage of the 64-bit processor until they're updated. Some of Google's native apps, including Chrome, Gmail, Calendar and Google Play Music do utilize the 64-bit CPU, and any "pure Java language" Android apps will run as 64-bit apps automatically, according to Google. It could be some time before the bulk of quality Android apps are updated for the new processor, though. (You can find more details on what the 64-bit CPU in the Nexus 9 means for Android here.)
4) Nexus 9 Has NFC, Kindle Fire HDX 8.9 Doesn't
The Nexus 9 has NFC, while the Kindle Fire HDX does not. That means you can use the Nexus 9 along with Google Wallet, or another compatible mobile payments apps, to pay for goods and services in many establishments where contact-less payments are accepted. (Of course, I'm not exactly sure why you'd want to use your tablet instead of your phone to make a mobile payment…unless your phone doesn't have NFC.)
NFC isn't exactly widely used today, but thanks to Apple's adoption of the technology in the latest iPhones, and the success of its Apple Pay service, NFC is finally in the limelight.
[Related Feature: NFC Not Just for Mobile Payments: Six Future Uses]
NFC is not all about payments. For example, you can use NFC tags to trigger certain features or functions on your mobile device. You can use NFC to print from your phone or tablet. Some organizations use NFC for user authentication and building access, as well. Nexus 9 users could potentially employ their tablets for some or all of these purposes. Kindle Fire HDX owners are out of luck when it comes to NFC.
5) Nexus 9, Google Play Store and Apps, Apps and More Apps
Today more than ever, software defines the true value of a computing device. That's why I listed the dramatic difference in user experience between the Nexus 9 Android OS and Kindle Fire OS as the first point in this post. There's another component to the "pure" Android versus Amazon Fire OS argument, though: apps.
Both Google and Amazon operate their own app stores, the Play Store and the Amazon App Store for Android, respectively. Google had 1.3 million apps available in the Play Store in July 2014, according to Statista. Amazon had about 240,000.
Then there's the fact that you can easily install the Amazon App Store for Android on you Nexus tablet. You simply need to check a security option that lets you install apps from "unknown sources." You can't install Google Play or any native Google apps, without rooting your Kindle Fire HDX. (That's fine if you like to tinker with your devices, but something tells me that the average Amazon tablet user probably isn't a tinkerer. Even if you do root your Fire tablet, the process for "sideloading" apps, and keeping them updated, is tedious to say the least.)
6) Nexus 9 Looks and Feels Better Than Kindle Fire HDX 8.9
OK, this last point doesn't exactly fit the concept of this comparison, because it's not something the Nexus 9 can do that the Fire HDX can't. It is something I've thought about a lot during my time with these two tablets, and it's certainly something I'd want to know if I were trying to pick between the two.
When placed side-by-side, display-up, the Nexus 9 and Kindle Fire HDX 8.9 look a lot alike. As soon as you pick them up, though, two noteworthy differences become obvious. First, the Kindle Fire HDX feels "plasticy" and flimsy, while the Nexus 9 is notably heavier but also much more sturdy-feeling. (The Wi-Fi version of the Kindle Fire weighs 375 grams, while the Wi-Fi Nexus 9 weights 425 grams, a full 50 grams more.)
The Kindle Fire HDX is built entirely of plastic, except of course for the glass display, which probably accounts for its somewhat "cheap" feeling in hand. The Nexus 9 is also mostly made of plastic, but it's surrounded by a thin metal bezel, composed of a single piece of brushed steel, which makes it feel much more sturdily built and could have something to do with the difference in weight.
The metal bezel also adds some panache, a bit of je ne sais quoi, that the Kindle Fire HDX 8.9 sorely lacks. To me, the Kindle Fire looks and feels like a tablet designed for use by children; the Nexus 9 looks and feels like it's built for the big boys.
Google's Nexus 9 is also available in three color options: "indigo black," "lunar white," and "sand," which just looks like plain old gold to me. The Fire HDX 8.9 comes only in black.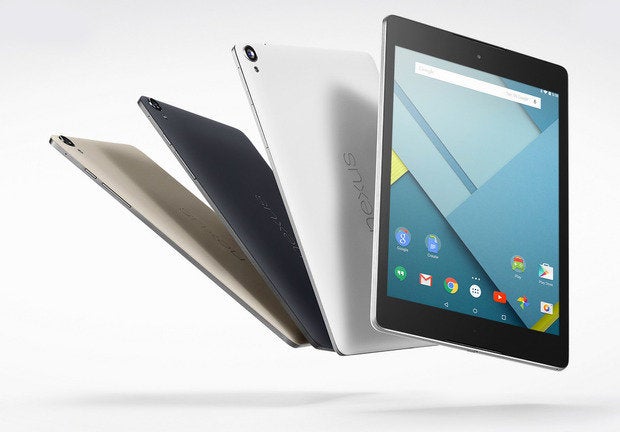 Of course, as soon as you throw a case on your tablet, the look and feel changes based on your cover of choice. The Nexus 9 is still by far the better-looking option, though, and perhaps more importantly, it appears to be built more sturdily.
For more information on the Nexus 9 visit Google's website or the Play Store product page. And check out Amazon's Kindle Fire HDX 8.9 page for additional details on its new tablet.
If you're interested in the other side of this story, read "6 Things the New Kindle Fire HDX 8.9 Does That Nexus 9 Can't."
AS