A typical business executive fires up a half-dozen iPad productivity apps — Salesforce, Office 365, Yammer, Zendesk, Workday, among them — to get through the day. Opening and closing apps every few minutes, though, can become tedious and annoying.
The problem is only going to get worse with more apps to check daily. There are some 250 cloud service providers pitching business users today. Most recently, IBM and Apple released 10 iOS apps for the enterprise aimed at vertical industries such as telecommunications, transportation, financial services, retail, airlines and government.
[Related: 10 Ways CIOs and CMOs Can Tap iOS 8 for Better Mobile Apps ]
In a survey last year, Forrester found that two-thirds of IT decision makers at U.S. organizations with more than 500 employees say investment in the deployment and use of cloud services is critical or a high priority. More and more business users will also be accessing these cloud services via mobile apps.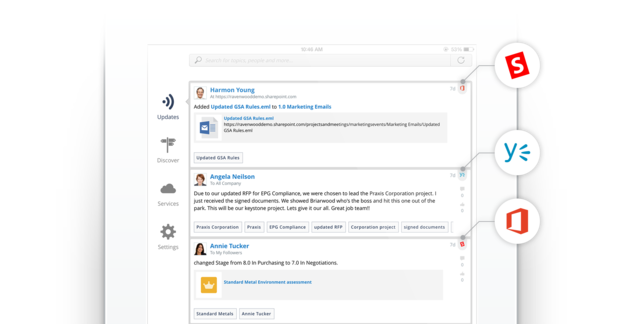 Forrester's workforce survey conducted this year showed that 40 percent of information workers have a tablet that contains more than six work-related applications.
Enterprise mobile collaboration software developer harmon.ie thinks it has found a solution to the problem with its newly unveiled Collage app for the iPad. The app brings in data feeds and notifications from Yammer, Office 365 and Salesforce to keep users in the loop.
[Related: Office for iPad Apps Climb to Top of Apple's Download List ]
"We're the Flipboard for the enterprise," says Yaacov Cohen, co-founder and CEO at harmon.ie.
Cohen adds that the plan next year is not only to open up the app to iPhone 6 and Android tablets and phones but other cloud services, as well. He envisions an app platform that will allow CIOs to mix and match cloud services into the collage.
Whether or not a "Flipboard for the enterprise" is the right approach remains to be seen.
However, one thing is clear: The proliferation of enterprise cloud apps is cluttering the iPad home screens.
"It's a pretty interesting product, because as of today one of the issues the CIO is facing and will be facing in the future is that all of these SAS solutions are mainly built in silo," says CIO Dominique Tessaroat VINCI Energies, which employs 63,000 workers in 45 countries.
"If you put yourself in the perspective of the end user, you really want to have a federation of information and documents," he says.