LinkedIn wants you to think of your profile as a vibrant, dynamic landing page that deserves your utmost attention and interest. While other social media profiles remain static and usually offer only the smallest tidbits of information, LinkedIn profiles are being positioned as a living and breathing representation of your foremost interests and aspirations.
LinkedIn says its profiles are often the first thing people see when searching for someone online, so it is releasing a series of improvements that simplify the process for editing and updating those high-ranking profiles.
[ Related How-To: How to Make the Most of Your New Twitter Profile ]
"Whether you're interested in building your own brand as a professional, or using your experiences and successes to elevate your company's talent brand, it's one of the first things people will find when searching for you — so it should always be accurate and up-to-date," says Alexis Baird, product manager for profile completion at LinkedIn.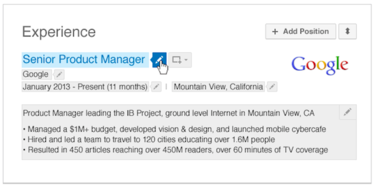 You can now make edits to your LinkedIn profile by clicking directly on the section you want to update, similar to the changes Twitter brought to its profiles last May. In essence, it means that the ever-present edit buttons no longer apply.
Piecing Together the Puzzle of LinkedIn
Even though LinkedIn has been around since 2003, many of its users are still puzzled over what to put on their profile, when to edit it and how much time should be spent editing it.
LinkedIn is much more than a stand-in for the proverbial dusting off the resume. The professional social network wants to become a mainstay of social activity by encouraging users to enrich their careers and networking opportunities beyond just looking for their next job.
Of course, the more time you spend on the LinkedIn the more the social network can make from ads as well. Improving profiles, the most popular pages on the site, is the company's latest step in that direction.
[Related News Analysis: An Inside Look at LinkedIn's Unbundling Mobile Strategy ]
"LinkedIn is your opportunity to make the right first impression and attract opportunities to you — whether it's a future job or setting the stage for a meeting with a potential client," says Baird. "Your profile and activities across LinkedIn showcase who you are, how you think and what you know."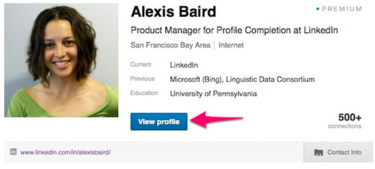 As such, LinkedIn profiles should evolve lock-in-step with each users' career, she adds.
You can now more readily see what your profile looks like by clicking the "view profile" button at the top of the page. The company is also making it easier to showcase your accomplishments, volunteer work, certifications and more by placing the optional categories on your main profile.
If you are a Premium member, you have access to a series of suggested keywords that you can add to your profile summary to make them more discoverable on LinkedIn. Finally to help you plug any remaining holes on your profile, a guided edit experience will suggest updates that should increase their visibility across LinkedIn.
"The most important thing is to make sure you can be found for your next opportunity," says Baird. "I tell people to imagine that someone out there is looking for them — maybe it's a future employer, maybe it's someone who wants you to speak at a conference, or maybe it's someone you want to hire to join your team. What words are they typing in the search box?"
Beyond the Resume
Common profile mistakes are precluding an untold number of LinkedIn users from fully capitalizing on the platform's potential. The most common mistake is more of an omission of sorts — leaving the summary section blank or unrefined.
[ Related How-To: How to Improve Your Job Search With LinkedIn's Mobile App ]
"Your LinkedIn profile is your chance to project the professional image you want others to see," says Baird. "You never know when your next opportunity could be looking for you and a stale profile isn't going to look as trustworthy or appealing."

Too many users make the mistake of simply copying their resume over to their LInkedIn profile, she says. The most opportunistic LinkedIn users are making their profiles stand out by adding rich media, details about their latest certifications and their latest skills or training.
Don't Keep It Strictly Professional
Baird also encourages users to embrace a more colloquial or conversational tone, and to share details about their lives that fall outside of work.
[ Related News Analysis: Facebook, LinkedIn and Twitter Earnings Tell Very Different Tales ]
"Don't be afraid to add a couple sentences in your summary about who you are outside of work," Baird says. "It gives people a potential connection to you and who knows — it could be the conversation starter that leads to your next job."
LinkedIn's new profile editing features are available now and the company is expected to continue refining profiles and other key components of its platform in 2015. "There are tons of opportunities on LinkedIn, but those opportunities need to be able to find you," says Baird.