The year 2014 was a productive one for mobile application developers and the people who download and use their apps. Last year saw triple-digit growth in both the numbers of applications and the number of developers creating them for two of the leading app stores, according to new report from appFigures. The company offers a reporting platform for mobile app developers that scans "all the app stores around the world" to track its customers' apps, which is how appFigures collected its 2014 data.
Most relevant to CIOs, IT departments and their corporate users are the appFigures numbers related to business apps in Apple's iOS App Store and Google Play.
The Business apps category saw the most growth in both the total number of iOS apps and number of developers creating new software for Apple's App Store, with year-over-year increases of more than 210 percent and 175 percent, respectively. More than 128,000 new Business apps were released in the iOS App Store in 2014, appFigures says. The other iOS app categories with the most growth by total number of apps were Food & Drink, Social Networking, Lifestyle and Catalogs. The iOS app categories with the most growth in new developers, behind business apps, were Lifestyle, Games, Education and Entertainment. (Apple set the specific categories names in its App Store.)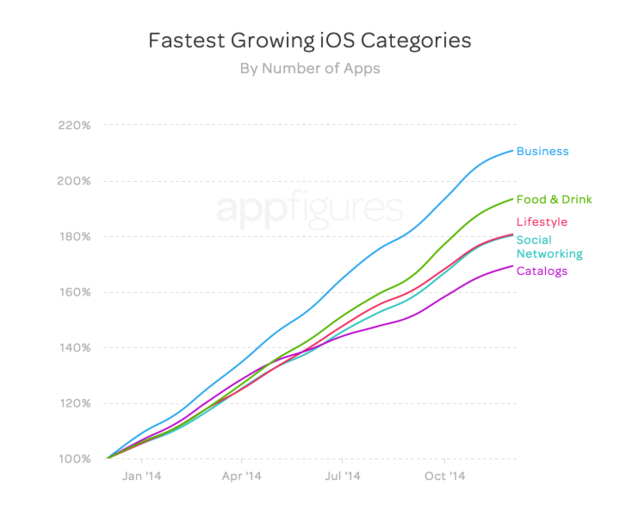 Business applications for Android were not quite as popular in Google Play, but they did still see significant growth in total number of both apps and new developers, with increases of more than 220 percent and 180 percent respectively. The fastest growing Android app categories by total number of apps were Games, Photography, Music, Business and Entertainment. The largest increases in new developers by app were Games, Business, Lifestyle, Entertainment and Tools. (Again, the categories in the appFigures reports are based on categories set by Google in the Play store.)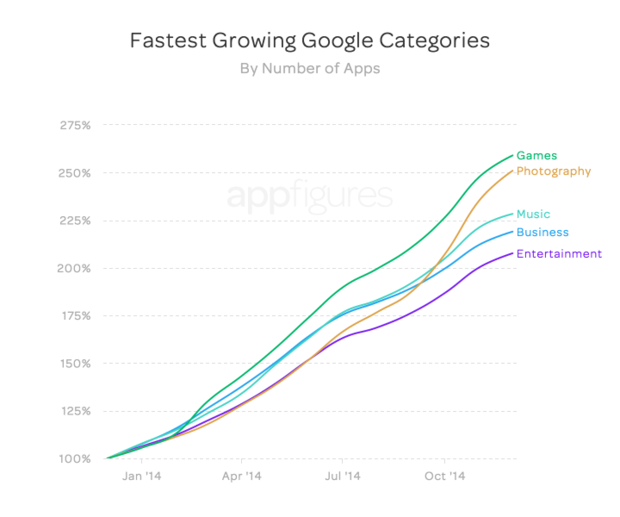 What It All Means for Enterprises
These numbers are significant for enterprises because more business apps for iPhones and Android devices will presumably lead to more employees using their smartphones and tablets for different types of work-related activities.
"The industry has matured to the point where the apps aren't just adding tremendous value but are also enabling the controls enterprises need to manage and maintain those apps," says Ariel Michaeli, appFigures CEO. "We believe CIOs and IT teams are now in the unique position where they can greatly empower their companies by leveraging existing apps or getting apps developed for their needs.
"Both Apple and Google have taken a strong stand on privacy on their devices, [but] by having more strict control over the apps in its store, we see Apple as the one with the edge currently. That's poised to change as Google Play continues the growth it saw in 2014."
The appFigures report also includes a number of additional noteworthy app store metrics. For example, the Google Play store beat out Apple's App Store for the first year in the total number of apps, with 1.43 million compared to Apple's 1.21 million. Amazon's App Store had a total of 293,000 Android apps. Early last year, when appFigures reported on the total number of apps in 2013 in each app store, Apple was the leader with more than 750,000 apps, compared to Google's roughly 700,000 and Amazon's approximately 130,000 apps.
Google not only outpaced Apple and Amazon in the total number of apps, its developer base grew more rapidly in 2014, for the third year in a row, according to appFigures. Google Play offered apps from roughly 388,000 different developers in 2014, while Apple distributed apps from about 282,000 developers. Amazon offered apps from 48,000 different developers, appFigures says.
In 2014, the total number of apps distributed via all three stores increased by at least 50 percent year-over-year, according to appFigures, and the number of apps distributed through Google Play doubled. It's also worth noting that more new developers began offering apps in Google Play than the total number of new developers who joined both Apple and Amazon's stores combined.
Check out the appFigures report yourself for more details, and graphic representations, of the company's 2014 app store data.
AS