I hate quarters with every ounce of my admittedly sullied soul. I detest them. I have no particular affinity for cherry trees, and therefore don't hold a grudge against President Washington. Nor do I have any reason to dislike the mighty bald eagle. E Pluribus Unum, you say? Fine, good. I'm all for unity.
It's my City-of-Boston-induced reliance on the tiny, silver-colored disks of copper-nickel alloy that raises my ire. If you've ever lived, worked or spent any significant amount of time in a city with parking meters that take only quarters, you likely know just what I mean — though you may not feel quite so strongly.
Yesterday, during a State of the City speech, Boston Mayor Marty Walsh announced a new parking initiative that lets people pay for on-street parking using a mobile application or Web browser — and, in turn, banish the need to fill your automobile console with quarters.
"Nobody likes digging around for quarters," Mayor Walsh said in a statement. "This innovation eases the frustration involved with parking and allows for future enhancements to the city's parking system."
The apps, called ParkBoston, are available for iOS and Android and were developed in collaboration with the city of Boston by Charlotte, N.C.,-based PassportParking. The apps currently work in only a small area of Boston — around the Public Garden, and three blocks up Boylston and Newbury streets into the Back Bay — but the city plans to roll the system out to all of its 8,000 or so parking meters during the coming months.
Taking the App for a Test Park
I put the ParkBoston iOS app through the paces this morning, and though it's still not available on all of the streets it's supposed to be as part of the initial pilot, it's easy to use and works well.
[Related Slide Show: Touring Boston Through Google Glass]
After you download the ParkBoston app, you set up an account by entering your address information and phone number, which is required for identification. (The app sends a confirmation code to your phone, and you can use only that specific device to park; you cannot use your account via an app or browser on another person's phone.) Then you choose a four-digit login code and create a vehicle profile, which requires a license plate number — you can create different profiles for different automobiles. The app saves payment information, which can be use for one-time parking or to preload funds on your account, but you don't have to save credit or debit cards if you don't want to. Unfortunately, the app accepts only Visa and MasterCard.
When you're ready to park, you open the app, enter your four-digit code for authentication and then type in the "zone number" that's located on the parking meter, nearby parking signs or on pay-for-parking machines. Next, confirm your license plate number; specify the length of time you wish to stay; confirm your payment method or enter in a new card; approve the pop-up prompt with the details of your transaction; and you're good to go.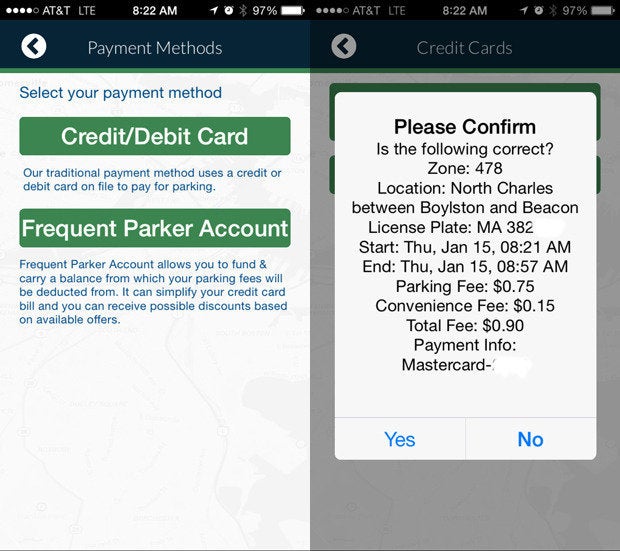 After you pay for parking, the app shows you a status screen with a countdown timer and your remaining time. When you have only 10 minutes left, you receive a ParkBoston notification that reminds you to extend your stay, if necessary. The app can also be set to send email receipts whenever you pay for parking.
Better for Parkers, More Typing for Enforcement Officers
I'm already a fan of the ParkBoston app, and I'm so pleased to no longer have to stock up on quarters that I don't even mind the 15-cent service fee that's attached to each transaction. (The fee for metered parking in Boston is $1.25 per hour.) However, I suspect the city's many diligent meter maids Parking Enforcement Officers may not be so enthused. City parking meters use tiny blinking red lights to show that they're expired. Under the new system, the officers need to enter in every single license plate of the cars parked at expired meters, or without the necessary parking stickers in their windows, to determine if their owners use the app.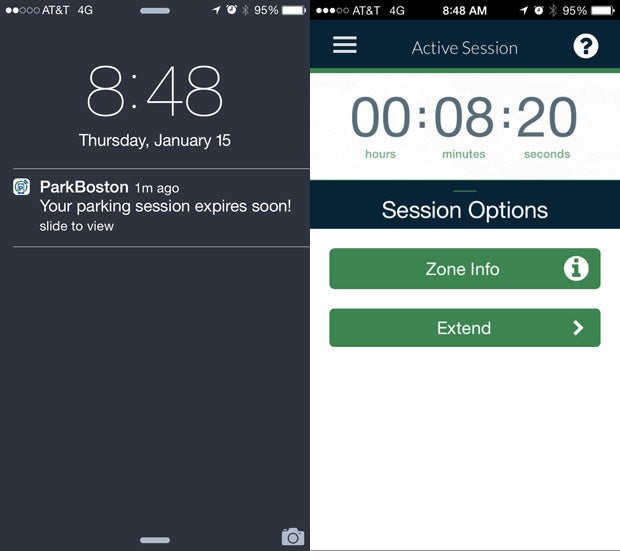 From a Boston press release:
"When using the app the meter will not change to reflect a driver's paid time, however, Boston's Parking Enforcement Officers will see the payment on their handheld computers. To determine whether a driver paid using ParkBoston, the Parking Enforcement Officers will enter the license plate number into their handheld devices."
That could translate into a whole lot more typing, which obviously takes additional time. Of course, the system should result in other gains, such as a reduction in the frequency with which meters need to be emptied.
The ParkBoston app isn't the only one of its kind in the United States. Cities including Chicago, San Jose, Louisville, Omaha and Salt Lake City are also adopting similar offerings, according to Passport Parking. Though the Boston app is not available for Windows Phone or BlackBerry, you can use the service's mobile website to pay with those phones. The process is not as seamless, but it works. You can also pin a launcher to your Windows Phone Start Menu or BlackBerry home screen for easy access.
The ParkBoston apps are available for free via the Apple App Store and Google Play. You can learn more about the service on the ParkBoston website.
AS