Facebook is no slouch when it comes to generating cash. The company banked $1.4 billion in profit on $3.2 billion in revenue during its last fiscal quarter. The world's largest social network also significantly impacts other business activity throughout the world, according to a new report from Deloitte and commission by Facebook, which estimates that the company stimulated $227 billion in global economic output and 4.5 million jobs in 2014.
When Facebook releases its earnings for the final quarter of 2014 this Wednesday, the global numbers will show that the company generates at least 20 times the economic impact of what it produces internally, according to Deloitte's calculations, which exclude Facebook's operations. Facebook's far-reaching economic impact is largely a product of its capability to deliver value in the three ways, according to Deloitte: as a marketing tool, as a platform for app development and as a catalyst for connectivity.
Marketing Drives Facebook's Economic Engine
Facebook marketing resulted in $148 billion of that activity, or 65 percent of its total worldwide output, and 2.3 million jobs globally last year. Marketing on Facebook also contributed $77.6 billion in economic impact and 816,000 jobs in the United States, Deloitte says.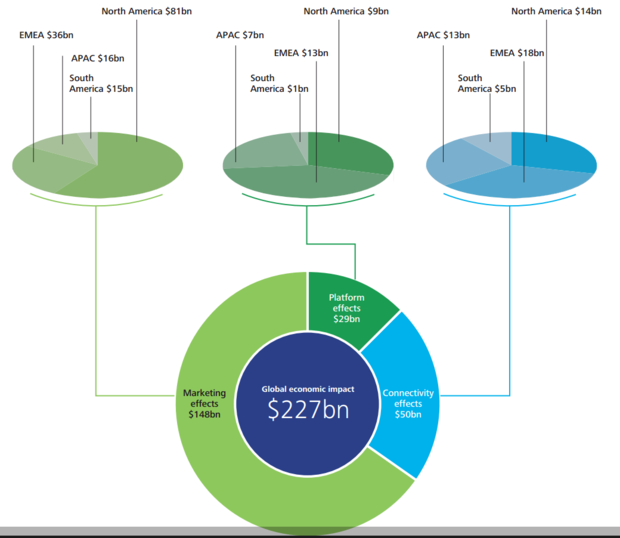 [Related News Analysis: How To Make Sense of Facebook's Marketing Policies]
Mobile devices, and the accompanying wireless service purchases sparked by Facebook, contributed $50 billion in global economic impact last year, while developer tools enabled an estimated $29 billion.
The largest share of Facebook's economic impact and jobs occurred in the United States, where it generated $100 billion in economic impact and 1,076,000 jobs, according to Deloitte. The United Kingdom and Brazil came in a distant second and third with $11 billion and $10 billion in total economic impact from Facebook, respectively.
[Related News Analysis: Why IT Should Be Skeptical of Facebook at Work]
Facebook indirectly stimulated the most jobs per country in India, with 335,000; in Brazil, with 231,000; and in the United Kingdom, with 154,000 jobs overall, according to the report.
Deloitte says it looked at Facebook's economic-impact and jobs figures, based on its contributions to new economic activity, rather than simply displacing existing economic activity.