It's the start of a new year, and what better way to kick it off than to upgrade your business PC to work faster and more efficiently?
Granted, in the era of BYOD, workstations are not as popular as they once were. However, it remains a fact that desktops deliver more oomph for the same dollars, even as they offer significantly more options than laptops for upgrading. Moreover, they make excellent companions to laptops for users who work across multiple devices.
[Related: Why Your Workers Hate BYOD ]
For businesses looking to bolster the performance of their desktop PCs without having to pony up for new devices, below are some relatively straightforward options to jazz up your workstations without breaking the bank.
SSD Your Storage
If you are still on a hard disk drive (HDD), do yourself a favor and upgrade to a solid-state drive (SSD) for a noticeable speed-up in practically every aspect of your computing experience. These days, even an entry-level SSD can deliver a sequential read and sequential write performance that is significantly better than the fastest HDD.
One common complaint on this front is that the higher price of an SSD makes it an impractical option for those who require a large amount of storage capacity. A simple solution would be to install a smaller 128GB or 256GB SSD drive as the primary drive, and use a high-capacity HDD as a secondary drive. Indeed, you can even retain your existing HDD for this purpose.
One recent development on the storage front is the M.2 SSD format, which was designed to replace the mSATA standard. Aside from the promise of even faster transfer speed in the future, an advantage of the M.2 format is that it eliminates additional data and power cables by plugging directly into a dedicated slot on the motherboard.
[Related: A Visual History of OS Desktop Environments ]
Of course, it may be that your old motherboard does not offer support for the M.2 standard, but moving forward, the feature is certainly something you should keep your eye out for.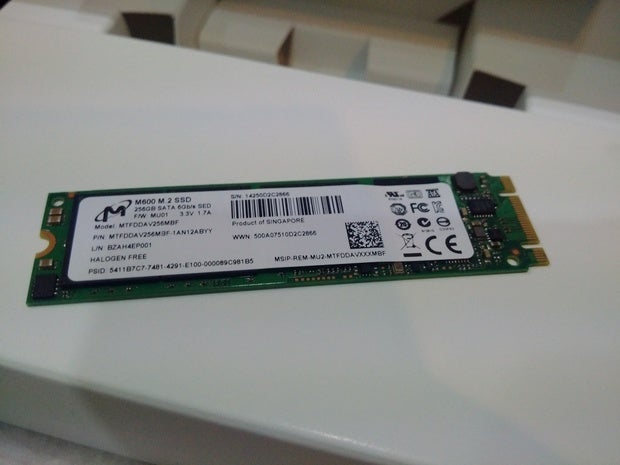 Upsize Your System Memory
You know what they say: There is never enough memory, also known as RAM. And with a 4GB DDR3 RAM stick from Crucial costing less than $40 (including shipping) on Newegg, a RAM upgrade is something to seriously consider.
Even for those who use their PCs for nothing more than basic word processing and Excel spreadsheets, a RAM upgrade from 2GB to 4GB should deliver a noticeable boast in performance; an increase from 4GB to 8GB should relegate most "out of memory" messages into a thing of the past.
[Related: The Future of the Desktop is a Tabletop ]
Of course, those who would benefit the most from a RAM upgrade would probably be professionals in industries that call for such demanding tasks as video editing and computer-aided design (CAD) work. Developers, too, would find the additional memory useful in supporting more virtual machines for testing purpose.
Before rushing out to order additional RAM, though, be sure to quickly open up the chassis of your desktop machine to check out the number of available RAM slots. Most desktops have between two and four slots, and you will need to swap out lower-capacity RAM modules for higher-capacity ones if there are no empty slots available. And while most PCs should be using DDR3 RAM by now, do keep an eye out for older machines that still use DDR2 RAM, which tend to be more expensive to upgrade.
Going to Multiple-Monitor
Over the years, both independent research studies and anecdotal feedback from users of multi-monitor systems have shown that multitasking is easier with two or more monitors. While laptops can run multiple monitors as well, it is much easier to set up desktop systems to do it. Indeed, many desktops can probably support at least two monitors without any external upgrades.
Business users who are serious about going multi-monitor will want to take a closer look at the graphics card from Matrox, which comes with powerful desktop management software to tweak your multi-display rig to your satisfaction. The new Matrox C420 graphics card, for instance, can drive up to four DisplayPort monitors at 2560×1600 each, and relies only on passive cooling to cut down on noise.
Where monitors are concerned, 24-inch LCD displays are now priced very affordably, and even 27-inch monitors are significantly cheaper than they were in the past. And despite the capital outlay of obtaining a second or third monitor, it is worth noting that they do have a much longer usable lifespan than PCs — and could hence be used across multiple computer upgrades.
As it is, be sure to go for displays that offer a high screen resolution, good viewing angles and matte panels. Also look out for monitors that support VESA mount specifications, which would allow them to be used together with monitor arms from third-party vendors such as Ergotron for the best viewing angles. [You can find out more about deploying multiple monitors in "How to Set Up a Multiple-Monitor Workstation." ]
Speed Up Your Network
If you need maximum network performance, go for wired Ethernet connectivity instead of wireless networking. The former is far more reliable, offers dedicated bandwidth between your PC and the network switch, and factors that commonly affect wireless signals — such as office layout — will not be an issue.
Some older workstations may only come with Fast Ethernet (100Mbps) ports, so an upgrade to Gigabit Ethernet with an add-on network interface card (NIC) may be in order. An alternative upgrade strategy would be to go for NICs that offer dual Gigabit Ethernet, which can be link aggregated for higher speed. Of course, a network switch with link aggregation support would also be required for this to work.
Finally, organizations that stand to benefit from an ultra-fast local area network may want to upgrade directly to 10 Gigabit Ethernet instead. The relatively high cost of this equipment means that a switch is not for everyone, though businesses that deal with video production and computer animation may want to seriously look into it.
On this front, a new generation of 10GbE appliances has just arrived, including various 10GbE network switches from Netgear, and a new DS2015xs NAS from Synology that comes with two built-in 10GbE ports.
Desktop Casing and Other Considerations
We have covered four areas in the typical desktop: storage, memory, networking and display. Each upgrade offers specific advantages, and should be a relatively straightforward DIY undertaking. Businesses can also approach service providers in their locality for help with specific upgrades.
Those who are more adventurous may also want to try out other upgrades, such as changing the computer chassis to one that offers more space for internal parts, or to a slimmer one that takes up less space. Aside from more suitable form factors, some desktop cases are also lined with sound-deadening foam and installed with low-speed fans to reduce the noise profile.
Finally, it may also be possible to change the graphics card and motherboard, though this is something that is not usually done, due to the high cost and limited benefits. Specifically, the pace of technology with GPUs means that even the use of a slightly out-of-date motherboard and processor can result in a severe performance bottleneck.
And where the motherboard is concerned, the pin specifications for Intel microprocessors change ever so often, and it is likely that a motherboard upgrade would necessitate a change of its processor, too. As it is, the high cost of replacing both is such that getting a new desktop PC would usually be a better choice.