The easiest way to start a flamewar within the Linux community is by asking what's the best OS or application. You can then lean back in your chair and enjoy the fireworks.
We all know full well that there is no best, or right solution for everyone; what works for me may not work for someone else. The best tool is the one that works for you. Period.
But that political correctness doesn't stop us from trying to find which are the most popular open source projects; what other people use and love. It gives us an idea of what works for most people. LinuxQuestions is one of the most reputed user driven Q&A site and they run an annual survey (for over a decade now) to find the most popular open source applications and distributions.
They just concluded their latest survey and the results are not that surprising.
The top distro
The results didn't surprise me. What surprised me was that there was no clear winner. It was a tie with three players squeezed in – Ubuntu, Linux Mint and Slackware.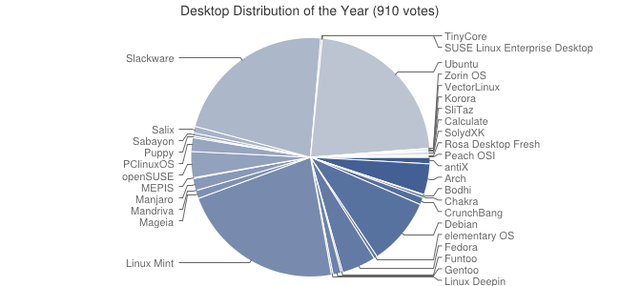 Ubuntu is the undisputed leader in the desktop Linux space thanks to the resources Canonical invested in marketing the desktop Linux. Ubuntu is also known for one of the most civilized online communities, which adheres to very strict code of conduct. The third factor that contributes to Ubuntu's popularity is its focus on ease of use.
Linux Mint is based on Ubuntu and benefits from some of the work done by Ubuntu developers. Linux Mint rose to popularity after the arrival of Gnome 3 Shell and Unity because the developer identified what a majority of users wanted and offered alternatives to Gnome and Unity.
I never used Slackware, I did try once but it did not last that long. But I have heard great things about it from hard core users.
The top desktop environment
The winner in the category didn't surprise me at all. And that's KDE's Plasma desktop. It received over 34% of the votes.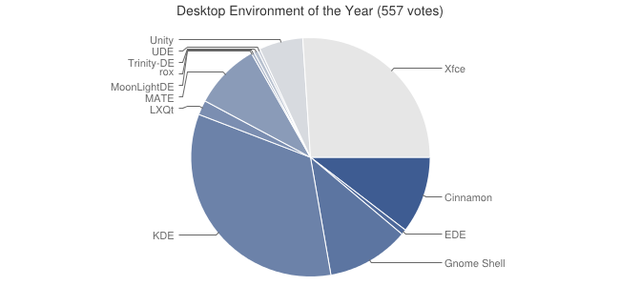 In my experience, Plasma is 'the' most advanced desktop environment around, it beats even Windows and Mac OS X.
Coming in second with 26% of the votes was the good old Xfce, which is among the trusted desktop environments.
Gnome Shell remains at the third spot, sharing it with Cinnamon. It's sad for Gnome as it used to be a favorite DE before Gnome 3 Shell happened. Back in 2009, it won the round with 41% over KDE's 40%. But it experienced a dip in the 2011 survey when they launched Gnome 3 Shell. It never recovered after that.
Best file browser
Dolphin is 'the' best file manager. Period. Nothing, not Finder on Mac OS X, Explorer on Windows, or Files on Gnome, comes anywhere close to Dolphin when it comes to ease of use of richness of features.
In this survey, KDE's Dolphin emerged as the favorite file manager with over 27.70% votes. KDE captured one more spot on the survey – KWin, the KDE Windows manager.
Other open source software picked as favorites were VLC as the favorite music and movie player, Android as the favorite mobile OS, and LibreOffice as the most popular office suite (with over 86% votes).
Check out the LinuxQuestions survey page to see if your favorite application was voted to be a winner.
You can also take a few seconds and tell us in the comments below your favorite open source software!