In case anyone needs to be reminded, mobile devices are vulnerable to security threats. In fact, the amount of known mobile malware increased by 75 percent year-over-year in 2014, according to one report. Last month,the BBC and others reported that Google is only fixing security bugs in Android KitKat (4.4) and Lollipop (5.0).
There's no dearth of Android security apps, of course, but for sheer ease of use, 360 Security stands out. The free app, developed by Qihoo 360, is a must-have for any Android device (with OS v2.2 or higher) thanks to its versatility.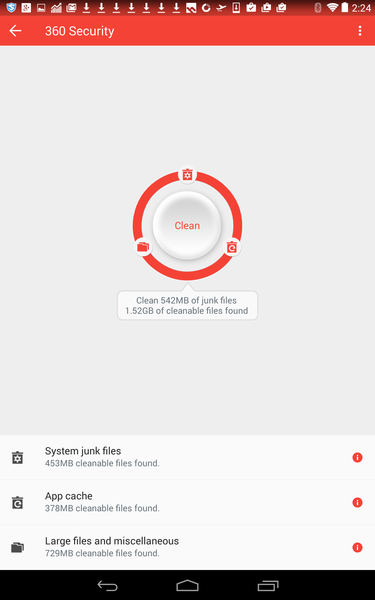 360 Security can be broken down into three component: Boost, Clean, and Antivirus. Boost helps free up your device's memory by closing down active apps that aren't in use, to increase performance and extend battery life. Clean gets rid of system junk files, cleans out your app cache, and more. And Antivirus scans new and installed apps, local APK files and your memory card for malware.
The app also includes a Find My Phone feature, which lets you lock your device if it's lost; turn on an alarm (that sounds like an air-raid siren); and remotely wipe data. A set of privacy features lets you encrypt text messages you send to specific people and lock apps. The app also removes unwanted apps (and their related files) with a tap or two.
360 Security's simple push-button interface may be a turnoff for some security geeks, but for everyone else, it makes using the app dead simple.
Other Android security apps that routinely get high marks from users (4.4 stars or more) include Avast Mobile Security (freemium, with a new referral program to help you earn the $15 per year paid version for free); Norton's freemium security and antivirus software; and Kaspersky Internet Security (freemium). The Clean Master (Speed Booster) Android app also offers memory-boost and storage-maintenance features that are similar to those found in 360 Security.
With so many free or low-cost options, there's no excuse for leaving your Android unsecured. I say start with 360 Security, and if it doesn't meet your needs, give Avast, Norton or Kaspersky a try.