Chances are, you've probably read a few 2012 technology predictions by now, or at least heard about some expected tech trends. The Web and blogosphere have certainly seen no shortage of such forward-looking posts; even CIO.com publisher IDG-Enterprise's President and CEO Michael Friedenberg offered up his two cents on what's to come in 2012.
To set this particular story apart from the pack, I gathered up a handful of insightful predictions from mobile experts at organizations including IEEE, Sybase 365, and Metia/Seattle, and then offered my take on which predictions will prove to be dead on, the ones that could pan out and the predictions that don't stand a chance, in my opinion.
1) Mobile Security and Smartphone Hacking in 2012
The IEEE (Institute of Electrical and Electronics Engineers), pronounced "eye-triple-E," claims to be the "world's largest professional association for the advancement of technology." If that's so, than the smart folks at IEEE should be able to offer some accurate mobile predictions for 2012, right? The IEEE's main warning is that smartphone hacking will soar in 2012, mostly via free, rogue smartphone applications.
IEEE Fellow and National Institute of Standards and Technology (NIST) computer scientist Jeffrey Voas, claims to have already uncovered malware in more than 2,000 currently available free apps. And Voas says roughly 1 in 100 free apps in 2012 will visibly contain malware–and even more malware will be beyond immediate detection.
"The issue with free apps is that you're paying a price you don't know about," Voas says. "Smartphone users need to remember that free isn't necessarily free."
IEEE Senior Member and Head of the School of Computing and Intelligence Kevin Curran thinks businesses, particularly C-level execs, will be the main mobile malware victims in 2012.
"With more people using the same phone for business and personal reasons, the upsurge in smartphone hacking presents a real issue for businesses as well as consumers," Curran says. "A company can have all appropriate firewalls in place, but it takes just one employee to download malware onto their phone. In fact, with more senior employees using phones for work, it is likely to be C-suite executives exposing businesses to vulnerabilities."
Sacco's Take:
I agree wholeheartedly that 2012 will really mark the start of the mobile malware age, in which smartphones and tablets will be targeted to the same degree as desktop PCs. I think a number of high profile malware-related incidents will help to raise awareness of the need for vigilance among smartphone and tablets users, and the enterprise IT managers who maintain such devices. And I think Google's Android OS will fall victim to the majority of these malware incidents because Android security isn't exactly "strong" in general, Android market share is growing so rapidly, and many of Android users choose to "root" or "jailbreak" their devices, which further opens them up to attacks.
I'm not sure about Voas' specific malware numbers, but it does certainly make sense that much of the upcoming malware will come in the form of free apps, because many more users will likely download free applications so the potential benefits to the Bad Guys are more significant.
It's worth noting, however, that malware can definitely be packaged along with paid, seemingly legitimate applications, as well, so users should be skeptical of installing any applications from sources they don't know or trust, whether they're free or not, and especially if the promised functionality seems too good to be true.
As for businesses taking the biggest hit due to an increase in malware, this could be the case simply because businesses tend to use and transfer more potentially valuable information than the average consumer–such as trade secrets.
But many more consumer smartphone users exist than corporate smartphone users, in general. So I would expect more consumers to fall victim to malware than business users. However, the potential for serious damage is larger for a corporate user with sensitive information stored on a mobile device than a consumer storing just music, movies and contacts.
2) Location-Based Services (LBS), Locations Apps and Related Marketing in 2012
From digital marketing company Metia/Seattle VP Andrew Martin, on the trend of location-based marketing and app:
"Mobile devices make location-based marketing possible. Location-based promotions will be increasingly integrated into marketing programs. Purely location-based social apps like Foursquare will struggle because other platforms like Facebook are integrating location-based features that make location-based apps obsolete."
Sacco's Take:
Martin's predictions on location-based marketing and applications are dead on. Companies that haven't yet experimented with location-based marketing will start to dabble with the idea in 2012. And you'll very likely see some big name companies launch high-profile location-related marketing initiatives.
I also believe that consumers who use free, advertising-supported applications on their mobile devices will begin to see much more targeted and location-specific ads in their software in 2012. Some popular free mobile apps already use location-specific advertising, including Internet radio app Pandora. And, in my opinion, this sort of advertising is not only more effective from the advertiser's standpoint, but also less intrusive to the users, since location-specific ads should be more relevant than random ads.
I'm a big fan of location-based application foursquare. (Check out some of my recent posts on foursquare here and here.) But I also agree with Martin that it's going to be a tough year for foursquare and other similar applications as major social networks, including Facebook, begin to offer their own location "check-ins" and other advanced location functionality. Facebook's adoption of location-based services is a validation of foursquare's vision, but it also puts much more pressure on foursquare and others to offer unique features and functionality.
Facebook recently hired the co-founders of Gowalla, which is probably foursquare's leading competitor in the LBS space, and effectively killed the Gowalla service, which will reportedly be shut down at the end of January. So this trend has, in effect, already started.
3) Mobile Commerce, NFC and Mobile Payments
Sybase 365's mCommerce Product Director, Andrew Mikesell, says 2012 will be the "The Year of Living Loyally" via smartphone.
"With the growing consumer dependency on smartphones and tablets there is an increasing interest in and demand for coupons, barcodes and NFC applications. NFC, and related payment schemes, have taken root, however the current generation is still far from ubiquitous. Sybase believes NFC is just part of the answer a layer in the solution, but not a holistic payment solution. Adoption will be driven by loyalty programs not payment services."
Sybase 365's Bill Dudley agrees and thinks both Google/Android and Apple/iOS will play significant roles in accelerating the adoption of mobile payments and purchasing capabilities.
"Google/Android will accelerate their mobile payment/purchase/mCRM capabilities to more devices, operators and partner payment networks (e.g. Visa, American Express and others)," says Dudley. "However, overall, new mobile payment services will mainly be focused on emerging markets utilizing SMS and USSD.
"The new Apple iPhone [iPhone 5] will support mobile purchases and NFC technology, creating a catalyst for jump-starting NFC-triggered point of sale purchases in developed markets. Apple will provide POS capabilities for merchants wishing to support this capability."
Sacco's Take:
You're definitely going to see an increased focus on mobile payments and related technologies like Near Field Communications (NFC) in 2012.
Google and RIM, two of the leading handset makers in the world, have already rolled out or announced NFC-based mobile apps in Google Wallet and BlackBerry Tag. And an NFC-enabled iPhone would rapidly ramp up awareness and adoption of NFC and NFC-related applications, especially if Apple decided to release its own NFC-based app for data sharing, payments, etc.
I also agree that we'll see a stronger focus on mobile loyalty cards and programs, which will help consumers get used to using their phones for purchases, and eventually help them become comfortable with tying payment card information to smartphone apps.
4) Microsoft and Windows Phone in 2012
Dudley at Sybase 365 says: "Windows Mobile 7 will begin to make a resurgence in the second part of 2012, partially helped by Nokia devices and as well as their Skype acquisition. By the end of the year, it will surpass Samsungs Bada moving into the top 4 smartphone platforms: Android, iOS, BlackBerry, Windows Mobile 7."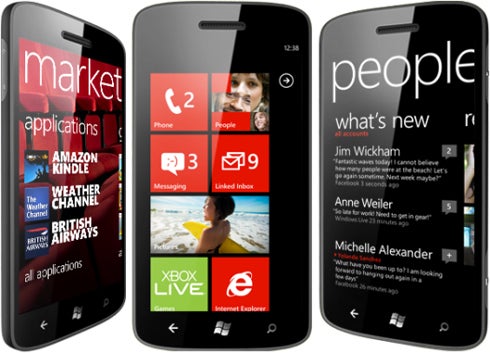 Sacco's Take:
More Windows Phone devices will very likely translate into more Windows Phone users. And the release of a number of cool, new Nokia handsets with Windows Phone software will certainly offer more Windows mobile device options. But to say that Windows Phone will make a "resurgence" seems like a bit of stretch from where I'm standing. (It's also worth noting that there's no such thing as "Windows Mobile 7,"and the fact that Mr. Dudley isn't aware that Microsoft's latest mobile OS is called Windows Phone 7.5 probably doesn't bode well for his prediction…)
I don't really think Windows Phone 7.5 will gain much ground in 2012. I can count the number of people I know who use Windows Phones on one hand, and I'm a mobile blogger. And it's hard for me to see Microsoft's mobile OS really taking off, at least in the United States. However, considering the fact that very few current mobile devices run Samsung's Bada OS, at least in the grand scheme of things, it does stand to reason that Windows Phone will overtake Bada in market share, simply because so many new Windows Phone options will become available to consumers in 2012, via new Nokia handsets like the Lumia lineup.
AS
Al Sacco covers Mobile and Wireless for CIO.com. Follow Al on Twitter @ASacco. Follow everything from CIO.com on Twitter @CIOonline and on Facebook. Email Al at asacco@cio.com