Looking to spend less dough on stuff you want or need? I've got two new, free apps that can help.
The first, Savor, sounds like a food app. It's actually a Flipboard-inspired coupon browser optimized for Android tablets and iPads. The iPad app has been out for a while; the Android tablet version, which I tested, was released in June.
You can browse Savor categories, including "Accessories," "Electronics," "Travel" and "Men's Apparel," for deals from retailers, hotels, florists and other companies. You can also do keyword searches or scroll through retailers such as Best Buy, Microsoft Store, Dollar Rent a Car, eBags and Home Depot. Another option is to personalize your feed with retailers and categories that interest you the most. When you find something you like, the app takes you to the retailer's website.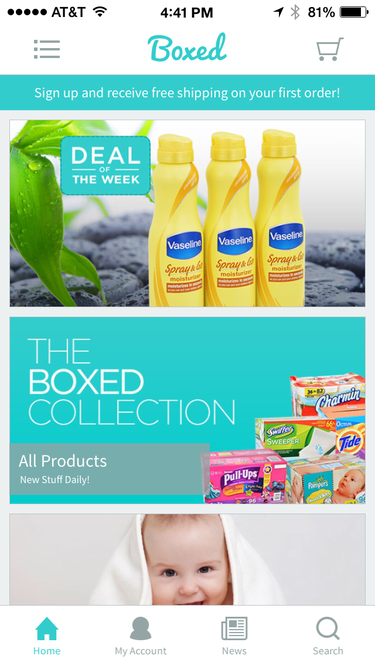 Using Savor, I found a few good deals, including one for 50 to 68 percent off SanDisk USB flash drives at Best Buy. The app is easy to use, and I like the ability to customize notifications. You can get nudged when a deal is about to expire, for example. One complaint: When browsing categories in "catalog" mode, the offers don't always display properly and are sometimes hard to read.
Next up: Boxed, a recently released iOS app that's optimized for both iPhone/iPod touch and iPad. Boxed promises to give you warehouse-store prices without the membership fees and with free shipping.
Like your local Costco's or Sam's Club, Boxed is for consumers who don't mind buying in bulk, and having fewer choices, in order to save money. Browsing and searching the app is simple and intuitive, though in a spot check, it didn't always offer the lowest prices.
For instance, on several items, Boxed beat Amazon.com, which is my go-to online store for practically everything. Amazon bested Boxed in some cases. Example: Vaseline Spray & Go moisturizer was a recent special on Boxed, with three 6.5-oz. cans for $18, or $6 each. On Amazon, I found the same product for $29.94 for six cans, or $5 each.
Both Savor and Boxed are worth a download. They're free and they may help you spend less money. Others to consider include TheFind (for Android and iOS) and ShopSavvy (Android and iOS).