Yahoo wants to replace your current Android home screen with Aviate, an "intelligent home screen that simplifies your phone." The recently released app, which was an invite-only beta release for months, is attractively designed, streamlined and easy to use, like many of Yahoo's latest mobile apps. Unfortunately, in its current incarnation, it's missing a few key features.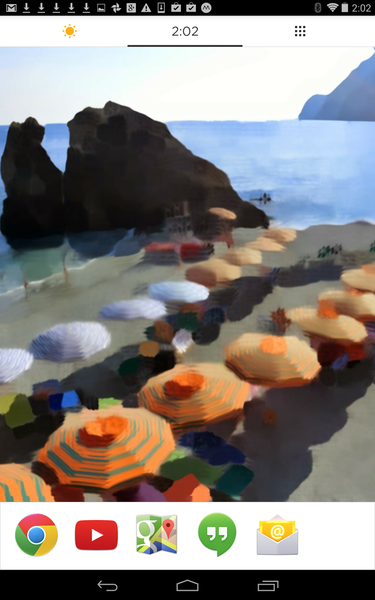 After installing Aviate, the app steps you through a few setup screens so you can tell it which apps — and which types of apps — you use most. Aviate then organizes your apps accordingly into groups. A dock at the bottom of your home screen gives you quick access to your favorite apps. (Aviate requires Android 2.3 and up.) You can easily change the default home screen image to one of your own.
In a Google Now-ish way, Aviate considers your current location and other criteria when deciding what to display. When you're on the go, for instance, you can swipe to get a traffic update. At work you see productivity apps. If you're ready to listen to music, plugging in earbuds makes your music apps materialize.
Aviate offers other goodies, too, including the ability to dial into conference calls automatically from a calendar entry.
None of these features are particularly revolutionary, however, and there are downsides.
As with any launcher, you probably need time to orient yourself to your new home screen. In other words, I wouldn't install this on a busy day.
Curiously, for a company like Yahoo that's pushing its search capabilities, Aviate lacks an integrated search tool, which is an inconvenience. Some users also report noticeable declines in battery life after installing the launcher, though I haven't noticed any.
If you're a Yahoo fan or you seek a simpler home screen experience, give Aviate a try. It does what it promises— though it could certainly do more.