When the goal is to deploy computers in mass quantities to keep employees productive, nothing beats an ultra-slim desktop computer. Laptops and tablets are helpful for remote works and mobile computing – but on the desktop, these systems are about the size of your hand and don't take up too much space. They are designed from the get-go for remote management and easy tech support, and they come with fewer moving parts (for example, there's no optical drive).
Here are four options for enterprises looking for computers that pack a punch but don't take up much space on a desk, shelf or table. (Monitors sold separately.)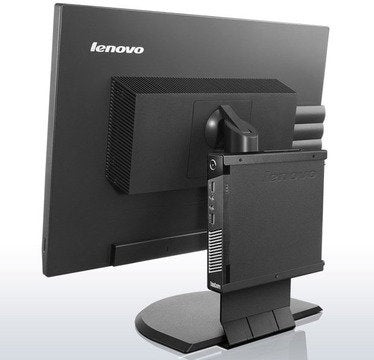 Lenovo ThinkCentre M73 Tiny Desktop: Microsoft Office Preinstalled
Weight: 2.9 pounds
Dimensions: 7.2 by 7.2 by 2.6 inches
This ultra-slim computer has all the hallmarks of an enterprise-ready machine. Released last fall, the M73 (available in a base version for $439) can run an Intel Core processor up to the i7, up to 16GB of RAM and up to 1TB of local storage. Your IT folks will appreciate the sixth-generation Intel vPro technology for easier remote management and software installs. All Lenovo M73 Tiny editions come preinstalled with the Microsoft Office suite, but vPro is an option only on a few configurations.
HP EliteDesk 800 G1 Desktop Mini: Extra Layer of Security
Weight: 2.9 pounds (approximately)
Dimensions: 6.9 by 7 by 1.3 inches (approximately)
Starting at a base price of $699, the ultra-slim EliteDesk is a bit pricier than the Lenovo M73, but it's smaller and packed with enterprise-grade features. Surprisingly, there are two USB ports in front and another four USB ports in back. You can outfit the HP EliteDesk 80 G1 Desktop Mini with a 120GB SSD drive or up to 1TB of HDD storage. The HP BIOSphere software is designed to help manage passwords and adds an extra layer of security before the OS boots. In idle, the EliteDesk uses only 8-watts of power.
Asus EeeBox EB1036: Cheap and Quiet
Weight: 1.4 pounds (approximately)
Dimensions: 8.6 x 6.8 x 1.1 inches (approximately)
If you want to forgo a faster next-generation processor with the goal of reducing costs, consider this Intel Celeron-powered netbook-desktop. Sold online for just $229, the Asus EeeBox EB1036 nonetheless runs Windows 8.1 Pro, has a front-mounted USB 3.0 port for fast disk transfers, and a VESA-mount for attaching to a monitor or behind an HDTV in a conference room. The EeeBox base model comes with 2GB of RAM (upgradeable to 6GB) and up to 1TB of storage. Finally, it designed to run whisper quiet at only 28 decibels.
Google Chromebox for Meetings: Easy Videoconferencing
Weight: 1.3 pounds (approximately)
Dimensions: 4.9 by 4.9 by 1.6 inches
Starting at $999, this palm-sized mini desktop includes an HD video camera, an omnidirectional microphone with speakerphone and a remote control. They all work in tandem for a low-cost videoconference system that uses Google Hangouts or other online video apps. The base model runs on an Intel Core i7 processor and uses the Google Chrome OS. For enterprise deployment, you can pay a yearly $250 maintenance fee for remote management and support. There are four USB 3.0 ports (two on the front and two on the back). Finally, not running local apps on Google Chromebox for Meetings means no local viruses.