CIOs in the U.S. struggling with the Bring Your Own Device (BYOD) trend might want to look across the pond to see what their European counterparts are doing — or rather, not doing.
Nearly half of CIOs there aren't doing BYOD at all, according to a report from IDC Europe, and it's unlikely they'll change their minds anytime soon.
In fact, they might even do less BYOD in light of the recent IBM-Apple partnership.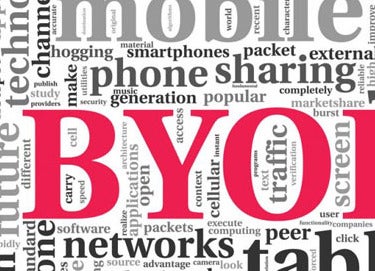 "BYOD has taken off to quite a large extent in the U.S., and for a while it looked as though it was going to be vogue in Europe as well," says John Delaney, associate vice president of mobility at IDC, speaking at the 2014 Microsoft Windows Phone 8.1 and Enterprise Mobility Summit. "But European employees don't like BYOD so much as American employees."
Armed with statistical evidence, IDC claims that BYOD adoption in Europe is stalling.
Last year, IDC asked European companies about their BYOD plans. The results of the 2013 survey showed 26 percent had a formal BYOD policy, 31 percent planned to create one, and 44 percent weren't planning to do so in the next 18 months. Flash forward to the same survey question this year: 36 percent had a formal BYOD policy, 23 percent planned to create one, and 41 percent didn't have any plans in the next 18 months.
BYOD Not Playing in Europe
Taken together, the annual surveys tell a story. Companies planning to adopt BYOD are making progress but the group not planning to adopt BYOD remains largely intact at just over 40 percent. In other words, European CIOs are not convinced that BYOD is the way to go.
There are signs that the same thing might be happening in the United States. CompTIA's spring survey of 400 IT and business executives found that anywhere from 39 percent to 51 percent of respondents are not doing BYOD at all. The largest companies make up the majority of the anti-BYOD crowd.
[Related: What Is Going Wrong with BYOD?]
To be fair, many U.S. surveys also show BYOD adoption going like gangbusters. Spiceworks, a network for IT professionals, released results from a survey of more than 1,100 tech pros showing that 68 percent of organizations support BYOD today. Among them, 60 percent support personal smartphones, 51 percent support tablets, and 38 percent support laptops.
'You Want Me to Pay for That?'
In Europe, though, BYOD adoption has reached a plateau, Delaney says. One reason is that employees expect companies to pay for a mobile device that's fast becoming the primary tool to access systems and data.
"There's a cultural expectation here that your employer will provide you with the tools you need to do your job," Delaney says. "You don't expect to have to buy it yourself."
Another reason is all the baggage BYOD brings. When employees come up against BYOD user policies asking them to sign away their expectations of privacy or BYOD management software that grants space on their personal device not under their control, Delaney says, "They start to become a little less keen."
Now a new BYOD blocker has emerged: the IBM-Apple partnership announced last week, whereby IBM will help usher iOS devices and exclusive vertical-industry apps into the enterprise.
[Related: IT Learns to COPE With Mobile Devices ]
More and more iPhones might end up on a company's Choose Your Own Device (CYOD) list of company-owned devices, an alternative to BYOD that's growing in popularity in Europe, Delaney says. CYOD takes the selection and procurement of mobile devices away from employees and brings them back to the IT department.
"One of the main drivers of interest in BYOD is that end users want to use iPhones and iPads for their work," Delaney says. "If your employer gives you an iPhone and/or an iPad, as a result of a joint sale from Apple and IBM, why would you want to bring your own?"