While 70 percent of hiring managers plan to hire more IT pros in the second half of 2014, candidates are showing they're not willing to accept just any offer. In fact, 32 percent of hiring managers and recruiters said in a recent Dice.com survey that their offers were being rejected, and a majority (61 percent) of respondents said candidates were asking for higher compensation than they did as recently as six months ago.
"Tech professionals appear to be waiting for the right position and the right pay," says Dice.com's President Shravan Goli. "A healthier recruiting environment puts upward pressure on compensation, not unlike what Dice saw in its annual salary survey, and all signs looks like that will continue in the months ahead," he says.
Employers have gotten spoiled over the last four years in a market where candidate supply far outpaced demand. But now, Goli says, that balance is shifting in the candidates' favor.
"Employers have been dealing with a tight technology job market for four years. That's creating frustration in the market: the majority of survey respondents said some positions are going unfilled based on salary guidelines for the job," he says.
It seems candidates are becoming more willing to leave positions they find unfulfilling or unsatisfactory, too, says Goli, and with an unemployment rate of just 2.8 percent in the technology field as of Q1 2014, they aren't having much of a problem finding new jobs.
[Related: Demand for Software Developers Remains High]
"We're seeing that turnover rates continue to be ahead of last year," says Goli. "In March and April of 2014, the number of people resigning voluntarily has increased, and is now above the 10-year average. That means IT pros aren't willing to accept a less-than-stellar work environment or a stagnant salary," Goli says, "They're willing and very able to go elsewhere because demand for their skills is so high and supply remains consistent," he says.
More than eight out of ten recruiters surveyed in MRINetwork's semi-annual recruiter sentiment survey agreed that the market is currently candidate-driven, though companies are having trouble adjusting to the new reality.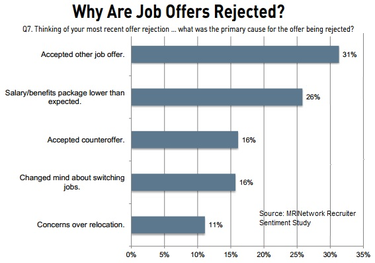 According to the MRINetwork survey respondents, 42 percent of candidates who received a job offer turned it down, with 31 percent citing "received another offer" as the reason why. Companies that aren't willing to accept this new reality, up the ante and make competitive offers risk losing out on elite talent, or having existing talent resign in favor of better offers, says Dice.com's Goli.
"What has to happen is companies have to recalibrate what they're willing to offer to address these open positions — they've been in a recession, where people were willing to take almost any job for any amount of money and companies got complacent. Now, though, they're going to have to start changing their attitudes about compensation or risk higher turnover rates," Goli says.