While attending a tech conference last month, Michael DeFranco received word on his phone that Apple was joining forces with IBM to go after the enterprise. The CEO and founder of Lua, a mobile messaging service running on Android and iOS, stared at the text message in disbelief.
"I was shocked," DeFranco says.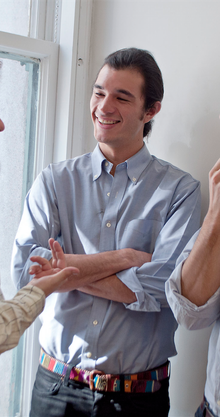 What was going on? This didn't sound like Apple at all. DeFranco had recently read Steve Jobs, the best-selling biography by Walter Isaacson, and knew that Jobs' disdain for all things corporate had carried over to the last years of his life. Even under Tim Cook, Apple hadn't showed signs of truly warming to the enterprise.
Perhaps Cook was just biding his time, waiting for the right moment to transform Apple into an enterprise player, or at least a friend to businesses. What better way to do it than announce a partnership with the biggest technology signal caller for companies around the world? IBM is going to be an Apple reseller, and together they plan to build more than a hundred exclusive iOS apps serving vertical industries.
Is This the New Cook-Era Apple?
DeFranco's initial shock slowly turned to excitement.
"Maybe we're in a new age of Apple, where enemies like Apple and IBM can get together and collectively make a better experience for enterprises," DeFranco says. The challenges supporting the iPhone experience in the enterprise, he says, "might change now."
For starters, Apple can do a better job reacting to enterprise app and service providers needs, DeFranco says. For instance, Lua deploys software every seven days, often for its native iOS and Android apps. End-users on Android receive the software right away, whereas iOS users have to wait a week as the update winds its way through Apple's mysterious App Store approval process.
Enterprise messaging, though, should be ubiquitous — not some users with features and others without. Lua's messaging service is based on DeFranco's work getting messages to and from first responders during the Katrina disaster. He quickly learned the power of a system that keeps everyone in the loop, regardless of the mobile device they're using. One of Lua's core values is to be platform agnostic.
That's why DeFranco hopes the Apple-IBM partnership means Apple will dedicate more resources into its enterprise app ecosystem and perhaps put an end to these kinds of frustrations, delays and secretive processes.
Will iPhones Now Be the CIO's Top Choice?
Exactly what Apple will do remains to be seen. The only fairly certain assumption is that the Apple-IBM partnership will bring more iPhones and iPads into the enterprise. Apple could replace BlackBerry and become the preferred device maker among CIOs. In turn, CIOs might scuttle bring-your-own-device, or BYOD, in favor of company-owned iPhones and iPads under choose-your-own-device, or CYOD.
When it comes to Android and iOS, DeFranco doesn't have a horse in the race. Every Lua customer supports a heterogenous mobile environment with both Android and iOS devices. Lua's Android and iOS application development and testing teams are roughly the same size. In terms of enterprise penetration, Android usage has spiked over the last 12 months but the majority of users still favor iOS.
That said, Google's recent partnership with Sprint, which followed on the heels of the Apple-IBM partnership, is also good for the future of enterprise mobility, DeFranco says. Sprint will resell Google's business-focused apps and become a single point of contact for service on Google Apps and Sprint's wireless services.
"Google's partnership with Sprint is more progressive," DeFranco says. With both Google and Apple competing in the mobile enterprise space, he says, "this should create a better work experience, in terms of people developing for the enterprise overall."
There is no question Apple's decision to team up with IBM is a watershed moment for enterprise mobility. On the flip side, DeFranco says, Apple could have stuck to its consumer roots and inked a mobile content deal with, say, Disney, or come out with an iWatch or more seriously targeted home television, all of which wouldn't have shocked enterprise app developers but made them more worried about their future.