12 CIOs Who Are Earning Millions
Taking into account both base salaries and 'other' compensation, these 12 CIOs are raking in millions.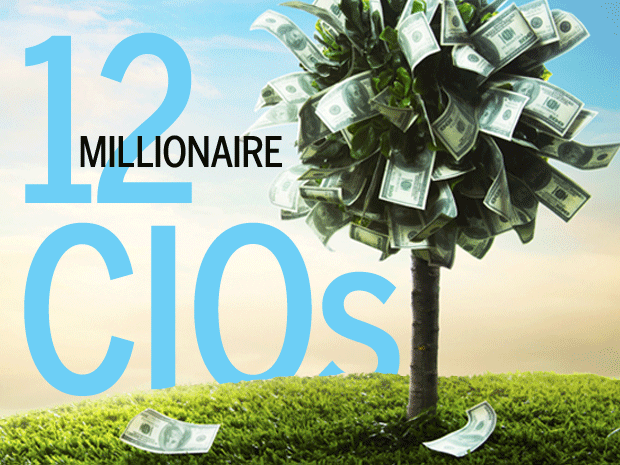 Janco Associates recently reported a trend among CIOs: Taking into account  base salary and 'other' types of compensation, many CIOs are pulling in over $1 million a year.
"The striking component of the compensation plans for each of the executives who made this list is that none of them got on the list with a base salary of $1 million.  They all get 'other' compensation -- mostly in the form of stock," says Janco Associates' CEO M.V. Janulaitis. "t was only 1987 when the first million dollar CIO, DuWayne Peterson at Merrill Lynch, was identified.  Now it is almost normal for these high-powered executives to be in that club," he says. Here's a rundown of the top 12. (See the full list)
Rob Carter, FedEx
Robert B. Carter is co-CEO and CIO of FedEx Corporate Services. Carter is responsible for setting the technology direction of the FedEx applications, infrastructure, networks and data centers that provide 24/7 worldwide support for FedEx product offerings. He is a member of the five-person executive committee, which plans and executes the corporation's strategic business activities.   

Carter joined FedEx in 1993 and has more than 30 years of systems development and implementation experience.
Deb Butler, Norfolk Southern
Deborah H. Butler has been the CIO and an executive vice president of Planning at Norfolk Southern Corp. since 2007.  She joined the company in 1978 as a Customer Account Auditor, and served in positions of increasing responsibility in operations before being named assistant vice president, transportation customer services, in 2000 and vice president of customer service in 2002. Butler is a 1975 graduate of Agnes Scott College and holds a degree in English literature.
Matt Carey, Home Depot
Matt Carey is executive vice president and CIO for The Home Depot. He is responsible for all aspects of the company's IT infrastructure, including communication networks and retail systems for more than 2,000 stores and store support centers in the U.S., Canada, Mexico and China. Carey also is responsible for the company's IT strategy, including the development and execution of technologies used in stores, online and in the supply chain.
Before joining The Home Depot in 2008, Carey served as senior vice president and CTO at eBay; prior to that, he spent more than 20 years with Wal-Mart, where he was senior vice president and CTO. He earned an associate's degree in information systems from Oklahoma State University-Okmulgee.
Anil Cheriyan, SunTrust Banks
Anil Cheriyan has been the CIO of SunTrust Banks since 2012, and also serves as its corporate executive vice president. Cheriyan joined SunTrust from IBM Global Business Services, where he served as a senior partner serving financial services industry clients and led a variety of business systems transformation, technology and process re-engineering initiatives.
Prior to joining IBM in 2002, he was a partner with PricewaterhouseCoopers Consulting (PwCC), a senior consultant with EDS and information services manager for TVS Clayton, Ltd.. Cheriyan earned his Bachelor of Science in Electronic and Electrical Engineering, as well as his Master of Science and Master of Philosophy degrees in Management, from Imperial College in London.
John David Thomson, Western Union
As executive vice president, Global Operations and Technology and CIO, John David Thompson is responsible for building and developing Western Union's IT infrastructure and maximizing efficiency, quality and customer delivery for the company's global agent network of more than 500,000 agent locations. Thompson has more than 20 years of experience in the IT industry, most recently as group president, Services and Support and Global CIO of Symantec. Thompson studied at Marymount University in Arlington, Va. and American University in Washington, D.C.
David Barnes, UPS
Dave Barnes is CIO and global business service officer for UPS. He is responsible for all aspects of UPS technology used to serve more than 220 countries and territories around the world.
In addition, he is responsible for UPS Global Business Services, which includes shared services support for HR, accounting, procurement and customer contact centers. Barnes also chairs the UPS Information Technology Governance Committee, which is responsible for the direction of UPS technology investments, ensuring they stay aligned with the company's business vision and strategy.
Barnes joined the company in 1977 as a part-time package loader in St. Louis, Missouri, and has held assignments in operations, industrial engineering, finance, and information technology. Barnes earned his bachelor's degree in business administration at the University of Missouri.
Ron Griffin, AutoZone
Ronald B. Griffin has been the CIO and senior vice president of IT at AutoZone since 2012. Prior to this role, Griffin served as head of global application development and support of Technology Solutions Group of Hewlett-Packard Company since February 2006. Griffin joined Hewlett-Packard after co-founding Griffin, Anderson & Co., an IT consulting firm. He spent 12 years with The Home Depot, the last eight of which as senior vice president and CIO, and led its IT strategy and business organization.
Lisa Bachmann, Big Lots
Lisa M. Bachmann has been the CIO and executive vice president of Big Lots since 2012, prior to which she served as the executive vice president of supply chain management and CIO. She is responsible for merchandise planning, allocation and replenishment for more than 1,500 retail stores. She also oversees mission-critical IT for all areas of Big Lots, including supply chain management, merchandise planning, allocation, distribution, store operations, finance, human resources and business processes. She has more than two decades of retail and financial experience, including positions with Ames Department Stores. Bachmann holds an MBA and a Bachelor's degree in Accounting from Western New England College in Springfield, Mass.
Donagh Herlihy, Avon
Donagh Herlihy, senior vice president, CIO, leads Avon's IT strategy and operations. He is responsible for providing all aspects of the technology infrastructure supporting Avon's internal business operations and for connecting more than six million Avon representatives.
Herlihy joined Avon in 2008 from the Wrigley Company, where he was CIO. Prior to Wrigley, he spent six years at Gillette. Earlier in his career, Herlihy was based in the U.K., where he worked in the manufacturing, business process reengineering and IT in both the consumer goods and automotive sectors. Herlihy has both a BS and an MA in Industrial Engineering from Trinity College in Dublin, and he has completed the Executive Program at the University of Michigan, Ross School of Business.
Elizabeth Hackenson, AES Corp
Elizabeth Hackenson has been the CIO and senior vice president of Global Business Services at the AES Corporation since 2008. Hackenson leads AES's IT strategy and manages AES's IT infrastructure and applications. Prior to joining AES, she served as a head of Information Technology Organization of Alcatel-Lucent, S.A. She has more than 30 years of experience leading technology operations and initiatives across large-scale, complex organizations in the telecommunications industry. Hackenson holds a degree in data processing from New York State University.
Don Imholz, Centene
Donald G. Imholz has been the CIO and executive vice president of operations of Centene Corp. since 2009. Imholz has significant experience in IT spanning a number of industries, including more than 30 years with Boeing in the aerospace industry. Imholz received a Bachelor Degree in Business Administration from the University of Missouri - St. Louis. He also has a degree in Information Management and an Executive Master Degree in Business Administration from Washington University in St. Louis, Missouri.
Cindy Nash, Windstream
Cindy Nash is executive vice president and CIO for Windstream. Nash is responsible for the management and delivery of IT services, including systems architecture, software development, infrastructure and production services. She previously served as senior vice president of customer service for Windstream.
She has worked in the telecommunications industry since 1986 and served in a variety of executive management roles, including vice president of information systems for CenturyTel and CIO for VALOR Telecom before joining Windstream in 2006. Nash holds a bachelor's degree in business administration from Northeast Louisiana University and an MBA from the University of Texas at Dallas.
Next Up: Check out these related slideshows