As far as vacation destinations go, popular hotspots such as Honolulu and California's Wine Country have nothing on British Columbia's Okanagan Valley.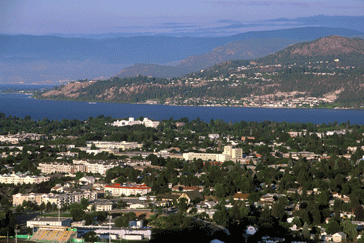 The area offers award-winning vineyards, tasty organic produce, a 68-mile freshwater lake and nearly 50 golf courses, all within an hour's drive. The city of Kelowna, the de facto capital of the region that boasts gourmet restaurants, world-class real estate, an international airportand a cultural district complete with museums, theater groups and a ballet.
MORE ON CIO.com
Six Ways to a More Efficient Data Center
An Intro to Environmentally Sustainable IT
But what most tourist brochures don't mention is that the Okanagan also is becoming known in IT spheres for something else: data processing and storage.
Thanks to its seismic stability, cheap and accessible power and a talented workforce, the Okanagan recently has seen a proliferation of data services vendors and has attracted interest from at least one major international corporation to build one of the biggest data centers in the world.
When it opens later this year, this $100 million data center—appropriately dubbed the Gigacentre—will total 85,000 square feet and will have the capacity to store nearly 35,000 terabytes of data. Put differently, the Gigacentre will generate more than 700 watts per square foot, while most data centers currently generate a maximum of 300 watts per square foot.
The Gigacentre is a joint venture between IBM and Rackforce, a local hosting service provider. It will be IBM's first data center in British Columbia and is powered by hydroelectric energy from the Columbia River. Interestingly, it's not the first North American data center to be powered by the Columbia, as the map below shows. Other data centers from Google in The Dalles, Ore., and Microsoft in Quincy, Wash., and Spokane, Wash., get their energy from the same waterway.
Safe, Yet Close to the U.S.
Brian Fry, vice president and cofounder of Rackforce, says the center, expected to open by this summer, will cement the Okanagan's position as the new data capital of the West—a position that could be particularly intriguing for U.S. companies who are looking to keep mission-critical information offsite.
"There's a lot of data out there," he says. "The Okanagan provides a safe yet close place to store it for U.S. companies to keep it under watchful eye."
Rackforce isn't the only local data storage company to meet this demand; currently, there's also a company named Iron Diamond Networks, which provides outsourced data center infrastructure services such as disaster recovery, data backup and data replication.
Similar businesses are on the way—statistics from the local economic development office indicate that nearly 20 percent of the 12,800 new business licenses doled out in 2007 were to high-tech firms.
This growth is contagious. Robert Fine, director of economic development for the regional district of the central Okanagan Valley, which covers the cities of Kelowna, Westbank and Peachland, says that according to a Canadian growth index that measures factors including unemployment rate, business starts and building permits, the Okanagan economy has grown by a staggering 11.1 percent since 2005, in step with growth in other Western Canadian cities such as Vancouver and Calgary.
"We think the local economy is going to slow down, but everything around here keeps growing," he says. At a time when real estate is slumping in the U.S., Okanagan real estate is skyrocketing—the current median price is $539,000, up from $469,000 in 2006 and $374,000 in 2005.
Capitalizing on Environmental Stability
All this growth is fine and good, but what makes the Okanagan such a great spot for data services? Environmental stability, for one.
Geologic surveys indicate that the Okanagan is at least 150 miles from the nearest earthquake zone. Climate experts also have said that the region's location in the high desert makes it safe from other disasters such as floods, tornadoes and major storms.
Perhaps the only natural risk: wildfires, which ravaged the local countryside in the summer of 2003 but left most of the urban areas relatively unscathed.
"We considered the threat [of fire], but when we assessed it against threats in other geographies and other regions, it was far down on the scale," says Rick Ellery, territory services leader for the British Columbia division of IBM Canada. "Even with the fires, the Okanagan is one of the safest spots in North America to build a data center."
How to Pick a Good Data Center Spot
IBM has developed a list of data center characteristics companies should consider before socking their data away:
•Proximity to earthquake zones and flood planes (at least 150 miles away)
•Stable and abundant electrical power
•Abundant network bandwidth from multiple carriers
•Extensively scalable floor space
•Ability to provide separate customer spaces (cages or separate rooms)
•Support multiple power & cooling densities (watts per sq/ft)
•Security and fire suppression
•Work area/office space
•Low real estate costs
•Low operations costs
•Built to energy efficient "green" standards
•Available on-site eyes and hands services
•Data backup services; offsite data vaulting
Source: IBM's new division for business continuity and resiliency services.
Cheap and Plentiful Power
The area offers another key ingredient to large-scale data storage: cheap and plentiful power.
Just about all of the energy in the region is hydroelectric, with two companies—FortisBC and BCHydro—pulling power from a series of dams along the Columbia River (yes, the same Columbia that empties near Astoria, Ore., starts in the Kootenay Rockies region and eventually runs near the Okanagan, too).
While this energy is cheaper than traditional alternatives such as coal or oil—hydro power can be as low as 2 cents per kilowatt hour, compared to as much as 20 cents per kilowatt hour for other means —it's also "greener," meaning the process does not rely on renewable resources at all.
Furthermore, David Tarasenko, president and chief executive of IronDiamond, says that by virtualizing certain accounts, data storage providers can cut back on energy use by as much as 50 percent.
"As the environment becomes a bigger issue, green IT is going to become a huge consideration for companies looking to store data offsite," he predicts. "Here in the Okanagan, we can provide that."
IT Labor Supply
A third and final reason data storage companies have flourished in the Okanagan is that the area is home to a young and talented workforce of IT professionals to keep things going.
Local high-tech companies such as Club Penguin, which was recently sold to Disney for roughly $365 million, are always bringing in workers from big cities like Vancouver and Calgary. The relatively new University of British Columbia at Okanagan also has a computer science program (14 graduates in 2007).
All told, the triumvirate of stability, power and smart people create a perfect atmosphere for data storage in the beautiful Okanagan Valley. The local economic development director jokes that if this high-tech boom continues, the region might just have to build a marketing campaign around its new data center and IT.
"We used to call the area 'Silicon Vineyard' because we felt the nickname perfectly captured the Okanagan's mixture of natural beauty and high-tech," he says. "We haven't used it in a while, but who knows? It's never too late to bring it back."