Though Nokia and Research In Motion (RIM) continue to hold the top two slots in global smart mobile device sales—sales of smartphones and wireless handhelds—Apple made impressive in-roads in the space during the first year its iPhone was available, topping shipments of smart devices from U.S. veterans like Motorola and Microsoft to take third place, according to a recent report.
Related Stories
In-Stat: Worldwide Smartphone Market to Grow More Than 30 Percent Each Year Through 2012
The Business-Savvy Smartphone Review
How Handset-Maker Palm Lost Its Punch in 2007
What Motorola Could Learn from Apple and the iPhone
A Brief Pre-Release History of the Apple iPhone
And the iPhone isn't even available yet in the Asia Pacific region, which is the world's largest smartphone market by volume, followed by the Europe, Middle East and Africa region and then North America, says Canalys, a technology market research firm. Apple's smartphone was first released in the United States on June 29, 2007, and it was made available in Europe last fall.
"When you consider that it launched part way through the year, with limited operator and country coverage, and essentially just one product, Apple has shown very clearly that it can make a difference and has sent a wakeup call to the market leaders," said Pete Cunningham, a senior analyst with Canalys, in a release.
Canalys ranked Nokia, RIM, Apple and Motorola as the leading global smart mobile devices vendors in the fourth quarter of 2007. Nokia shipped more than half of all the smartphones sold throughout the world during the period, or 18,802,480 units, the report says. RIM sold 4,046,860 devices throughout Q4 2007, and Apple sold 2,320,840. Total worldwide shipments of such converged mobile devices jumped 60 percent over 2006 to 115 million in 2007, according to Canalys. In the United States, RIM topped the list of converged mobile device vendors with 41 percent market share, followed by Apple's 28 percent and struggling handset maker Palm's 9 percent.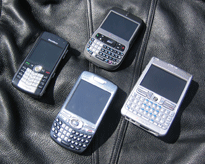 Nokia, RIM, HTC

and Palm Smartphones
Smart mobile devices made up about 10 percent of the world's entire mobile phone market in 2007, and with a predicted yearly growth rate of 60 percent, the segment is one of the fastest growth sections of the technology industry, according to Canalys.
Another recent report from technology research firm In-Stat also predicted strong growth in the smartphone space over the coming five years, though its predictions were more conservative. According to In-Stat, the number of smartphones in use throughout the world will increase by an average of 33 percent each year through 2012.
As far as operating system providers go, Symbian was the world's most widely used OS in 2007—the majority of Nokia devices run on Symbian—and Microsoft took 13 percent of the market while RIM's BlackBerry OS took 10 percent, Canalys said.