Let's face it: The work of making the customer happy rarely tops an IT professional's to-do list.
Unlike slashing costs, boosting revenue or pushing the envelope on innovation, increasing customer satisfaction simply (and unfortunately) doesn't fall under the umbrella of buzz-worthy IT undertakings. No wonder then that only 10 percent of this year's "State of the CIO" survey respondents consider external customer focus to be an executive leadership competency most critical to their role as CIO. Add to that the fact that respondents say they spend a mere 9.4 percent of their time interacting with external business partners and customers and you get—yes—a customer focus gap.
MORE ON State of the CIO
The 2008 State of the CIO: Business Strategists on the Rise
How to Sharpen Your Commercial Instincts
"Many CIOs are a little cavalier about making raising customer satisfaction an explicit goal," says Harley Manning, vice president and director of Forrester Research's customer experience group. Rather, he says, objectives such as cost avoidance and innovation are far more likely to receive top billing on a CIO's project roster. That's because not only is bolstering customer loyalty a hard sell among corporate bean counters, its (arguably) intangible benefits and its (allegedly) nebulous returns often make it a thankless job. After all, when it comes to customer feedback, CIOs typically hear one of two things: harsh criticism or the sound of one hand clapping.
But despite this history of practical difficulties and emotional disincentives, some of today's top CIOs are making customer satisfaction a priority—and reaping huge rewards as a result. They're discovering that focusing on the customer can yield substantial benefits, including (but not limited to) saving money, increasing sales and enhancing productivity—as well as keeping the customer satisfied.
In fact, by tackling customer-centric IT projects, CIOs can reshape their role as key corporate players and position themselves for greater enterprise responsibility by aligning with the major concern of their executive peers and bosses. Business, after all, is all about serving the customer. If you want to be part of the business (and you do, don't you?), you want to be a part of that.
Customer Focus Means Organizational Change
Pat Lawicki lights up when discussing her customer-centric IT initiatives. As CIO of Pacific Gas and Electric Company, a $12.5 billion San Francisco-based utility, Lawicki serves15 million customers scattered across two-thirds of California. Among them are Silicon Valley behemoths such as Hewlett Packard, Sun Microsystems, Oracle and Cisco. So when the California energy crisis, the Enron debacle and an executive staff overhaul in 2005 threatened to permanently tarnish PG&E's reputation with its customers, Lawicki began working on a series of customer-focused projects.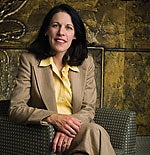 The centerpiece of her efforts was PG&E's SmartMeter program which provides customers with an automated gas and electric metering system allowing PG&E to collect data without setting foot on a customer's property. Electric meter data travels along a system of power lines to a PG&E data center for processing while gas meters rely on radio frequency transmitters to deliver data back to the company via a public wireless network. Once a SmartMeter system is up and running, PG&E can collect energy usage information regularly and pinpoint power outages as they occur.
Future plans include allowing customers to access their usage data online, and the information is broken down so they can better manage their energy consumption and expenses. For example, a homeowner may discover that running the dishwasher every day at 4 p.m. is 20 percent more expensive than waiting until midnight. "The SmartMeter project is geared toward letting our customers have more control over their energy consumption while helping them save money in the process," says Lawicki.
By end of 2008, it's expected that 1.6 million new meterswill be installed across northern and central California, and within the next three years, PG&E wants to have the SmartMeter program up and running in nearly 6 million homes and businesses.
But as they provide customers with real-time insight into energy consumption, saving customers cash and the hassle of having to call PG&E to report outages seems like a no-brainer. Lawicki says that launching customer-focused initiatives (including a service that allows building developers to apply for new gas or electric service connections online) wasn't as simple as flicking a switch; it called for a complete overhaul of the company's IT organization in order to enable it to function as a single, centralized entity.
The first step was creating a Solution Delivery Center dedicated to the consistent delivery of IT solutions. This group of employees, including IT staff,the VP of marketing and subject matter experts from other lines of business, focuses on the skills needed to provide services and solutions to PG&E's business partners and customers. Prior to introducing the Solution Delivery Center, Lawicki says IT-related processes, such as providing Web-based customer support, depended on whichever PG&E department a customer was dealing with. By replacing a hodgepodge of departmental styles, approaches and systems with a body that ensures consistent, enterprisewide IT processes, PG&E cleared the way for undertakings such as the SmartMeter project.
The creation—and reexamination—of IT roles also readied PG&E for other customer-centric endeavours. A newly fashioned chief customer officer, responsible for all aspects of customer service at PG&E, works with the IT department to design customer-focused strategies and develop products around customers' needs. Even Lawicki had to step back and assess the part she was to play in the company's new approach to customer satisfaction. Upon careful consideration, she began to see her role at PG& E as "transformational" and, drawing on her years of weathering mergers and acquisitions, started to analyze "the large amount of technology investment that was required" to revamp PG&E's approach—and her own—to her customer's satisfaction.
3 Tips for Customer-Focused IT Leaders
1. Talk to the Users
Develop a customer-focused project in a vacuum and you'll end up being the only one who likes it. The counsel of third-party providers and your customers is essential.
"Hire a project manager who knows your customers' line of business," says Adirondack Medical Center CIO Mike Kelly. "Involve your customers from day one. Let them know that this is their project, not yours. Provide all the support they need."
Pacific Gas and Electric CIO Patricia Lawicki is quick to agree. The success of her automated gas and electric metering systems hinged, she says, on taking "a holistic approach" by "sitting down with all of the lines of business and instilling the concept that the sum of the parts is greater than any individual project."
2. Focus on the ROI
Convincing corporate bean counters that a customer-centric project is worthy of a sizable investment is often a hard sell. That's why it's crucial IT project evangelists convert intangible benefits such as increased customer satisfaction into hard ROI figures that will pry open a corporation's coffers. Says Harley Manning, vice-president and director of Forrester Research's customer experience group, "My first piece of advice would be start with the hard metrics. And when all you have is soft metrics, take the time to make the connection to a hard metric." For example, try translating customer satisfaction into measurable variables such as customer retention, increased revenue per transaction and lower customer support cost.
3. Be Patient
If you're expecting customers to fall madly in love with your creation the moment it goes live, you're likely to be disappointed.
"You need to transition people as gracefully as possible to a new system," says Leonard Peters, associate dean and CIO at Columbia Business School in New York. So when Peters introduced faculty and students to a new course management system, he made certain to offer targeted and customized training. Training opportunities ran the gamut from classroom sessions and one-on-one consultations to student forums and lunch-and-learn programs.
Change is hard and people don't like it, even when the change is for the better. Give your customers time to get used to it.
To Serve the Customer, Engage the Customer
Leonard Peters, associate dean and CIO at Columbia Business School in New York, knew it was time to replace his school's "antiquated and clunky" course management system when he began to receive "a ton" of complaints from faculty and students.
So, in fall 2005, he began evaluating a number of vendors. After an in-depth review of courseware products, he chose Angel Learning. Deployed at the beginning of the summer 2007 semester, the Web-based e-learning solution lets students track upcoming and overdue assignments, send and receive e-mail, schedule events, check grades (if used by faculty), participate in discussion groups and create teams for project work. It also allows faculty to administer pre-course work more easily and communicate requirements for multiple courses from a single, Web-based application.
But the intense competition among business schools for students and faculty meant Peters couldn't take any chances on the system's design and functionality. In addition to working with Angel Learning to customize it, in 2005 Peters partnered with both faculty and students in order to create a baseline of requirements. He cobbled together a group enrolled in the school's New Product Development course to determine what the system's key attributes should be. He then used a videographer to record faculty members and staff sharing their thoughts on the antiquated system's shortcomings and their expectations for the new solution.
Dubbed "Voice of the Customer Sessions," Peters shot 28 hours of video, edited it into 40-minute segments, and then posted them on the business school's intranet as streaming media clips for all to see.
By engaging the School's customers (its faculty and students) in the system design process, Peters says, "People felt like we really got it; we really understood what the challenges were and where we needed to take the course management system. And that helped generate enormous credibility."
Peters' strategy of soliciting customer feedback in the design phase didn't end with the roll-out. Currently, Peters performs weekly health checks of the system—the results of which are regularly communicated to faculty and students, along with notifications of system updates and modifications. There is also an advisory team that has constituents from around the community who are focused on the continued improvement of the environment.
For example, some faculty members post quizzes on the system. Answers are hidden until a pre-determined time and date, at which point they're automatically released for public viewing. An early, unintentional release of quiz answers, however, would be ruinous. So Peters performs regular checks to ensure that the system is configured properly, and to notify faculty members of upcoming content release dates.
"Probably one of the best things we do is the health checks," says Peters. "More than anything, it ensures quality."
In fact, by keeping faculty and staff informed of the course management system's technical glitches, modifications and latest capabilities, Peters has greatly reduced the number of help desk incident reports from 70 during the week of September 17 to a mere 11 during the week of October 8.
And, he says, the kids love it.
Unlike the User, the Customer is Always Right
Adirondack Medical Center's private practitioners didn't just ask for a new electronic health records system in early 2004, "they demanded it," according to Mike Kelly, CIO of the $80 million New York-based healthcare network. Composed of an acute care facility, two long-term care facilities and numerous outpatient facilities, AMC services 50 private practitioners who either care for patients or refer patients to the organization's services.
One of the primary goals of AMC's EHR system is to share patient information across New York's 26 regional healthcare facilities in a secure, HIPPA-compliant manner. Electronic patient medical records may include reports on past diagnoses, surgical procedures, imaging studies, allergies, drug histories and laboratory test results. By providing doctors with greater access to this information, AMC's goal is to ensure that physicians can provide patients with care appropriate to their conditions and that the delivery of this care is accurately recorded and preserved.
On this last issue, Kelly says that "Our physician community is justifiably concerned that in order to be paid for their services in the future, they're going to have to provide greater documentation that they actually delivered the services that they claimed to provide."
But while it was clearly time for AMC to graduate from its antiquated system of paper charts and place patients' medical records on their physicians' laptops and desktops, Kelly and his IT department knew the transition wouldn't be easy. Although AMC's physicians were "eager adopters of medical technology," Kelly also was aware that his customers—those same physicians—were a notoriously demanding group and jealous of their time and that it would be a hard sell convincing them that enduring stringent HIPAA-mandated online security measures would be worth their trouble.
"Our physicians viewed authentication, backup, permissions and access control as nuisances designed to aggravate them and slow them down," Kelly says.
Rather than fight a lonely, uphill battle, he developed a number of strategies to garner support. For starters, he held regular meetings with AMC's medical staff to involve them in the decision-making process on everything from software and hardware purchases to ISP and networking selections. In this way, Kelly sought to reduce potential friction and encourage a sense of collective ownership of the project. Next, he hired a project manager with extensive physician office billing and management experience to lend expertise, credibility and an objective voice. Finally, the IT department held training classes for end users, including hospital sponsor meetings, at 7 a.m. or at 5:30 p.m. to accommodate the physicians' schedules.
"Our physicians now understand that IT projects are very complex and very time-consuming," Kelly reports, "and, as a result, they've become our biggest fans."
For good reason: Since introducing the EHR system last year, some of AMC's private practitioners reportedly have been able to treat an average of five additional patients a day—20 additional patients a week. By tracking patients' visits electronically, AMC has managed to cut the time it takes its many of its physicians to be reimbursed by 20 percent. And plans include building a patient portal (scheduled for a 2009 release) so that patients can take a more active role in their health care choices.
Making the Change
While no strategy—whether it's getting ground-floor support, forging alliances or collecting feedback—can fully prepare a CIO for the rigors of a customer-focused IT undertaking, or guarantee its ultimate success, understanding the nature of the beast can make a huge difference.
AMC's Kelly, for example, knew that physicians won't stand for being dictated to. Columbia Business School's Peters understood that implementing anything for a group of academics was as much about about managing their expectations as it was about devising an implementation plan, no matter how sophisticated. IT accomplishments in higher education are often measured by alumni support and school spirit—customer satisfaction—not simply by dollars alone. "The returns we get are very different from a corporation," Peters says.
In all cases, however, CIOs who are embarking on customer-facing projects need to remember something no businessperson ever forgets: The customer is always right.
Cindy Waxer is a frequent contributor to CIO.