You see it. You want it. You buy it. That's what e-commerce sites are banking on this holiday shopping season.
MORE On CIO.com
E-Commerce and Supply Chain Systems Gird for Black Friday
The High-Stakes Search for Supply Chain Excellence During the Holiday Rush
How IT Failures Wreck Holidays for Many Companies
Is Your Website Ready for the Holiday Traffic?
Ajax, Flash Make Websites More Engaging
Having blocked and tackled basics such as shopping carts and credit card approvals, online retailers know a significant chunk of their sales this year will be in the up-sell and cross-sell.
Booking impulse buys, in other words. But striking a shopper's fancy is harder to do electronically than in the physical world of sounds, smells and ambiance.
A lot rides on successful promotion: Online shopping is expected to top $33 billion this year, up 21 percent from $27 billion in 2006, according to a study from Forrester Research and Shop.org, a professional group for online retailers. Eleven percent of the 2,521 U.S. consumers surveyed said they would do at least 75 percent of their holiday shopping online.
E-mail marketing, as well as on-screen suggestions, pop-up boxes and live chat, are the most common ways of sparking shoppers to buy more than they anticipated. But not all retailers handle these tools well.
Shipping promotions are always a grabber. Sixty-one percent of those polled by Forrester said they are more likely to shop with an online retailer that offers free shipping. And just 26 percent said they would pay for faster, more expensive delivery this year, a significant drop from the 45 percent who said they would last year, the survey found.
Shoppers expect free shipping this time of year; for retailers, it's a mistake not to offer it, Forrester says.
You Might Also Be Interested In…
Another too frequent mistake is making too many product offers as soon as shoppers land on the site, says Jared Spool, CEO of User Interface Engineering, an online consulting firm in Bradford, Mass.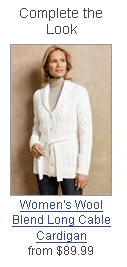 Macys.com does this. Search for "men's jeans" and 422 items are found, dozens and dozens of which are not men's jeans. "You have to work really hard to get to products you're interested in. They're always thrusting things at you," Spool says. "It's department-store thinking," he says. "They think of their website as a Sunday flier."
Instead, e-commerce sites should offer suggestions after a shopper has placed items in the cart. That's a "seducible moment"—after the shopper has found what she wants and before she's checked out, he says. Then suggest a sweater for the skirt, a picture frame along with the locket. Landsend.com does this with pop-ups, while Anntaylorloft.com runs clickable images down the right-hand side of the screen. Either way works, he says.
Inboxes Stuffed Like Turkeys
If you've ever shopped online, your inbox is getting filled now because e-mail is the most cost-effective and successful tool for customer retention, according to Forrester. Seventy-three percent of retailers send e-mails about new products to customers.
Lands End and 1-800-Flowers, for example, have begun a steady drumbeat of e-mail, sending one every two to four days to some customers. "Last day for cool savings on outerwear!" reads a recent missive trying to draw shoppers to Landsend.com. 1-800-Flowers tries to appeal to bargain shoppers with "Send Gorgeous Autumn Blooms for $29.99 and get a FREE vase!"
Piperlime, the online-only shoe store owned by Gap, has launched a weekly campaign. Its e-mail goes for cute, with puns only a cobbler could love. Two recent pitches offered the subject lines "Oh, wellies" and "Flat-out cool."
Still, for e-commerce companies, e-mail come-ons can be more effective than the direct mailings the U.S. Postal Service delivers. While response rates to paper mailings are 2 percent or 3 percent, response rates for e-mail pitches can range from 5 percent to 30 percent, Spool says. In part that's because the mail goes to interested people who have, presumably, opted in or at least didn't opt out for them. The attitude among marketers being, "Hey, it's not spam if you sign up for it!"
Working to Create "Atmosphere" Online
To put people in the buying mood, physical stores sometimes use diffusers to waft scents through the air that encourage good feelings. Bloomingdale's, for example, uses coconut among the bathing suits and evergreen mixed with chocolate and sugar cookies in home décor (and hired a company, ScentAir, to supply those smells). The aroma of coffee can lead to a physical craving for some, spurring shoppers to open their wallets for a cup—and perhaps, too, for a fancy ceramic mug to take home.
The scent of hot sand and cocoa butter can evoke memories of a happy time, inducing an otherwise focused shopper hunting for a specific product to shift to a more exploratory mindset, says Tim Girvin, principal of Girvin Creative Intelligence, a brand and marketing consultancy in New York.
Here's the principle: A smell prompts a shopper unconsciously to recognize something familiar, and at the same time, feel recognized, Girvin says. That connection often makes people buy more.
Online, the same idea works, he says. But because we can't (yet) rely on smellivision, aroma-emitting technology, e-commerce sites have to tickle recognition nerves in other ways.
Amazon.com, for example, is known for seeming to know you, making product recommendations based on buying histories. Order Ronnie: The Autobiography by Rolling Stones guitarist Ron Wood and at next log-on, surmising you like senior citizen rock icons, Amazon suggests Raising Sand, the new album Robert Plant made with Alison Krauss.
By using business intelligence tools to analyze data about individual shoppers and those who have made similar purchases, Amazon finds relationships between products and buying behaviors.
"The concepts of scent in shopping and online relational tools are aligned," Girvin says. "They reach into the psyche of the shopper and evolve them to a new experience." Indeed, this shopper probably will buy Plant's new record.