U.S. wireless carrier AT&T on Wednesday released AT&T Remote Monitor, a new facilities monitoring solution to help small- and medium-sized businesses (SMBs) keep tabs on their various offices or work sites via smartphones or Internet connected PCs.
Related Stories
Review: TeleNav Track Uses GPS to Manage Your Mobile Workforce
How to Monitor Workers' Use of IT Without Becoming Big Brother
Big Brother IT: DRM, Monitoring and Profiling
The Remote Monitor product employs Internet Protocol (IP) video cameras and various environmental sensors to let SMB owners keep a constant eye on their premises. And it can send customizable alerts when motion is detected or temperatures fluctuate within their organizations' facilities—all using Java-enabled AT&T mobile devices or computers with broadband Internet connections.
For instance, CIOs could use the product to remotely monitor temperatures within their server closets, and alerts can be sent via text message to the appropriate parties when abnormal or dangerous temperatures are detected by the Remote Monitor sensors, according to AT&T. Various other sensors can be used in conjunction with the service, including water sensors to help detect flooding. Remote Monitor can also take action based on commands sent by users. So if motion is detected in a room that is supposed to be vacant, the product can be used to remotely turn on the lights.
Users access the service via a secure AT&T Web portal.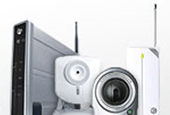 AT&T Remote Monitor
"Small business owners need as many helpful tools as they can get," said Beaux Roby, president of 1776, a Texas-based firm that owns a number of restaurants and banquet halls, in a press release. Roby has been using the system for more than two months as part of an AT&T pilot program, according to the New York Times.
"AT&T Remote Monitor allows our managers to see exactly what is going on in our facilities. The system is easy to install and provides a feature-rich portal that allows us to keep in touch with those things that matter most," Roby said.
It's worth noting, however, that since the AT&T service is Internet-based, it will become unavailable if a broadband connection is lost, according to the Times.
Remote Monitor is currently available as three separate starter kits: the basic version, which sells for $199; the premium version, which is priced at $249; and the $349 deluxe version. The basic package includes one system controller, one fixed-position IP camera, a door/window sensor, two power line communication (PLC) Ethernet adaptors to send video over power lines, and all the necessary cabling. The premium kit includes the same components as the basic package, but has a moveable pan and tilt camera instead of the fixed-position device. And the premium packages includes all the same components as the other offerings, except it has both types of cameras and an additional PLC Ethernet adaptor.
Those wishing to use the service must also select one of three monthly plans based on the number of locations they wish to monitor. AT&T is offering a single location for $9.95 per month, or users can pay $39.99 a month for monitoring services at up to five separate locales.
AT&T is also offering a digital video recording (DVR) option for Remote Monitor customers so users can record and simultaneously watch captured video of their premises. The DVR has a 250GB storage capacity, and supports looped recording of up to four MPEG4 cameras for as long as one month.