You've been good, right? Check out our five suggestions for your holiday wish list, or get some gift-giving ideas. From portable GPS units to Swarovski crystal-encrusted USB memory keys, our 2007 holiday gift guide glitters.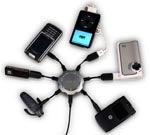 Solve Your Power Charger Problem
Enraged by that tangled mess of power charger cords in your briefcase? Callpod has simplified it all in a hub ideal for travelers. The Chargepod uses only one outlet for charging six gadgets, such as popular-brand cell phones, MP3 players, iPods, BlackBerrys, Bluetooth devices and more. Weighing only 1 ounce, the device comes with a carrying pouch. $100.
Looking Good
Walk the walk, talk the talk and look the part in these sporty shades. Motorola and Oakley have teamed up to create O ROKR PRO Bluetooth Stereo Eyewear—sunglasses that connect you (wirelessly, of course) to your mobile phone and Bluetooth-enabled music player. Built with adjustable speakers for each ear and boasting smudge-resistant lenses, these specs promise protection from harmful rays, and up to 100 hours of standby time. $249.
"Mr. Flash Drive, I Presume"
Its name is Key. IronKey. And it's the world's most secure flash drive. Designed so you can safely browse the Web and transport data, this James Bond-worthy flash drive also protects against phishing and pharming attacks, ID theft and keystroke loggers. Forgot your password? You've got 10 consecutive tries before—yup, you guessed it—the device (internally) self-destructs, wiping everything on its drive clean as a whistle. $79-$149. If more glam is what you seek, check out Swarovski's crystal-encrusted USB Memory Key. $178.
One Smart GPS
Everybody hates traffic, but now you can say goodbye to all that gridlock thanks to your new best friend, TomTom. The company's ONE 3rd Edition GPS Portable Navigation System comes with real-time traffic and weather information and allows you to choose your route—the quickest, the shortest, the most scenic or the toll-free. The wallet-size device features a 3.5-inch, anti-glare touch screen. $250.
Palm's Smallest Smartphone: Centro
Still not willing to dish out the cash for Apple's iPhone? Palm's wallet-friendly alternative—the Centro smartphone—sells for a mere $99 with a new contract from Sprint. Centro is Palm's smallest handheld—measuring just over 4 inches in length and weighing 4 ounces. It comes equipped with a full keyboard, AIM and text-messaging capabilities, and speedy Internet for Web searches. $99.