Nokia, the Finnish handset maker, has expanded its partnership with Microsoft to include licensing of the software giant's PlayReady mobile digital rights management (DRM) technology, according to an Aug. 6 press release.
Nokia's S60 and Series 40 mobile devices will begin to support PlayReady in 2008, and the technology is meant to make it easier for content and service providers to offer copy-protected digital media that can be simply accessed and moved between mobile devices, PCs and other electronics.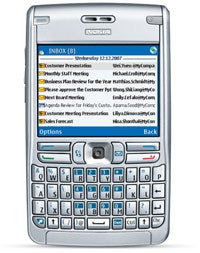 Nokia E62
"People are increasingly using their mobile devices for enjoying digital content, such as music, games, videos and photos," said Ilkka Raiskinen, Nokia's senior vice president of multimedia experiences, in the release. "By adding support for Microsoft PlayReady technology, we are enabling service providers to offer a wide range of content and create truly compelling experiences across mobile devices, personal computers and online services."
Nokia already uses the Windows Media DRM 10 and Open Alliance Mobile (OMA) DRM copy protection technologies, according to PCWorld.com.
PlayReady can be applied to most types of digital content, including music, video, games, ring tones and images in various formats including Windows Media Audio (WMA), Windows Media Video (WMV), AAC, AAC+, AMR and H.264, according to Nokia.
MORE ON NOKIA
Nokia: Our Mobile Phones Can be Hacked, But Not Easily
A-GPS Service Enhances Nokia Mobile Phone-Based Navigation
The Business-Savvy Smartphone Review: Nokia E62
Earlier this month, Microsoft released its PlayReady Porting Kit, and the technology is designed to be fully backward-compatible with Windows Media DRM 10 so that devices with PlayReady support can also access Windows Media DRM-based content.
DRM technologies are employed to curb piracy and other intellectual property abuses by limiting the ways that content downloaded from the Web can be transferred and copied; however, the current widely used technologies, such as Windows Media DRM 10 and Apple's FairPlay DRM, have come under fire from consumers and other critics because they dictate what users can and can't do with content they paid for legitimately. PlayReady is meant to address some of these complaints because it makes it easier for users to transfer their copy-protected media from a Nokia mobile to device to a PC or other platform.
In related news, Nokia recently announced a new service that reduces the time it takes for its cell phone-based GPS navigation systems to determine the starting locations of users to get them to their destinations faster.