The accepted wisdom of the Internet is that customers want what they want, the way they want it, when they want it. And, judging by our CIO 100 honorees, helping your customers do just that produces business benefits that go directly to the bottom line. So how do you make that happen? How do you empower your customer? And how do you prevent your own business processes from getting in the way?
There are, according to our honoree CIOs, three key steps. First, find out everything you can about the customer. Then, build a system that anticipates his every wish. Finally, step back, get your own business processes out of the way and let him do his thing.
A bank, a retail giant and a hotel chain tried to perfect the customer experience and received 2007 CIO 100 Awards in the process. For Washington Mutual bank (WaMu), listening to customer demand for faster, easier access to their accounts resulted in a new process that eliminated the need for anyone to ever set foot inside the bank. At Best Buy, focusing on customers meant developing a way to increase sales of in-demand products by making them more visible to the consumer. Hilton Hotels developed a system to give customers more options for reserving rooms by improving its online booking channel. By listening to its customers, by figuring out how innovations to existing technologies could meet their needs and by constantly asking how IT can improve existing business processes, the CIOs of all three companies created systems that generated organic and significant competitive advantage.
Washington Mutual: No More Banker's Hours
Online banking isn't unique to Washington Mutual. What is new is the fact that WaMu customers who want to open new checking accounts with the Seattle-based consumer and small business bank (which has $312 billion in assets) don't have to get up from their computer to do so. What's more, if a new customer wants to open an account, he doesn't have to visit a WaMu branch and, in many cases, will never have to.
Customers want convenience, ease of use and speed from a banking application. "That's the key," says Deb Horvath, CIO of Washington Mutual. For WaMu, delivering a better product more simply has meant putting the process largely into the hands of the customer. But doing so presented a challenge. In order for its CIO 100 Award-winning Instant Checking system to work, WaMu had to figure out a way to remove signature cards (used to validate transactions) from the process. The bank's solution was to capture a digital image of the customer's signature through the first check posted to his account, and copy that image into a signature-archiving system. The project's success hinged on WaMu's ability to convince regulators that such a method could adequately replace traditional signature cards. WaMu IT worked with legal, compliance and other parts of the business before getting the OK and rolling it out to customers this year.
WaMu customers are now able to open their accounts in seven minutes, quite a change from the 45 days it previously took. As a direct result, according to Richard Blunck, senior VP and director of e-commerce, WaMu now receives 2,700 online account applications per day. Prior to Instant Checking, that number hovered around 100. WaMu has also saved millions on costs associated with opening new accounts—mainly back-office support and paperwork.
According to Horvath, the key to creating a successful online solution lies in streamlining an existing process. "You have to remove any bit of bureaucracy that doesn't have high value," she says. For example, WaMu added a feature to Instant Checking that allows customers to open a savings account at the same time as a checking account simply by checking an extra box. Previously, customers had to open the two accounts separately, filling out their personal data twice.
Horvath and her team are now starting to examine how they can further leverage online convenience for business advantage in their brick-and-mortar branches. After all, if you can open a second account by clicking a box online, why shouldn't you be able to do that in the physical bank? Why should competitive advantage be restricted to cyberspace? If Horvath has her way, it won't be.
Best Buy: The Visible Customer
Best Buy, according to CIO Bob Willett, has always looked through a customer-centric lens.
Improving the customer experience by examining shopping behaviors and developing the capability to give customers what they want has, he says, forever been central to the $31 billion consumer electronic retailer's mission. This year, Willett's IT department received a CIO 100 Award for Purchase Path, a proprietary BI system that analyzes customer purchases at a macro level, as opposed to gathering data only from individual transactions.
MORE ON Best Buy
How CIOs Can Anticipate Customers' Needs
This, says Willett, has proven to be a better way to measure and anticipate customer desires, because looking at aggregate purchases, as opposed to single transactions, gives Best Buy planning teams an opportunity to unearth connections between the products its customers buy.
"Primarily, we were looking to increase attachments," says Willett. That means selling, for example, not just the TV but the remote control and the DVD player that go with it. Not just the iPod but the iTrip and the car charger. By discovering purchasing patterns, Purchase Path helps Best Buy to either bundle products (for example, packaging a popular set of headphones with a specific laptop) or make sure the two associated products live close to each other on the shelves. Purchase Path also helps Best Buy target specific customer segments and thereby increase sales by giving its planning teams a way to model future customer behavior. By collecting data from call centers and in-house point-of-sale devices, and slicing and dicing it in multiple ways (through single or multiple transactions, within specific customer segments, like age and gender, or by geographic region), Best Buy gets a detailed picture of what products its customers want where, and how best to make them available and accessible.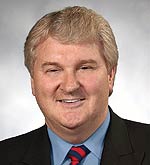 Willett says that so far the best measure of how well Purchase Path is working can be found in customer satisfaction surveys, which he says were at an "all-time high" last quarter. "You don't get good sales or performance if customer satisfaction is going backward," he says. "One breeds the other."
Hilton Hotels: 24-Hour Party People
Letting customers do something themselves is often the best way to their heart. Tim Harvey, CIO and executive VP of global distribution services at Hilton Hotels, kept that vision of customer satisfaction through self-service in mind as he set out to improve the $8.1 billion hotel chain's online booking channel. Harvey's vision, e-Events, is now a reality, and a CIO 100 Award winner. The proprietary website, which lets customers book up to 25 rooms for events, conferences and parties, reserve meeting spaces, order food and drink, and reserve audio/visual equipment—all online—is the most comprehensive one-stop shopping application in the hospitality industry.
Harvey says all of this was made possible by integrating multiple business capabilities into one enterprisewide technology platform, OnQ. The key to the project's success, according to Harvey, lies in combining the power of systems such as reservations, CRM, BI and a revenue management system that optimizes pricing while displaying inventory availability.
As is the case with almost any project of this scope and scale, Harvey ran into resistance. For example, sales, Harvey says, which is focused on selling as many rooms at the best price as possible, was loath to put this process in the hands of customers. But Harvey set out to prove that e-Events wouldn't result in a loss of control for the sales arm. He argued that e-Events simply opened a new sales channel, allowing customers to book directly and take advantage of all of Hilton's products; sales would still control inventory availability and pricing.
Harvey says customer satisfaction is booming. Previously, planners booking group meetings could call only during business hours and often had to wait for salespeople to return their calls. For Hilton, that meant the possibility that customers would turn elsewhere. But Harvey says that last year e-Events, which was fully deployed in April 2006 at a cost of $1.5 million, generated $2.6 million in new revenue. It's expected to bring in $19 million this year, and $65 million in 2008—an ROI worthy of the Presidential Suite.
Associate Staff Writer Katherine Walsh can be reached at kwalsh@cio.com.