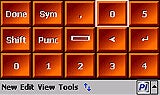 In concept, the Phraze-It Keyboard 2.0 software from Prevalent Devices makes perfect sense: Enhance the touch screen typing experience on Windows Mobile-based PDAs and Pocket PCs by increasing the size of the often tiny on-screen keys. In reality, the application works less than perfectly. Still, priced at just $18 with a 10-day free trial, you can try this tool out without much worry to see if it improves your PDA experience.
Phraze-It 2.0
What's funky about the larger keyboard layout? The larger keys take up more screen space, so Prevalent Devices came up with a system that hides consonants, punctuation and symbols until you key specific vowels or menu buttons. The enlarged buttons do indeed make typing with a finger or a thumb much easier. They also cut down on finger or thumb strain, so you can comfortably type for longer periods of time. But because all the letters of the alphabet aren't displayed on the keyboard's home screen, it takes longer to type words and sentences.
Enterprise users with touch screen, Windows Mobile 5 or 2003-based devices who value functionality for long documents over speed could see productivity gains using the Phraze-It Keyboard. However, I was disappointed overall with the results, since it takes valuable time to get used to the keyboard layout and the fact that multiple clicks are required to type nearly every letter.
Standard Windows Mobile On-Screen Keyboard
To be fair, Jeremy Goren, Prevalent Devices' VP, told me that the Phraze-It Keyboard is not really meant for speed typing but for convenience — for typing long documents or full e-mails without the usual text abbreviations that BlackBerry fans favor. Yet it seems to me that typing speed is one of the leading factors when it comes to productivity. So I was less than pleased to find that though Phraze-It's on-screen keys were large enough for even my long, wide fingers, I couldn't type a message in the same time that I could on a BlackBerry with a full qwerty keyboard.
With my Dell Axim X50v (Windows Mobile 5 device), I found that I could type words and sentences faster with the standard Windows Mobile keyboard and a stylus than with Phraze-It's enlarged keyboard. I used the software for several days; perhaps you could speed up your typing with repeated use. Finger or thumb typing was faster using Phraze-It than the standard on-screen keyboard because the standard keys are so tiny.
Related Links
The Business-Savvy Smartphone Review
Review: TeleNav Track Uses GPS to Manage Your Mobile Workforce
Cell Phone Users Dial DIR-ECT-IONS for Free, Text Message-Based Driving Instructions
Final complaint: I found it difficult to edit documents without a stylus, because the text field isn't enlarged like the keys. The edges of the touch screen display proved less responsive than other areas, and this made it tough to use fingers or thumbs to position the scroll bars found in many Windows Mobile apps.
If you want a more computer-keyboard-like typing experience but don't necessarily need to type rapidly, you will find a friend in the Phraze-It Keyboard 2.0 software. Folks who prefer finger or thumb typing instead of using a stylus may also want to check out Phraze-It because its larger buttons can reduce typing errors and strain. But if typing speed is of the essence, look elsewhere.