Videoconferencing isn't new. Simple analog videoconferencing was used in the early days of television, and NASA used radio frequency links to videoconference with astronauts during the first manned space flights. But widespread adoption of videoconferencing has been hindered by the same setbacks that plagued early efforts, including audio/video (AV) quality, reliability and the steep equipment price.
In the past few years, a handful of firms have begun to address the issues that have kept videoconferencing grounded. Companies offering high-definition (HD) videoconferencing promise reliable, easy-to-use and -deploy systems suitable for serious business use. The new level of technology offers 1280 pixels by 720 lines video, improved audio quality and cutting-edge hardware and software. "Codecs" code and decode compressed AV streams in real-time.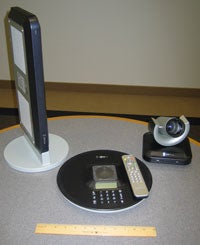 LifeSize Room
However, most of these systems are meant to be installed in a customized room used specifically for videoconferencing—an often costly expense. You may be hesitant to dole out as much as $500,000 for a cutting-edge videoconferencing environment, unless you know it's a mission-critical need.
With its LifeSize Room HD videoconferencing system, Austin, Texas-based LifeSize caters to firms with thinner pocketbooks or that prefer more mobile options. LifeSize Room consists of a codec that looks like a long, skinny stereo component; an HD pan, tilt and zoom (PTZ) camera; a disc-shaped LifeSize Phone; a remote control; and cables to connect it all to your display. Up to four remote sites can connect via LifeSize; an optional external bridge can connect as many as 24 parties.
Related Stories
Seven Quick Tips for Videoconferencing Beginners
Review: Viewsonic Monitor with Webcam
Check Out the Ferrari of Videoconferencing: Telepresence
Overall, I'm a big fan of LifeSize Room. Its mostly consistent video quality surprised me each time I placed a call. Its price tag is the system's true value point, as the system's affordability makes videoconferencing far more achievable for smaller enterprises.
However, if you're looking for the best possible videoconferencing experience, and you have a room that can be remodeled and dedicated to videoconferencing, as well as the cash to make it all happen, you may want to consider a higher-end alternative.
Ready for Your Close-Up
LifeSize Room's video quality is beautiful and crisp, especially if your network has at least 1Mbps of bandwidth; the videoconferencing system supports video bandwidth from 128Kbps to 5Mbps. The system provides high-definition resolution (1280 by 720 at 30 frames per second) at 1Mbps, standard DVD quality at 512Kbps and cable television quality at 384Kbps, according to LifeSize. Traditional videoconferencing offers 352 pixels by 288 lines.
If you're using an HD display, LifeSize Room offers an aspect ratio of 16 by 9, compared to a standard television's normal aspect ratio of 4 by 3—up to 40 percent more viewing area. The HD camera has a widescreen zoom lens with a 70 degree field of view. Users can maneuver the camera on their end as well as shift the other videoconference participants' cameras.
In a few instances I experienced a few seconds of spotty video, but overall the video quality was very impressive.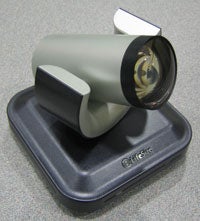 LifeSize HD Camera
As part of my review process, I spoke with a couple of LifeSize customers, including Lev Gonick, CIO of Cleveland, Ohio's Case Western Reserve University. Gonick has been videoconferencing for more than a decade. He began using LifeSize in classrooms and offices two years ago, both to facilitate learning between students and instructors and to connect with businesspeople. He calls LifeSize Room's video quality "drop dead gorgeous," and told me a story of how two potential university donors who'd requested a demo of the videoconferencing system lost their lunches after viewing a medical procedure via LifeSize Room.
Another LifeSize Room strength is its easy setup process. The system was delivered in a large crate. The only instructions were on an 11-inch square of cardboard, with a diagram of the rear of the LifeSize codec on one side and the LifeSize Phone on back. The company calls LifeSize Room a "plug and play system," and it's not kidding; I set it up using nothing more than the cardboard directions in an hour. If you've ever connected an audio or video component to an HD television, you'll have no problem getting LifeSize up and running—once firewall issues are resolved.
More on Videoconferencing
See the sidebar,
"Seven Quick Tips for Videoconferencing Beginners"
for more on HD videoconferencing and your firewall.
LifeSize Room's voice quality is also a strong point. LifeSize Phone includes 16 internal, "always on" microphones that, the company says, pick up sound from even the far corners of large rooms. We only used the system in a small conference room. Gonick praised the system's ability to not only pick up voices from far away but also to make those voices sound on par with the ones closer to the phone. It's also designed to cut down on potential radio frequency interference that can be caused by nearby cell phones or smartphones—a.k.a. the dreaded BlackBerry buzz. External speakers or speakers built into the display are set by default to output sound.
The codec is the largest component—besides your monitor—and it stands 19 inches tall, 8 inches from front to back, with a width of roughly 2 inches. The circular LifeSize Phone has a diameter of less than 1 foot and stands roughly 1.6 inches tall.
LifeSize Room is compliant with H.264, H.263 and H.239 video coding standards, and can connect to any H.323 or SIP compatible video system, according to LifeSize. We easily connected to units from Polycom and Tandberg.
It's also easy to share presentations or multimedia by connecting a PC to the codec. You can split your display's screen to show both presentations and videoconferencing participants, or connect another monitor to LifeSize Room and use one for participants and one for data sharing.
Perhaps the most attractive thing about LifeSize Room is its price tag. While the high-end HD videoconferencing systems cost from $100,000 to $500,000, the version of LifeSize Room that I tested retails for $11,999. You do need to add the price of an HD monitor or projector to the overall cost of LifeSize Room, as it doesn't come with one. Depending on the size and type of display you choose, this could add on a couple thousand dollars.
Finally, LifeSize Room is as aesthetically pleasing as it is functional. In particular, the LifeSize Phone is beautifully designed. It's made of a dark-blue, reflective plastic with one central speaker on top and microphones placed around the phone's circumference. A 240-by-64 LCD display shows connection status and your IP address. Four sets of tiny lights evenly spaced out around the phone's outer edge light up to signify various functions, making the phone look like it could hover over a secluded desert, perhaps in New Mexico. The entire system is quite beautiful and fits well in a corporate setting.
LifeSize Room has a lot to like, but we also found some faults.
Why LifeSize Might Not Be the Right Size
Although the LifeSize Room is a beautifully designed videoconferencing system, the shape and size of the codec itself is a bit awkward. Gonick, the Case Western CIO, wished the codec were smaller and more suited to sit on a desktop, next to his monitor or in some other unobtrusive place. I couldn't agree more. As Gonick said, "Rather than an appliance to the side, I'd like to see [the codec] more integrated into the executive environment."
The HD video quality was impressive overall, but it became spotty on a few occasions and left what looked like tiny red bursts of light in the wake of moving objects. When Gonick waved his hands in front of his face rapidly, I saw reddish traces for a second or two before the camera focused back in, and we were connected at 2.0Mbps with very little packet loss. (You can easily check connection statistics at any time during a videoconference via the remote control.) Gonick said he'd never experienced any such lapses in video quality.
LifeSize Phone
Occasionally, I heard my own voice on the other end of the call. For instance, I'd ask Gonick a question; as he started to respond a second or two later, I could hear the tail end of my inquiry. I imagine this had something to do with our conference room's acoustics—or Gonick's—but I can't be sure one way or the other. However, this is a good example of why you might pay to customize a room for videoconferencing.
CIO.com has a number of remote workers. We don't videoconference, but we often use speaker or conference phones for meetings. The folks on the phones constantly request—sometimes more politely than others—that the person speaking raise his voice. It's downright maddening, on occasion. So naturally, I tried the LifeSize Phone without the rest of the LifeSize Room system.
Related Stories
Seven Quick Tips for Videoconferencing Beginners
Review: Viewsonic Monitor with Webcam
Check Out the Ferrari of Videoconferencing: Telepresence
Much to my dismay, the phone wouldn't work, because our phone system is digital. LifeSize Phone provides voice-over-IP (VoIP) audio conferencing and it integrates with a number of enterprise-class IP-PBX systems. It also works with traditional analog phone systems, but it won't work with Integrated Services Digital Network (ISDN) phone systems, unless your organization uses a PBX for line-sharing that's capable of providing an analog signal internally. You can purchase a separate Power over Ethernet adapter to connect the LifeSize Phone to your network for VoIP; however, we didnt have one to test and couldn't connect the phone without the rest of the videoconferencing system.
Although LifeSize Room's price tag is attractive, the competitors also include room customization and design and audio setup, among other perks. The cost of the LifeSize Room covers only the codec, HD camera, remote control and the cables to connect it to your network and display, so you're on your own for the rest.
LifeSize Summarized
LifeSize Room is meant to take videoconferencing to new ground by minimizing the issues that have kept the technology from taking off in enterprise settings. The product delivers on its promise with crisp and clear HD resolution that makes videoconference participants on the other side of the continent appear as though they're sitting across the room. Improved call quality eliminates the need to repeatedly request speakers to raise their voices and improves the overall experience. And widened interoperability with systems from other vendors means there's more opportunity to connect with various parties.
LifeSize Codec
LifeSize Room is also quite affordable when compared with its HD videoconferencing competitors. However, many of the extras that come along with the higher-end systems can take the HD videoconferencing experience to its optimal level, and LifeSize suffers without them. LifeSize users could contract outside parties to perform customization, but this adds to its cost, and those parties may not be as familiar with the system as they should be. Beginners or groups that value mobility will be best served by LifeSize Room.
On the whole, I enjoyed using LifeSize Room. It was immediately clear why HD videoconferencing has the potential to change the way businesspeople collaborate. This could modify the modern business landscape.