It's an appealing idea for any employee who works remotely, and any IT manager who supports such users: Slap a webcam on the computer, and actually see your coworkers. Webcam technology has improved vastly in the past several years, with video well past the blurry postage-stamp stage. And network bandwidth is more manageable.
Desk space is always precious, however. Viewsonic's VX2255wmb monitor at first appears to offer a great solution: The 22-inch widescreen monitor has built-in webcam, speakers and microphone. Even better, street price is only about $30 more than the company's non-multimedia-equipped monitors. When we were given the opportunity to review the new monitor, we snatched it.
CIO.com's Esther Schindler
We had a personal agenda here, since we're CIO.com's two full-time telecommuters. We hoped that for little cost and even less technical attention, a webcam could improve our collaboration and communication. In other words: This is not a dispassionate, "how nice for you" review. Our skin—and eyeballs—were in this game.
The bottom line: Viewsonic has a great idea, but while we love the monitor quality, the video chats themselves fall far short due to so-so video quality and spotty audio. If you've used a webcam on an Apple machine, you're going to be disappointed at how much you'll have to futz with this monitor. And enterprise users eyeing this unit for use in home offices aren't going to like the install process.
Install Glitches and Webcam Hitches
One benefit to buying an integrated device is that the installation is accomplished in one fell swoop, right? Wrong. Our reviewing rule is to ignore the installation process unless it's remarkable in some way. In this case, it's remarkably poor. We tested the monitor with ThinkPad notebook computers, both running Windows XP, with and without docking stations. At one point the monitor was also connected to Esther's older Dell notebook running Windows Media Center.
MORE ON VIDEOCONFERENCING
Seven Tips for Videoconferencing Beginners
LifeSize: a Serious Enterprise Videoconferencing System
The Ferrari of Videoconferencing: Telepresence
Cisco TelePresence 3000: First Impressions
Hardware connections are persnickety but acceptable. The wires plug into a little overhang on the back of the monitor, which keeps things looking organized, but unless you have excellent light in your office, it's hard to see where you're aiming.
Bigger problem: The instructions are minimal, contradictory and already out of date, which is quite a trick for a new product. The first clue that something isn't quite right: The startup CD installs Adobe Reader 4.0 by default instead of the current version, 8.0. Then when you go to register the product, the "print the registration" dialog box (instead of online registration) has a drop-down date box with 2004 as the latest date. When Meridith used the wizard for product installation, nothing happened at the end. Since she expected to read, "Congratulations! You've successfully installed your hardware and the software that runs it. Go forth and start videoconferencing!" she went through the installation process three times. She also would have liked it if the instructions and the plastic bags in which the cables were packaged identified each cable.
The software doesn't say that you need to reboot, but you must do a full power-down before the webcam works. What's worse, this seems to apply anytime you connect and disconnect the laptop computer from the Viewsonic monitor, making life difficult in offices where the laptop spends frequent time in a conference room or trotting about elsewhere. Without the hard reset, a webcam preview displays a "Turn on the webcam" error message, which is particularly annoying. We muttered, "You're the hardware, turn yourself on!"
After we had audio problems that led us to call tech support, a well-meaning tech support guy first suggested Esther return the product, then suggested that she contact Microsoft because she clearly had a Windows problem—possibly not the same response that would have been given if the tech knew Esther was a technology journalist. Finally, via our reviews contact at the vendor, we were sent replacement audio input cables. Then Esther's monitor gave up entirely, requiring a full replacement unit—there was an issue, Viewsonic's representatives said, with a handful of early production units—whereupon, whew, the system finally worked.
Lights, Camera, But Can You Hear Me Now?
We have only praise to heap upon the monitor as a monitor. The resolution is excellent, and it just works the way you expect. Two thumbs up.
Video quality from the 1.3-megapixel resolution webcam looks OK. Not blow-'em-away good, not terrible, but OK. Esther's ThinkPad sits right next to her iMac, and her non-scientific evaluation is that the iMac's webcam video looks sharper, especially in not-especially-bright home offices. In full-screen mode, the video call's quality dramatically decreased; Meridith said Esther's image looked like a Cézanne portrait, full of flat squares.
A utility bar, which you can dismiss, lets you adjust the webcam's settings, including brightness. But most telecommuters will simply drag another lamp into the office.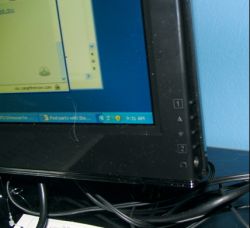 The black, unseeable buttons
The speaker and microphone settings are less impressive. To adjust the microphone sensitivity, you mess with nearly invisible black-on-black buttons on the side of the monitor which, to be gentle, do not make the word intuitive come to mind. Still, the microphone volume is too low; on several occasions (and oddly enough, with some IM client software more than with others) one of us could not hear the other, or we had terrible feedback. Why, we wondered, doesn't that handy webcam utility bar include speaker and mic settings?
For more detail on IM clients and webcams, see Seven Quick Tips for Videoconferencing Beginners.
The Verdict
Meridith is the first to admit that she's not a technical person; as a result, she probably represents the "mere mortal" user in your organization. Esther knows her way around plugging and unplugging (and thus has a more impressive collection of cuss words), but the installation process was so painful that we were both ready to give up on several occasions. This really should be easier, we repeated to one another.
Do you want a monitor like this for your own use at home, or for your users' home offices? On the plus side, there's an immediacy in face-to-face conversation that doesn't exist by phone or in IM…even though one's first impulse is apparently to hold up something just to demonstrate that you're showing something to your correspondent. (Toby the dog and Meriwether the cat may, one day, be willing to speak to us again.) But be forewarned that initial setup will waste time, and Viewsonic really should provide a how-to guide for conducting videoconference calls. The video chats can be cumbersome to set up.
Would we spend our own money on this product? Maybe. Priced about $30 higher than a similar model without the webcam, it's well within the "what the heck" range. Once you got the settings right on your IM client of choice, video chats could occasionally turn into productive personal discussions—as long as you keep your audio expectations low.
About This Product
Street Price:
$429.00
Pros:
Great monitor quality and resolution. The immediacy of video communication.
Cons:
An installation process from hell. Medium-quality video. Bad-quality audio. Mic isn't sensitive enough and can't easily be adjusted.
Bottom line:
Costs only a few dollars more than a similarly equipped monitor without multimedia capability. But don't expect your least technical users to install it remotely without handholding.