Rumors surrounding a possible cell phone/iPod combination device started swirling around the Internet in late 2006, with some reports claiming that Apple planned to enter the mobile space in January of the coming year with the release of two separate phones: a smartphone for business users and another music phone aimed at the consumer set. Though the prediction proved to be inaccurate, the reports also correctly suggested that the device would be announced at Apple's Macworld conference.

Linksys iPhone CIT300
Then in early December 2006, news reports claimed that Apple had filed an application for iPhone patent protection with the U.S. Patent and Trademark Office (USPTO), in relation to another patent it filed in 2004. Later that month, Cisco's Linksys division shocked iPhone speculators with the introduction of a line of iPhone voice-over-IP (VoIP) phones, sparking questions about whether Apple could acquire the appropriate approval from the company to employ the iPhone name. Cisco gained ownership of the iPhone title when it acquired Infogear in 2000, according to a BusinessWeek report.
Confirming early predictions, Apple CEO Steve Jobs in January unveiled the iPhone at the Macworld Conference and Expo in San Francisco. Jobs also confirmed speculation that Cingular—now AT&T—would exclusively offer the combination iPod/mobile phone and that two versions of the phone would be made available: a 4GB version for $499 and an 8GB model for $599.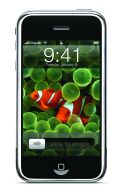 The Apple iPhone
Shortly after the device was unveiled, CIO.com offered up some reasons why the iPhone is a non-issue for CIOs and corporate America, as well as few arguments for its being the single most important thing to happen to CIOs in 2007.
As soon as it was clear that Apple would indeed release its iPhone in 2007, analysts and commentators began speculating about the specifics of the device and whether Apple could actually hold its own in the competitive, unforgiving mobile phone market. For instance, various sources reported that an advertisement on Apple's website suggested the phone would employ an Arm processor. Arm is a leading producer of smartphone chips because its processors are powerful enough to handle the computing demands of handhelds, yet they use little power. iSuppli, a market research firm, also predicted early on that the iPhone would be a huge success, with more than 50 percent gross profit margins associated with sales of the device.
In response to all the hype surrounding the iPhone, cell phone companies began to offer their strategies for competing with Apple, regardless of the fact that the iPhone had yet to prove itself as a true rival. Motorola Chairman and CEO Ed Zander claimed he wasn't intimidated by the potential of the iPhone and that his organization was ready for the competition.
In the spring of 2007, the iPhone received Federal Communications Commission (FCC) approval, paving the way for its sale in the United States. Some of the FCC documents offered further details on the device as well, such as the fact that it will include Bluetooth connectivity options and Wi-Fi support, and will operate in the 1900MHz and 850MHz Global System for Mobile Communications (GSM) frequency bands.
Apple then announced an official launch date: June 29, 2007. In June, more and more news and analysis regarding the device emerged on a weekly if not daily basis. The most notable information was perhaps the fact that iPhone users would need an iTunes account not only to sync music to the device but also to activate it upon purchase. It was announced that the iPhone's battery, which is not removable, would be of higher quality than initially planned, as would its display cover. Finally, Apple and AT&T announced the details of iPhone service plans, which will start at $59.99 a month.
It remains to be seen whether the iPhone will be a friend to CIOs and IT departments or if it will prove to be the device IT managers love to hate; however, a recent poll on CIO.com suggests that CIOs are more than hesitant to accept the device. In fact, nearly half of poll respondents said they plan to ban the device from their organizations indefinitely. On the flip side, consumers couldn't be more excited about its release, with folks across the country braving blazing summer heat to stand outside Apple stores for a chance to purchase what may indeed be the most anticipated gadget of all time.
Al Sacco was a journalist, blogger and editor who covers the fast-paced mobile beat for CIO.com and IDG Enterprise, with a focus on wearable tech, smartphones and tablet PCs. Al managed CIO.com writers and contributors, covered news, and shared insightful expert analysis of key industry happenings. He also wrote a wide variety of tutorials and how-tos to help readers get the most out of their gadgets, and regularly offered up recommendations on software for a number of mobile platforms. Al resides in Boston and is a passionate reader, traveler, beer lover, film buff and Red Sox fan.