WAAV, a Cambridge, Mass.-based mobile broadband company, early this year launched its AirBox X2 cellular router, which it claims is the "world's first mobile broadband cellular router to unite two different cellular networks into a single connection," and it has been making waves of its own ever since–pun shamefully intended.
The product offers fast Web access, to consumers who may want to play online video games or download music while on road trips; enterprises with mobile workforces who need to stay connected at all times; and first responders, like police or firefighters, who always need the most up-to-date field information. And the company says its performance isn't affected by high-speed travel.
In-vehicle Internet access is nothing new. In fact, WAAV says it introduced the first in-car Wi-Fi hotspot more than two years ago. And CIO.com wrote up a piece in January about a startup called Autonet Mobile that offers a similar product.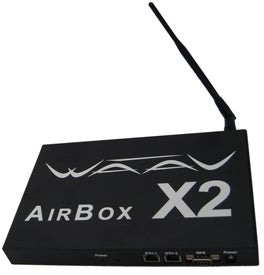 What makes the AirBox X2 notable is that it can simultaneously access two separate cellular networks, or two connections from one carrier, according to WAAV. "Using two connections from the same carrier doubles the upload bandwidth, while using two connections from different carriers provides the coverage area of both carriers," a WAAV statement reads. Another benefit of having two separate cellular networks is continued coverage if one of them becomes unavailable for some reason.
Related Stories
Dual-Mode, Voice Over Wi-Fi Phones and the Enterprise
Startup Makes Commute Time More Productive
Review: TeleNav Track Uses GPS to Manage Your Mobile Workforce
The AirBox X2, which resembles a typical wireless Internet router, features two ports that users can employ to connect to the Web via Ethernet, or Wi-Fi (802.11b/g) can be used, as well. The device accesses 3G cellular networks–EV-DO in most places, according to the company–and it detects upgrades to those networks whenever they're made by carriers and automatically updates itself with new tower information. EV-DO offers average download speeds of 400 to 800 Kbps, with bursts of up to 2.4 Mbps, according to WAAV. When 3G networks aren't available, AirBox X2 uses 2G networks that offer average download speeds of 120 Kbps, WAAV said.
The product also includes functionality that enables administrators to track their mobile workforces via GPS. CIO.com recently reviewed a similar GPS tracking system that keeps tabs on employees.
Earlier this month WAAV was awarded the Mario Award by TV Technology magazine for AirBox X2. The Mario Award is meant to recognize firms with new and interesting products that represent significant technological breakthroughs in their industries. Fifteen-hundred companies competed for the award at the 2007 National Association of Broadcasters convention, and WAAV was one of 10 winners, according to the company.
AirBox X2 starts at $1,099, and plans for access to cellular networks are also required. More information is available on the company's site.