Today, a company's business is done as frequently in the field as in the office. Even if you can't get in touch directly with your staffers in the field, you can still see where they are, when they got there and how their job is progressing by using TeleNav Track.
TeleNav, founded by a group of Global Positioning System (GPS) experts, wants to help you manage your workforce with TeleNav Track—a mobile phone-based GPS tracking service with built-in audible and visual, turn-by-turn driving directions, electronic time-sheet reporting, bar-code scanning, jobs alert and change capability, electronic forms and progress reports.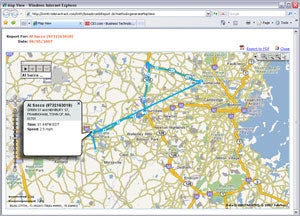 TeleNav Track Breadcrumb Report
The Web-based service works in conjunction with software that runs on handhelds. A user clocks an electronic time sheet on the handheld; afterward, his workday actions are recorded, including specific locations, where he's going and at what speed, and progress toward completing the day's tasks. Depending on the handheld used and administrator settings, some users are tracked whenever the phone is turned on.
GPS driving directions and other location-based services, such as business and airport locators, are also available. Administrators can assign jobs or tasks to users. Wireless forms report progress. Text messages can be sent between devices and the Web interface.
RELATED STORIES
What Your Remote Workers Are Really Doing
Remote Worker Costs To Go Through the Roof
GPS Innovation Gives Weather Bots a New Ride
Administrators use a Web interface to monitor mobile workers. Specific users or groups can be assigned to different admins, so workers are monitored by their supervisors. The interface can show maps of employees' specific locations, trails of where they've been, job completion status or whatever other criteria you set.
I was quite impressed with TeleNav's service, but I did find a few shortcomings. One, dubbed a "minor bug" by the company, kept the service from monitoring travel until I removed and reinstalled the software.
On Track
There's a lot to like about TeleNav Track. You can customize its Web-based dashboard with various tracking information like time-card records, locations, speeds of travel and job progress reports. Administrators can see with a single glance where workers are, where they've been and whether they're on schedule. "Geofences" let administrators know when employees enter or exit specific locations. They can even communicate with users via TeleNav's text-message service or e-mail.
Data entry is simplified. Wireless time cards and forms, assigned to users' phones, eliminate error-prone paperwork. Users fill in the forms, which can include pretyped responses designed by the administrator, and then send them to the Web interface. (Bluetooth bar-code scanners that work with TeleNav Track are available, but I didn't test any.)
TeleNav Track Home Menu
TeleNav Track's cost (with five plans, starting at $9.99 per month) is among its plus points. Standalone GPS systems can cost more than $600, but because TeleNav users don't pay for hardware, you can budget significantly less for the mobile phone-based service. However, new phones required to support the service may cross out some of those cost savings; we'll get to that in a moment.
The GPS navigation application within TeleNav Track could be a lifesaver for mobile workers who travel frequently via automobile. However, on top of TeleNav Track, the BlackBerry 8800 used for this review included the most recent version of the TeleNav's standalone GPS Navigator application, v5.1, which is much more polished and feature-rich than the version within TeleNav Track. Once I used v5.1, it was difficult to employ an earlier version without really noticing its shortcomings.
One favorite feature of the service is the Biz Finder option, which can locate the nearest restaurants, hotels, gas stations and even movie theaters. You can search for specific businesses, like Olive Garden or Shell, all on your handheld.
Because TeleNav is simply an application on users' phones, it is much more portable than standalone GPS systems, and probably requires less setup.
Finally, I like how you can monitor your mobile workforce on both TeleNav Track's GPS map interface, and on satellite images from Google's mapping service.
Off Track
TeleNav Track's primary turnoff is the fact that only about 75 phones currently support it, and about 50 support the most basic plan. TeleNav Track is currently available only on handsets from Sprint/Nextel and AT&T, and fewer than five AT&T phones support the service.
Earlier, I mentioned a technical difficulty. Occasionally, entering a building blocked the GPS signal transmission; afterward, the system had difficulty picking up the GPS signal again until I tried to access driving directions or queried the system for GPS information.
TeleNav Track Wireless Form
Also, my phone ran out of battery power on a Friday. I recharged it and clocked back into TeleNav track later that night, but TeleNav didn't record any activities over the weekend. On Monday I called TeleNav because the service didn't see me. The company said the problem is a "minor bug" with newer phones and suggested that I remove and reinstall the TeleNav app on my handset, which did the trick.
Because TeleNav Track constantly communicates with your handheld, the system eats up battery life. You can control how often the service sends and receives information to minimize the battery drain, but you may want to keep a charger handy. The GPS driving directions suck up even more power. The BlackBerry 8800's battery typically lasts for two or three days of regular use, but I needed to recharge every day when using TeleNav Track and its GPS navigator.
RELATED STORIES
What Your Remote Workers Are Really Doing
Remote Worker Costs To Go Through the Roof
GPS Innovation Gives Weather Bots a New Ride
Some features within TeleNav Track are accessible only to BlackBerry users. Among them are the abilities to disable tracking and to block users from exiting the application.
I also experienced some small irritations. Frustratingly, TeleNav Track can't override the BlackBerry's security timeout function, which blacks out the device's screen after a certain period of time. You can set the timeout function for as long as an hour, but then your device's screen remains lit an hour or until you lock it or holster it, even when not using TeleNav Track. If you use a password to secure your device, you need to keep entering it while driving to see the screen. The quality of the audible driving directions is very spotty, regardless of the volume level, which increases the need for visual directions. Plus, TeleNav Track's Web interface can be accessed only with Microsoft's Internet Explorer browser.
Making Tracks
TeleNav Track aims to help organizations with large mobile workforces keep tabs on their staffers and increase worker efficiency by giving them tools to get where they're going on time, with as few hassles as possible. The product delivers on its promise with impressive tracking capabilities and a built-in GPS navigator that provides audible and visual, turn-by-turn driving directions.
Unfortunately, its enterprise value is hindered by limited device support, and the fact that only two carriers offer phones that support the service. If you have those telecom carriers and those mobile phones, or you're planning to migrate anyway, you will find great value in the service.
TeleNav Track GPS Navigator
Overall, I was impressed with TeleNav Track; it was not only an effective business tool, but one that was also enjoyable to use. I would, however, recommend that users be supplied with, or purchase, car mounts for their phones, as well as chargers that can run off an automobile battery.