During the past two holiday shopping seasons, Nintendo and its wildly popular Wii videogame console have received as much attention for the brilliance of the family-fun gaming system as for the dearth of consoles on retailers' shelves. Out-of-stock notices were as ever-present as tacky seasonal decorations.
MORE ON CIO.com
Nintendo Wii Shortage: Shrewd Marketing or Flawed Supply Chain?
Apple's Networking and Supply Chain Mistakes Take a Bite Out of Its Shine
Study: Apple, Nokia, Dell Tops Among Global Supply Chains
All the while, Nintendo executives repeatedly offered up the "There's just too much demand" excuse to frustrated shoppers. Nintendo president Reggie Fils-Aime stated that "We are selling hardware at rates that no system has ever experienced," at Nintendo's media event in October. He's right: Since its 2006 debut, Nintendo has sold an estimated 34 million units worldwide, crushing the competition.
Industry watchers and the gaming blogosphere have suggested a range of reasons for the two-year undersupply: A shortage of components in the manufacturing process? An underlying supply chain problem? Was it related to the weak U.S. dollar? Or, the more diabolical speculated, has Nintendo purposefully withheld Wiis from U.S. customers—a shrewd marketing tactic that has artificially created an intense demand? (For an in-depth analysis of the situation, see "Nintendo Wii Shortage: Shrewd Marketing or Flawed Supply Chain?".)
Of course, that was then.
This is now: Worldwide economic indicators have become dire. Banks have been bailed out by the government, and credit markets have seized up. Declines in consumer spending from July through September added up to the worst quarterly performance for personal spending in 28 years. And a recent U.S. consumer survey by Deloitte & Touche found that holiday gift-giving budgets this year will be down 6.5 percent compared to last year.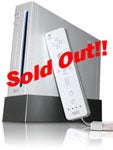 "Over the last five years, with the easy access to credit consumers had with home equity loans, credit cards and spending their savings, consumers have been spending at pretty high levels across the categories," said Michael Dart, a retail strategist at Kurt Salmon Associates, in a recent Boston Globe article. But this year, Dart added, "with anxiety about their income, no more access to cheap credit, and a low savings rate, there's no way for them to spend historically as much as they've been spending."
So when everyday Joes are deeply worried about paying their food bills and monthly mortgages, the dream of Santa delivering a $250 videogame console (plus the costs for fancy controllers and even more for games) to the kids might be trumped by hard financial reality.
With all that in flux, can high-end electronics manufacturers, like Nintendo and Apple, react to such a swift and deep decline in holiday spending—just a month or so before the season starts? Even if they saw some trouble on the horizon, do they have the IT capabilities—the robust supply-chain optimization and demand-planning applications—to react and adjust to avoid overstocks or understocks?
"It's about how quickly you can get information about changes, and how quick is your manufacturing system or your supply base, when it comes to 'Whoops, we over- or underestimated demand,'" says Kevin O'Marah, chief strategist at AMR Research. "So, your IT systems end up being absolutely essential."
An Oversupply of Wiis for Christmas 2008?
Year-over-year manufacturing data shows that Nintendo has significantly ramped up Wii manufacturing to meet the intense demand. In October 2008, Nintendo announced that its facilities were cranking out 2.4 million Wii units a month, compared with 1.6 million per month in 2007. The 33 percent increase in supply was aimed directly at satiating the upcoming U.S. Christmas season. "We're bringing 50 percent more supply this holiday," Fils-Aime said, "producing an unprecedented level of hardware to try to meet demand."
Michael Pachter, a research analyst at Wedbush Morgan who's an expert on the videogame industry, says that "Nintendo clearly has not made enough Wiis in the past, and it seems that the increase in production at mid-year reflected their best thinking about how to satisfy demand." Pachter points out that in 2007, the U.S. market received roughly 3 million Wiis in the fourth quarter, and this year, the U.S. should expect around 4.5 million. "Whether that satisfies demand is anyone's guess," he adds. (Nintendo media relations did not return repeated calls seeking comment for this article.)
A recent Aberdeen Group analysis of more than 140 manufacturers' demand-management practices found that the top four pressures on them included: meeting customer service expectations (46 percent of manufacturers); rising supply chain costs (41 percent); volatile market resulting in high uncertainty in demand (30 percent); and need to utilize manufacturing assets with maximum efficiency (26 percent).
But what if consumers fall even deeper into recessionary-like spending behavior, and the 33 percent increase in Wii production leads to the once unconceivable: a glut of Wiis on retailers' shelves? "While it is conceivable that there will be oversupply, I think it is unlikely," Pachter says. "Nintendo has not advertised the Wii since the first days of its launch, and if there are issues with demand, it will generate demand through marketing."
Many retailers are already sounding the alarm: On Nov. 12, Best Buy CEO Brad Anderson said that "since mid-September, rapid, seismic changes in consumer behavior have created the most difficult climate we've ever seen," and that Best Buy, which sells Wiis, "simply can't adjust fast enough to maintain our earnings momentum for this year."
Publicly, anyway, Nintendo executives don't appear to be fretting over an oversupply of Wiis. But they're not 100 percent sure of themselves, either. Fils-Aime told Fortune in early October that while the videogame industry has historically "weathered recessionary times fairly well, if we get into unchartered territories with stocks coming severely down and unemployment spikes, then all bets are off."
Manufacturers and Retailers: Joined at the Hip at Christmas
Nintendo's manipulation of the output of its manufacturing facilities, global supply chain partners and production schedule is, of course, just one side of the equation. It also has to work closely with retailers who would love nothing more than to see a steady stream of Wii shipments that will satisfy a hungry customer base this Christmas.
Just how critical and sometimes fragile is the manufacturer and retailer relationship? On the day that Circuit City, the second-largest electronics retailer in the U.S., announced its plans for Chapter 11 bankruptcy protection, Sony reportedly halted its delivery trucks on the way to Circuit City distribution centers. The trucks were stopped in transit and ordered to return to Sony "among worries that Circuit City couldn't pay for the shipments," reported Gizmodo. "This development," notes the article, "means that Circuit City is not getting any Sony products replenished until they are able to convince Sony that their credit line is reliable."
Other manufacturers are also taking steps to not be left holding warehouses of inventory come Jan. 1, 2009. Apple, for example, reportedly slashed its iPhone production plans more significantly than first thought, according to an analyst who follows Apple. Another analyst in early November cut his forecast of iPhone sales 20 percent, from an estimate of 6.2 million for the fourth quarter down to 5 million.
Since iPhones are now sold in Best Buy stores, developments such as these will have trickle-down ramifications on retailers, testing business relationships, as well as the abilities of the companies' demand-planning and sales-optimization systems to synch up with everyone else in the supply chain. Unfortunately, the Aberdeen data showed that spreadsheets "continue to be rampant" even at leading companies, and difficulties in getting timely customer and supplier data also make demand-management systems tough to improve.
AMR research shows that demand data from retail partners that can affect whether manufacturers either halt or speed up production typically takes around four weeks to move from retailer back upstream. "With all these electronic retail systems," O'Marah says, "you'd think it would be instantaneous. It's not."
He says that speed and flexibility are keys to supply chain success in chaotic economic climates such as this one. "How much visibility do I have when demand starts to taper?" he says. "If you don't have systems in place and the economy crashes, you're stuck because you made decisions a year ago and you're out of luck."
Those manufacturers with agile and smart supply chains, as O'Marah calls them, use their IT systems to provide visibility into a difficult period such as Christmas. "You have the ability to ask questions that are sensible businessperson questions: How much capacity do we have in our plants? What [production levels] have we committed to? If we switch from delivering to the Northeast to the Southwest, would that help?" O'Marah says. "So a smart supply chain is one where conditions change, say the economy gets scary: Can I ask the right questions of my manufacturing universe, my plants, my suppliers' plants, and get answers that are tuned to my perception of reality. I don't want to overreact or underreact."
Even with the best IT systems, however, this is still complicated, sometimes unpredictable work, say analysts.
Which Nintendo's Fils-Aime would probably agree with: "Will there be enough [Wiis] to meet demand?" he said in October. "Ask me in January."