Ask a handful of seasoned BlackBerry administrator about the most common smartphone-related help desk requests, and you'll likely get very similar answers: device provisioning issues, e-mail latency, wireless coverage issues, and the like. In other words, problems that are relatively simple to fix with the right know how, but that can put novice or beginner users out of commission quicker than you can say "downtime."
Related Articles
BlackBerry Bible: Everything You Need to Know About Your RIM Smartphone
Dr. BlackBerry: Two Free–and Easy–Ways to Diagnose RIM Smartphone Ailments
Best BlackBerry Shortcuts: Aflac's Mobile Guru Shares Tips
Touch Screen BlackBerry Storm 9530 Hands-On First Impressions
BlackBerry App Storefront, Coming in '09: What's In It for Users?
Many BlackBerry administrators currently spend much of their days addressing these routine smartphone issues. But in November, administrators may have a whole lot more free time when BoxTone Software releases its myBoxTone Expert for BlackBerry application.
myBoxTone Expert runs in the background of BlackBerry devices, unbeknownst to users until problems arise. When trouble rears its head, the app provides users with a toolkit to address the issues on their own, before contacting the support desk. Those tools come in the form of proactive home screen warning and alerts; "smart" diagnostic information to help identify and fix more than 20 common service issues; step-by-step problem resolution instructions pulled from a number of sources, including both BoxTone's own and Research In Motion's (RIM) knowledge bases; built-in features for remote troubleshooting that allow users to snap screen shots at any time and then send them directly to the help desk; as well as metrics and performance trends for a variety of device indicators like battery life, phone usage, data traffic patterns and wireless coverage.
The version of myBoxTone Expert that I used was still in beta and there were a few noticeable bugs, but overall I was very impressed with the application and the breadth of features designed to reduce the time it takes to fix BlackBerry-related issues and therein increase user productivity while cutting IT support costs.
myBoxTone Expert In Action
Using myBoxTone Expert is easy. An application icon sits on users' home screens, colored green if there are no current problems; yellow if issues are detected, but not critical; or red if a potentially serious problem is identified.
Users can launch myBoxTone Expert application at any time by clicking on its icon. If a user launches the app while the icon is green (signifying that no issues have been found) he's brought directly to the app's home or status screen. The home screen offers metrics on the mobile network, battery life and available memory–both on-device flash and external media card memory–so users can monitor the everyday "health" of their devices. (The myBoxTone Expert home screen is very similar to the company's myBoxTone Insight application, which I recently reviewed.)
If the home screen icon turns yellow or red, users can launch the application and warnings and alerts are then displayed, in order of severity, and users can click on each individual item for instructions on how to fix or address the problems.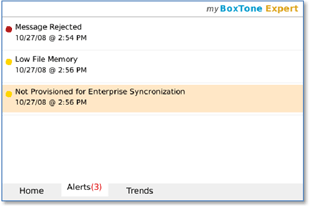 For example, if a user's on-device flash memory comes close to running out due to an excess of photos or documents, myBoxTone will send a warning that flash is dangerously low and that any additional images saved to the device could result in a purge of messages or call logs. Users would also be instructed to delete images or other files to free up space.
If the myBoxTone Expert icon turns red, the application has identified an issue or group of issues that could significantly degrade device performance and even cut off core functionality, like the ability to send/receive messages, sync personal data or access the Internet.
If more than one issue is detected, myBoxTone Expert lists them all on the opening screen with either a red or yellow dot to represent severity; the most threatening issues at the top of the list. This helps users–and eventually IT support representatives, if necessary–prioritize problems.
When myBoxTone Expert Self-Service Just Doesn't Cut It
Some BlackBerry-related issues will inevitably require assistance from the IT help desk. On that note, myBoxTone Expert has a number of embedded features that make it easier for IT staffers to remotely troubleshoot BlackBerry problems.
For instance, whenever users click on a specific alert for details on a problem, a menu option allows them to e-mail that information to their BlackBerry administrators. (IT departments can preprogram e-mail addresses and phone numbers for the help desk so users never need to enter in any contact information.)
myBoxTone Expert also has valuable screen shot functionality that enables users to snap and send screen captures of any application or screen to their IT help desks–though BlackBerry handheld operating system (OS) 4.3 or higher is required. There are currently two ways to snap screen shots: Users can enable a special screenshot menu option so they can capture a screen image whenever they want; or they can return to the app's home screen, hit the BlackBerry Menu key and choose to a delayed screen shot for, say, 30 seconds. After half a minute, the application snaps an image of the screen, which can then be sent directly to the help desk or saved on the device. (In situations in which users cannot send e-mail, they can connect their BlackBerrys to a PC, transfer screen shots or other diagnostic data and then send it off to IT from there.)
The app also lets users gather important diagnostic data–including all information available on the home and trends screens–and then send it directly to the help desk by simply clicking the BlackBerry Menu key, selecting Smartphone Info and then sending the resulting auto-generated message to the appropriate IT contact. All the information available on the myBoxTone Expert Home screen can also be quickly emailed to the help desk by clicking the BlackBerry Menu key and choosing E-Mail Help Desk.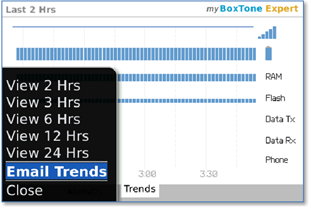 Finally, BlackBerry users can also choose to send IT a full list of the current alerts being highlighted by myBoxTone Expert, as well as a recent history of alerts. And phone calls to the help desk can also be easily placed from almost any screen by choosing Call Help Desk from the BlackBerry Menu.
myBoxTone Expert System Requirements and Pricing
The myBoxTone Expert application works on any Java-enabled BlackBerry smartphone running BlackBerry handheld OS v4.2 or higher, though v4.3 is required to utilize the screen capture functionality, according to BoxTone. The app should function on any BlackBerry device from the 8700 series to the latest RIM smartphones.
myBoxTone Expert also works on devices that use BlackBerry Internet Service (BIS) instead of BES, though many of the advanced features are designed to help BlackBerry administrators resolve the problems of enterprise users.
Administrators who want to deploy the app over the air (OTA) via BES will need to be using BES v.4.0 or higher.
The application is expected to go on sale November 10, and it will sell for roughly $2,000 for a 100-seat license. Every additional 100 users will cost another $1000.
Conclusion
It's difficult to adequately judge the effectiveness of myBoxTone Expert at this point for a number of reasons. First off, it's clear that application is still in beta and needs a bit of work. For example, when I installed the app on my BlackBerry 8820, the bottom quarter of the home screen was cut off, and I couldn't see the memory card metrics that were supposed to be there.
Secondly, there's no real way to test the suggested issue resolution instructions, because you'd need actual problems to solve to gauge the effectiveness. The application does let you simulate issues and view resolution details, but there's no easy way to determine how the recommended solutions work without creating real issues–something I was not willing to do for the purposes of this article.
Some of the resolution instructions provided also appear to describe the simplest ways to fix issues, but not necessarily the most effective. For instance, after simulating the Card Memory Full warning, I was instructed to go into my media application and delete images one by one to free up memory. This could take a substantial chunk of time. The best way to quickly delete images or other media is to simply connect your BlackBerry to a PC and use RIM's Desktop Manager software to delete all the images you want to remove in one fell swoop.
Overall, the application delivers on its promise to help BlackBerry users address and possibly resolve their own issues, and its ability to send screen shots and various BlackBerry diagnostics is sure to reduce the time it takes for IT to fix problems that users can't on their own. myBoxTone Expert has the potential to be a particularly valuable tool for organizations that deploy many BlackBerrys to novice or less-tech-savvy users.
FREE CIO BlackBerry Newsletter
Get better use out of your BlackBerry and keep up-to-date on the latest developments. Sign-up »