"What are you doing?" That's the central question behind Twitter, the uber-popular microblogging/social networking service–and, at this point, cultural phenomenon. In 140-characters or less–brevity's a virtue, just ask Jack Dorsey, Twitter's cofounder and CEO–users enter status messages about what they're doing, reading, researching, pondering, whatever; and others comment or post their own "tweets." If it sounds simple, or basic, that's because it is.
Related Articles
BlackBerry Bible: Everything You Need to Know About Your RIM Smartphone
Five Things Twitter's CEO Has Learned About What You Are Doing
Twitter's Potential for Business Users
The true value of the service lies in the ability to tweet from wherever you are. Twitter.com offers its own mobile portal that you can access using many new mobile devices; you can setup up SMS tweet service, as well, to send text messages as tweets. But the explosive growth of Twitter has also led a handful of crafty coders to create their own mobile Twitter clients for a wide variety of devices, including the popular BlackBerry and iPhone, as well as Windows Mobile handsets.
Whether you employ Twitter for work, play or a combination of the two, there's a mobile Twitter app that's best for you. Which app that may be depends on your smartphone platform. Check out the following seven mobile Twitter apps for a look at your options.
Mobile Twitter Apps for BlackBerry
TwitterBerry
As loyal users of both BlackBerry devices and Twitter, we're very familiar with the mobile Twitter applications available to Research In Motion (RIM) smartphone users. Our personal favorite: TwitterBerry.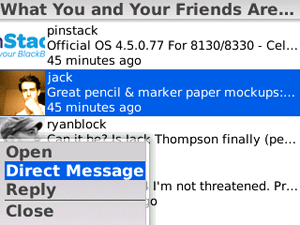 TwitterBerry's a free, easy-to-use mobile application for BlackBerry, and it offers much of the same functionality that the standard, desktop Twitter does. With a single click from the BlackBerry home screen, users can input Twitter updates. Replies to status updates, as well as timelines of their latest posts and the last public posts, are available through the TwitterBerry menu, which is accessed via the BlackBerry menu key. We even hear that the good folks over at Orangatame Software–namely Jason Schroder–are working on a feature that would automatically update Twitter streams and provide notifications–two extremely valuable options that are notably absent from TwitterBerry.
Our only real complaint about TwitterBerry: you must repeatedly return to the application's home screen to refresh friends' timelines, replies, personal timelines and more. This gets tedious quickly, and a way to refresh those individual pages without ever leaving them would be very welcome.
TwitterBerry works on most RIM devices from the 7000 and 8000 series that run on the BlackBerry operating system version 4.0.2 or higher.
On to More Apps for BlackBerry and Windows Mobile >>
BlackBird
BlackBird, a bare-bones mobile Twitter application for BlackBerry, delivers most of the core functionality of the standard desktop version but very few of the aesthetic enhancements and bells and whistles of other mobile Twitter clients. We'd even go as far as saying the BlackBird user interface is boring…but that's okay, because the application isn't built to look pretty. The price is right, however, as the app's free.
BlackBird for BlackBerry lets you view various Twitter streams, timelines and replies, and you can even refresh your own replies screen without ever leaving it.
Because there are few graphics and images–Twitter avatars are not displayed, for instance–and the various screens are made almost completely of text, pages load faster than with many other similar applications.
We would, however, like to the BlackBird UI get some sort of makeover–a bit more color, perhaps?–as aesthetics really do count for something when it comes to mobile apps.
Going (Windows) Mobile with Twitter
ceTwit
We don't spend as much time with Twitter on Windows Mobile smartphones as we do BlackBerrys, but that doesn't mean we're not aware of the available options. Our search for the best Windows Mobile Twitter apps yielded a number of possibilities, including ceTwit.
The free application gives you access to most of the standard, desktop Twitter functionality, including various timeline displays, replies and direct messages. And it also offers up some valuable features, like automated timeline refresh, the ability to follow and unfollow other users and mark tweets as favorites. ceTwit even has notification alerts, and supports the TwitPic service, which makes it easy to upload images taken via mobile devices.
The UI is simple, but clean and easy to navigate. And timelines include avatars.
On to More Apps for Windows Mobile and iPhone >>
Twitula
Twitula is another free mobile Twitter app for Windows Mobile Classic and Professional devices (with touch screens), and it provides much the same core functionality as ceTwit and the other apps mentioned in this piece, with slightly different UI.
The app lets you view friends' timelines, update your status and send direct messages, as well as view responses. And, like ceTwit, it can auto-refresh page every minute or so. To save on data charges and battery life, you can also disable the auto-refresh function.
It's worth noting, however, that the developer of Twitula claims there's a known bug in the software that keeps the application's "People I Know" function from displaying correctly. (Visit the Twitula page for more details.) But if you can deal without a listing of all the folks you follow, Twitula's worth checking out.
Twitter via iPhone
Twitterific
With the introduction of the iPhone software development kit (SDK) and, subsequently, the opening of the Apple's iPhone App Store, came a wide-variety of mobile applications, including one for Twitter users: Twitterific. There's no shortage of options for iPhone-owning Twitter users–there's Twitter's own client, Twitter Mobile; PocketTweets; iTweet and more–but none leverage all the iPhone's unique functionality quite like Twitterific.
There are currently two versions of Twitterific, one free and one for pay. Both are very similar, but the free version serves up an occasional advertisement.
Like the other applications mentioned here, Twitterific lets you post tweets and view updates from others users, as well as reply, check replies and view various timelines. The app also integrates with the TwitPic service, so that images taken using the iPhone can be sent off to TwitPic for easy Twitter viewing. Twitterific can also take advantage of the iPhone's GPS and Wi-Fi to include location information along with users' tweets. And the iPhone's touch screen lets users rapidly scroll through timelines with ease.
On to Twitter Apps for Multiple Platforms >>
Twitter Apps for Multiple Platforms
While the previously mentioned software applications were developed with specific mobile platforms and operating systems in mind, you'll also find a number of quality mobile Twitter apps designed for any Java-enabled devices. Here are two of our favorites.
Tiny Twitter
Tiny Twitter lets you send and receive status updates and messages, as well as check on what your connections are doing. It works on BlackBerry, Windows Mobile and other smartphones–in fact; it will function on any Java-enabled device, according to the Tiny Twitter website.
The app gives you access to friends' timelines, personal timelines, replies, direct messages and you can even hide tweets from certain friends. The app can be automatically set to update in intervals of 4 minutes, 15 minutes, 30 minutes, every hour, or only manually. And your most recent "tweet" can be set to scroll across the bottom of your screen.
The one essential feature that Tiny Twitter lacks, in our opinion, is a command to view the Public Timeline. And, in our experience, Tiny Twitter doesn't work over Wi-Fi–at least using a BlackBerry 8320.
Twibble
Developed initially to run on Nokia devices with the Symbian operating system, the Twibble mobile Twitter application now works a wide variety of Java-enabled handsets like BlackBerry and Sony Ericsson phones.
Twibble provides the core Twitter functionality–access to timelines, direct messages and replies–and has an auto-update feature that can be used to refresh various feeds, reducing the need to navigate back and forth between screens. Like Twitterific for iPhone, the app can tie GPS location information to tweets and locate others nearby who've done the same.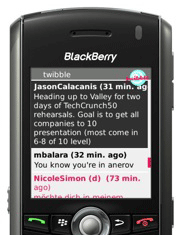 One caveat for using mobile applications that are meant to function on a variety of platforms and devices: occasionally some features and functionality won't work exactly the way they're intended. For example, we tried Twibble on a BlackBerry and found its menu-based navigation to be a bit frustrating; you often need to click through a number of screens just to access basic functionality. A set of numeric and keyboard shortcuts is available to reduce the time it takes to reach certain screens, but we'd prefer a cleaner, simpler UI.
Like all the other apps mentioned in this article, Twibble is free.
Did we leave out a great mobile Twitter app? Well, nobody's perfect…If you know of another mobile Twitter application that's worth mentioning, drop us a comment below and we'll be sure to check it out.