Research In Motion (RIM) BlackBerry users have no shortage of free application for their smartphones. A Google search for the terms "Free BlackBerry Apps" turns up pages and pages of possibilities. But who wants to sift through all the garbage to find the good stuff? Lucky for you, we already weeded through the pile to identify the software that's worth installing and using.
Related Articles
BlackBerry Bible: Everything You Need to Know About Your RIM Smartphone
Best BlackBerry Shortcuts: Aflac's Mobile Guru Shares Tips
RIM Execs' Favorite BlackBerry Downloads
BlackBerry Pearl 8220 Flip Phone: The Next Great Consumer Smartphone?
Over the past few months we've offered several lists of BlackBerry software downloads—free software, open source apps, RIM executives' favorite downloads–and we don't plan to stop anytime soon.
This week, we've got an innovative mobile news reader; a feature-packed, BlackBerry-specific instant messaging application; a great way to track your BlackBerry's performance and usage metrics; a unique local search utility; and a piece of software that can provide all the hockey-related news and information one could desire.
Get the Scoop with Associated Press Mobile News Network for BlackBerry
The Associated Press (AP) is to U.S. news and information what McDonald's is to fast food. If you're reading an American newspaper, chances are good that you'll end up scanning an AP story. Now, thanks to your trusty BlackBerry smartphone and the new Associated Press Mobile News Network (MNN) application, a world of–easily accessible–information is never further away than your mobile device.
The new AP MNN app offers users a variety of news types, including top news, local, U.S., tech, showbiz, sports, world, elections information, from greater than 700 "trusted sources," according to the AP. The application is completely customizable so you can pick the content you want and ditch what you don't. You can also save specific stories and share them with friends via e-mail. Note that the software isnt perfect, however, as it's still in beta test.
Many of the stories in the AP MNN feed have a small thumbnail image and you can access and view additional video and photo galleries. The AP MNN search function also makes it simple to find specific stories that may not have made it into your feeds.
If you're at all familiar with the WSJ.com Mobile Reader, you'll likely recognize the AP MNN program. That's for good reason: Both applications are based on FreeRange Communications' platform and function in much the same way, though their sources of content differ greatly.
If you're a news junkie looking to explore all the mobile content delivery options, you'll also want to check out Viigo, our recommended mobile RSS reader. (Watch our video tutorial to see Viigo in action.)
UPDATE: We've been informed by the AP that the full MNN application will be available within the coming weeks. You'll be able to find the app at bb.apnews.com when it's officially released.
FREE CIO BlackBerry Newsletter
Get better use out of your BlackBerry and keep up-to-date on the latest developments. Sign-up »
Über Messaging: AIM Instant Messenger for BlackBerry
AOL's AIM instant messaging (IM) service has been around almost as long as the Internet pioneer itself, and it's one of the most popular IM offerings on the Web.
AIM for BlackBerry isn't new, but in the past it was only available to users of specific BlackBerry devices and on certain U.S. wireless carriers. As of early September, AIM is available to all BlackBerry users in United States, and it's expected to hit additional locales in the coming months, according to RIM.
On top of the basic IM functionality, AIM for BlackBerry lets users send images to "buddies," Any new messages they receive appear within their BlackBerry inboxes, alongside e-mail, text and PIN messages. A customized AIM icon also appears on users' home screens whenever a new message is received, and depending on specific BlackBerry profiles, the LED indicator blinks red. The app also integrates with users' BlackBerry address books, so they can place a voice call or send an e-mail message, SMS or MMS from within their IM sessions.
Users can even create custom away messages and manage their online status directly from the BlackBerry home screen without launching the AIM application.
More information on AIM for BlackBerry is available on RIM's website.
myBoxTone Insight for BlackBerry: The Smartphone Doctor
BoxTone, a firm that specializes in mobile user management, has been on our radar since RIM's Wireless Enterprise Symposium (WES) last May. At that event, BoxTone held an amusing contest, called BoxTone Racer, whose winner was named based on the speed of his or her BlackBerry mail delivery.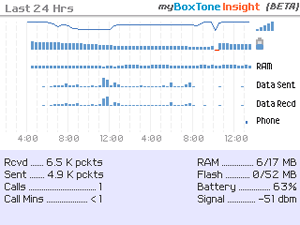 However, it wasn't until BoxTone released its myBoxTone Insight app for BlackBerry that we started paying the company the attention it deserves. myBoxTone Insight is a simple but extremely valuable free BlackBerry application that provides users with a variety of performance metrics so they can gauge the relative "health" of their BlackBerry, without a PC or other device. The free app also takes all those metrics and graphs them over different time periods—one hour, twelve hours, one day, etc.—so trends can be spotted.
myBoxTone Insight's key performance metrics include wireless signal strength, remaining battery life, available free memory, the number of calls placed, and how long each call lasted. Users without unlimited data usage plans will also find a friend in myBoxTone Insight, as it offers numbers on the specific amount of data sent and received via BlackBerry during a given time period.
If, after using the app, you find that you're BlackBerry's not as "healthy" as it could be, check out or tips on how to free up BlackBerry memory and extend your smartphones' battery life.
myBoxTone Insight is still in beta testing stages, so it's possible you might come across a minor bug or two while using it—though our experience has been seamless to date.
Poynt for BlackBerry: Never Miss a Flick
There are plenty of mobile local search tools available for BlackBerry, including a few of our personal favorites, Beyond411 Search, Yahoo oneSearch and Microsoft's Tellme 2.0. But what sets the free Poynt application for BlackBerry apart is its ability to find local retailers—in particular, movie theatres. Users can purchase goods, services or film tickets instantly via BlackBerry, though the site doesn't appear to support the BlackBerry Wallet app quite yet.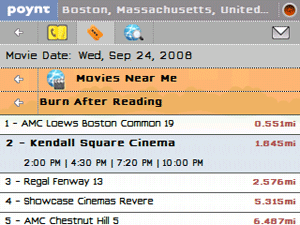 This free BlackBerry app also lets users perform local business searches via SuperPages.com, and it integrates with both BlackBerry Maps and Google Maps to provide maps and driving directions.
The application is also available for the popular RIM BlackBerry Bold 9000 smartphone.
However, it too is in beta at this point. You can expect some issues when employing Poynt for BlackBerry, though we haven't come across anything major.
Keep Your Eye on the Puck with The Hockey News Mobile
We're loyal baseball fans, and we wouldn't trade our Boston Red Sox MLB.com BlackBerry desktop icon for the world. But hockey season's on the horizon, and thankfully, you don't need to exchange one sports BlackBerry launcher for another.
The Hockey News is one of the best sources for NHL-related news and information, and The Hockey News Mobile app provides on-the-go fans with access to the publication's top blogs, columns, features and more, wherever they may be.
The app also "pushes," or automatically downloads, new stories and updates to users' handsets so there's never any need to fetch new material. That means content that has already been downloaded can be read without wireless connectivity. And the application's built-in sharing and feedback mechanisms allow users to send stories to friends and to pass on comments to story authors and bloggers.
The free application is powered by Polar Mobile, and more information is available on the company's site.
Did we miss a noteworthy application? We're always looking for the latest, greatest free BlackBerry apps, so if you've got one to share, drop us a comment below. But first, check out our free BlackBerry downloads page to make sure we haven't already included the program in a previous list.
FREE CIO BlackBerry Newsletter
Get better use out of your BlackBerry and keep up-to-date on the latest developments. Sign-up »