With a greater percentage of the global workforce going mobile, the demand for innovative technology products and service to assist those workers while in the field, as well as to help organizations manage them, has never been higher. Mobile-services-vendor TeleNav is looking to capitalize on that demand via its GPS and location-based services (LBS), like TeleNav Track and TeleNav Navigator.
Related Articles
Review: TeleNav Track Uses GPS to Manage Your Mobile Workforce
What Your Remote Workers Are Really Doing
Study: Mobile Workforce Represents Security Threat in '08
Since March 2007, TeleNav has offered the TeleNav Track mobile-phone-based GPS tracking service with built-in audible and visual, turn-by-turn driving directions, electronic time-sheet reporting, bar-code scanning, jobs alert and change capability, electronic forms and progress reports. But new enhancements to the service, including team timecard functionality, overtime controls, remote signature and image capture, and more, make an already feature-packed mobile resource management (MRM) product better-suited for smaller, crew- or team-based organizations, such as landscapers, roofers and painters.
We reviewed an earlier version of TeleNav Track back in June of 2007, and truth be told, the basic functionality hasn't changed too much. (For our full review, check out "TeleNav Track Uses GPS to Manage Your Mobile Workforce.") Still, there are a number of noteworthy enhancements— an a few noteworthy limitations that remain.
TeleNav Track: An Overview
The Web-based service works in conjunction with software that runs on handhelds. A user clocks an electronic time sheet on a handheld; afterward, the user's workday actions are recorded, including specific locations, where he's going and at what speed, and progress toward completing the day's tasks. Depending on the handheld used and administrator settings, some users are tracked whenever the phone is turned on.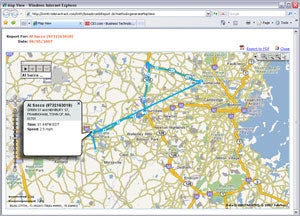 Administrators use a Web interface to monitor their mobile workers. Specific users or groups can be assigned to different administrators, so workers are monitored by their supervisors. And the interface can show maps of employees' specific locations, trails of where they've been–called breadcrumb reports–job completion status or whatever other criteria you may set.
Driving directions are also available thanks to TeleNav's GPS Navigator service, along with a local business finder that can pinpoint the nearest restaurants, hotels, gas stations and movie theaters.
What's New in TeleNav Track 4.1 >>
What's New in TeleNav Track 4.1
Even though the basic functionality of TeleNav Track largely remains the same, some of the new features could mean world of difference to users, depending on their lines of business.
According to Sal Dhanani, TeleNav co-founder and marketing director, the two most notable changes in TeleNav Track 4.1 are the addition of team time cards and signature and image capture functionality.
TeleNav has had timecard management features since its initial release, but version 4.1 expands that functionality: now, organizations with groups, or teams, of field workers, such as landscapers and painting crews, can choose to clock in employees as groups and not just as individuals workers. The new features are meant to make the product more attractive to smaller organizations that may not want, or can't afford, to issue handhelds to each and every worker. Instead, such companies can issue devices only to team leaders or supervisors, who then keep tabs on specific groups of staffers, Dhanani says.
There are also new overtime controls associated with TeleNav Track timecards, though they only work with TeleNav Track LITE, which is available only to Sprint customers. (TeleNav Track LITE is a basic version of the service that doesn't include advanced features like job dispatching, wireless forms, messaging and GPS navigation, according to the company.) The new controls enable administrators to create custom "geofences," around specific areas or work sites, so that users are clocked out when they exit the preset boundaries, helping to eliminate erroneous or falsified overtime charges.
The new version of TeleNav works with a third party, Bluetooth- or USB-connected peripheral–sold separately–to capture signatures on the go. So, for instance, a delivery driver who requires customer signatures for proof of service could use TeleNav Track to collect said signatures and transfer them back to headquarters in a matter of seconds.
TeleNav Track 4.1 also supports a number of digital-camera-equipped mobile devices, so that images can be snapped, geo-stamped with location information, stored in the system and sent through TeleNav Track to the appropriate parties.
And there's a new Hot Key Alert feature, which lets users type a specific combination of keys on their mobile devices–*help*, for instanceto distribute an emergency distress alert to pre-specified supervisors or administrators. The feature is meant for use in dangerous or unfamiliar territory, in which employees may need to contact colleagues instantly.
Finally, TeleNav also added what it's calling a TeleNav Enterprise Server (TES), and if that sounds familiar, there's good reasonthink BlackBerry. The new TES, which is a separate product and must be purchased in addition to the TeleNav Track service, is designed to simplify TeleNav Track integration with organizations' existing infrastructure and applications, such as CRM or ERP apps, payroll, accounting and dispatch systems, TeleNav says.
TeleNav Track's pricing also hasn't changed much since our last reviewthough organizations that want to take advantage of the new TES will have to pay extra. Sprint customers can currently choose from five plans, starting at $9.99 per month up to $21.99 a month. AT&T customers don't have as many choices; the Plus membership costs $12.99 per month and the Premium account, which offers a number of more advanced features, goes for $21.99 a month.
What's Still Missing from TeleNav Track 4.1 >>
What's Still Missing…
When we gave TeleNav a test drive last spring, our main complaint was fact that it was only available on only 75 or so devices, all of which were Sprint/Nextel or AT&T handsets. That means users had to be Sprint/Nextel of AT&T customers to access TeleNav Track.
Unfortunately, that hasn't changed. Though there are now about 100 devices that support TeleNav Track, they're available only through Sprint/Nextel and AT&T–and only 13 of those devices are AT&T handsets. That means organizations that want to use TeleNav Track must have relationships with either Sprint/Nextel or AT&T.
Also, at least half of the supported devices only work with TeleNav Track LITE, which is Sprint-specific. And only a handful of devices, many of which are BlackBerrys, support all of the new functionality found in version 4.1. In fact, only seven of the roughly 100 TeleNav Track handsets support all the features in the latest version of the software.
TeleNav Track also remains a mobile-device-battery hog. Because the application is constantly sending information back and forth between cellular towers, satellites and handhelds, the system eats up battery life. That hasn't changed between versions. You can control how often the service sends and receives information to minimize the battery drain, but I strongly recommend keeping an automobile-friendly charger handy when using TeleNav Track.