Shirts that light up with LED ads. Textiles with embedded temperature sensors. Athletic gear that changes color to show the intensity of an athlete's workout. Technology is not just for your desktop anymore; it has the potential to infiltrate your closet.
MORE ON CIO.com
Nine Can't Miss Geek Chic Standouts
Scented "Fashion" PCs Hit the Catwalk
Wearable technology is being used in sports and medical care to improve performance and help people lose weight. Fashion designers are incorporating tech elements into fabrics to give clothes a modern edge, and gamers are using wearable tech to enhance their gameplay. It's a cultural and technological time when the ubiquitous nature of tech means that people interested in the fusion between portable circuits and fashion can now wear what's "smart" and what computes. And with social networking technologies taking off in certain circles—generating a true look at me syndrome—wearable technology follows that fashion, along a means of self-expression, and picks up where computers, portable or otherwise, leave off.
Activities by researchers and clothing designers with wearable technologies show an active interest in the field.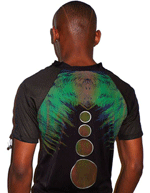 One example of such interest is the 12th IEEE International Symposium on Wearable Computers, which will be held in Pittsburgh starting Sept. 28. Researchers, designers, manufacturers, fashionistas and others will convene to see new developments in wearable computers. Conference goers will see how wearable tech can help people learn to play piano more easily, for example. They'll also take a tour of BodyMedia, Inc., a company dedicated to producing gadgets that monitor such important health data as calories burned, dietary intake, and duration of sleep.
Other big name events include the San Francisco Exploratorium's 2nd Skin Exhibition, which ran April 25th to Sept. 7. Last winter, MIT and Boston's Museum of Science hosted "Seamless: Computational Couture" which showcased wearable technology created by designers from around the world, including a fashion show and interactive exhibit between the audience and wearables. One such project shown was the Charming Burka," which was able to send an image of the wearer's face (or any other body part) beneath the Burka to the audience, via Bluetooth.
Wearable technology is making its way into classes as well. MIT, along with Georgia Tech and University of South Australia, for example, offer courses where students spend time in research labs working on wearable computers, augmented reality and virtual reality.
Professor Lucy Dunne recently started teaching wearable technology and apparel design at the University of Minnesota's School of Design. "The wonderful thing about the position is that it's actually titled a 'wearable technology position.' That might be the first time I've ever seen that, so it's definitely new and definitely an exciting development," Dunne says.
Although it may seem so, wearable technologies are not new. In the 1880s, the first hearing aids were developed. A wearable computer was tested in 1961 at a Las Vegas casino, by Edward O. Thorp and Claude E. Shannon, who created a pocket-sized analog computer used for predicting roulette wheels." CuteCircuit made headlines in 2006 with its "Hug Shirt", in which sensors, set off by the heat of skin, touch and your heartbeat, "give a hug" to another person. And don't forget the pocket watch, which debuted in the 1500s, though wristwatches hit the mainstream when British soldiers wore them at the front in World War I.
"Expression is arguably the most important function of clothing today —and arguably one of the key reasons we wear clothes at all, historically speaking— and it seems natural that technology will eventually influence the ways in which we express ourselves and communicate through clothing," Dunne says.
It's hard to isolate the exact tipping point that's caused this recent uptick in interest in the field, but wearable technology, or "wearables," as insiders refer to the field, have caught the attention of many designers from the textile and engineering industries. Designer Moritz Waldemeyer suggests that designer Hussein Chalayan's collections shown in Paris during the past two years has something to do with it. Chalayan, one of the few internationally renowned fashion designers to incorporate technology into his creations—dresses that mechanically morph (one with a motorized rising and falling hemline), and and more recently, a few garments that emit light using lasers—has shown the fashion industry the different aesthetic technology can bring to designs.
When textile designer Kerri Wallace discusses what she sees as a growing trend in the use of technologies in the fashion world, she uses words that evoke change and embedded intelligence. Wallace says that the tipping point occurred with, "the excitement of items and products being intelligent and moving this intelligence away from conventional predominately 'hard' products, with the possibility and potential to become 'soft,' 'flexible' and 'invisible.'"
Fashion in the Eye of the Designer
This is technology as art, which means that different players have varied interpretations of the form. Maggie Orth, founder and CEO of International Fashion Machines, takes the big view. She points out that wearables combine elements of soft and hard materials, traditional and modern technologies, and old and new aesthetics. And she argues that a wearable is "an extension of self," so therefore a car could included be in the category because it's exo-skeleton like.
Others describe wearables as the artistic meeting of form and function.
"There are the hearing aids, pace-makers, tiny radios and music players, Bluetooth earphones, eyewear with built-in screens, wrist PDAs; the list is seemingly endless," CEO of Aniomagic Corp., Nwanua Elumeze says. "I would categorize 'wearables' as a class of computational artifacts that are intended to be worn, distinguishable from things one needs to remember to take."
Some argue that to be considered as a wearable, beyond something worn, technology and textile must converge. However, electronic textiles ("etextiles" in the field) —fabrics with electronics woven into them—aren't the only form of wearables. Some use sensors, heat, motors, computers and solar power to work.
Not only do designers have access to work with a variety of textiles and embellishments, but they can also play with technology types, Leah Buechley, research scientist for the Craft Technology Group at University of Colorado-Boulder, points out. "Wearables give designers a whole new palate to work with".
Waldemeyer, the designer who's brought technical aspects to Chalayan's work, acknowledges that although Chalayan's runway models may sport some tech-inspired creations, he really can't see wearables being sold at mainstream apparel stores. For the foreseeable future at least, he believes that the field will continue to play a role in niche markets, he says.
Even so, there are wearable products that can tell us the time, allow us to express ourselves through light-up signage, let us interact better with video games and allow others to monitor how fast our hearts are beating. And wearables attract a wider audience to technology. Some women for example, find the wearables field to be attractive transition into technology.
"It makes engineering a little bit more sexy," says Sabine Seymour, founder of Moondial, a maker of fashionable wearables.
Buechley, who's made DIY (do-it-yourself) kits, complete with computer chips and conductive thread, for crafting wearables at home, also offers a wearables workshop. Through the program, Buechley's seen a growing number of young girls enjoy learning how to merge electronics with textiles.
Ah, But the Cost
There are challenges to the wearables field, including cost and mainstream acceptance. Return on investment can be low, especially if the technical work is outsourced and in turn, such gear is sold with a high price tag. For example, the average person may not want to spend over $300 on a winter coat, but for those that participate in outdoor winter sports, this sort of price tag is fair for a heat up jacket by Burton. A fair price tag may just depend on personal necessity.
According to Seymour, the wearables field will mature in the next 10 years. However, for wearables to become accepted by the masses, fashion aesthetics will have to change just enough to incorporate the added technology, yet not enough that society won't find the items visually attractive, let alone fashionable.
Kerri Wallace, a textile designer who has made Motion Response Sportswear that incorporates heat-sensitive inks into the clothing for athletes, agrees with Seymour. "As a firm supporter of 'invisible' technologies, I believe for wearable technologies to really succeed in the mainstream, the delivery and final articulation must be seamless and perform, behave, handle and look just as unobtrusive as those wearables without technology (traditional/conventional fabrics, fibers, clothing and materials)," Wallace says.
The public fascination with science fiction can hinder the field as well. Spy gadgets, from the much loved James Bond series, The Terminator, or Get Smart, are exciting in theory, but inventing a device that allows friends to communicate through hats, similar to Smart's "Cone of Silence," is very far off, Orth of Fashion Machines insists. For example, there has been discussion about a flexible Nokia 888 phone, yet the concept was only created for a design contest and no such phone is currently available to consumers.
Wearable technology isn't magic, Orth notes.
Dunne adds, "Long-term acceptance of wearable technology depends a lot more on what it has to offer users than on the prevailing fashion trends. Trends come and go—wearables ideally would gain acceptance more like other gadgets than like a fashion trend. You wouldn't say that the personal computer "trend" is likely to end anytime soon—that's more of what we're aiming for."
Over time, engineers are learning to take garment construction more seriously as a craft, Seymour says. Yet, she adds, both designers and engineers need to have an "understanding and mutual authority" for the field to reach its full potential.