The smashing success of the Nintendo Wii videogame console has surprised everybody—from hard-core gamers to industry analysts to the many senior citizens now playing videogames on a Wii to stay fit and bond with their grandkids.
MORE ON CIO.com
Apple's Networking and Supply Chain Mistakes Take a Bite Out of Its Shine
All I Wanted for Xmas Was a PS3!
Study: Apple, Nokia, Dell Tops Among Global Supply Chains
Nintendo, which to this day can't—or won't, depending on who you ask—keep enough Wiis on the shelves of U.S. retailers, seems most surprised. "Clearly they failed to anticipate the demand that they got," says Michael Pachter, a research analyst at Wedbush Morgan who's an expert on the videogame industry.
Nearly two years after the Wii's lauch, U.S. consumers still can't walk into a retailer such as Best Buy or Wal-Mart and pick one up off the shelf. Online retailers haven't done much better, though secondary market sites like eBay have Wii consoles in stock—for a price jacked up from the $249.99 retail cost of the console. (Other sites, like Newegg.com, require customers to buy Wii "bundles," which can total nearly $500.)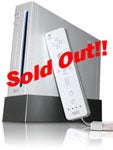 Japan-based Nintendo has been mum on why there's been such a mind-blowing shortage of Wiis in the United States. And industry watchers, bloggers and frustrated shoppers have been left to wonder: Is there a shortage of components in the manufacturing process? Is there an underlying supply chain issue? Is it related to the weak U.S. dollar? (To read about Apple's recent mistakes, see "Apple's Networking and Supply Chain Mistakes Take a Bite Out of Its Shine.")
Or is Nintendo purposefully withholding Wiis from U.S. customers—a shrewd marketing tactic to artificially create intense demand?
"Conspiracy theorists are saying that since Nintendo has already met their end of March goals (with 6 million units shipped), and are building up supply, continuing the demand, and ensuring awesome second quarter sales," speculates a May 2008 Geeksugar blog. "Unfortunately, with American retailers now running at 2.5 percent availability, some are expecting the Wii shortage to continue through 2009."
Failures in Pricing and Demand Planning
Videogame console manufacturers—Nintendo, Sony and Microsoft top the list—have a penchant for relying on historical trends to set their prices, which have usually hovered near $300, Pachter notes. But that changed during the last cycle of new product introductions, when Microsoft launched the Xbox 360 in 2005 and Sony unveiled its PlayStation3 in 2006. (To read about Sony's massive problems with the PS3 rollout, read "All I Wanted for Xmas Was a PS3!")
The hard-core Xbox started at $400 and the technically-amazing PS3 at $600, "and that didn't work very well," Pachter says. "I think that Nintendo, figuring that their technology was kind of last generation, were just not just thinking about going higher than $300. They certainly could have charged $400 until they exhausted that demand, then cut the prices to $300 and exhausted that demand, and they always would have been able to supply them."
"So," Pachter adds, "the pricing was wrong."
The second problem: Nintendo was unable to anticipate the Wii's demand, which has features like its Wii Remote wireless controller that have made it popular with kids and adults alike. Again, Pachter contends, Nintendo executives used historical console sales, such as Sony's PS2 sales, as their guide: Nintendo said it was going to sell 14 million consoles in the first year, he points out, then the company increased that to 16 million and ultimately wound up selling 19 million.
"It never occurred to them that the demand for the Wii would outstrip demand for the PS2," Pachter says. "It didn't even sound possible. It didn't sound possible to anybody."
Inside the Wii's Guts
Many gamers and industry watchers have been left to speculate that Nintendo's guts—the chips, CPUs, disk drives and the like—are difficult components to come by and quickly assemble. (That was certainly the case for delays with the next-generation PS3, with its first-of-its-kind processor, Blu-ray Disc drive, 60GB hard-disk drive, Wi-Fi adapter, online connectivity and wireless controllers.)
A December 2007 EE Times article looked under the Wii's hood as well as at its packaging and assembling processes. "After taking a look at the components inside the Nintendo Wii after it was released, there was nothing revolutionary or advanced found within," writes Gregory Quirk. In looking at the "custom-made Hollywood CPU and Broadway graphics processor," for example, there was no reason that those parts should be in short supply.
Quirk speculates that, perhaps, packaging problems with the console could be one source of delay. "It is not a simple or cheap process to create a new set of molds in order to increase the number of shells produced, and the plant may not have the capacity to generate more shells even if it received additional molds," he writes. And making sure that the Wii's white color is consistent across production facilities is a critical—yet not easy—task.
Bruce Richardson, chief research officer at AMR Research, calls the Wii shortage a "curious" situation. He notes that one of the challenges that companies like Nintendo face is getting the "life cycle right: trying to get to profitability as you try to maximize manufacturing," he says. "This is really a timing issue where you can produce to demand and still make money, versus finally getting the economies of scale in manufacturing and distribution only to find out that the demand window is closed."
Still, Richardson, like many others, is left to speculate about something magical in the Wii's components. "There probably is something inside that box that's hard to produce in volume," he says, "because I don't think the rest of its contents is any kind of mystery."
The Dollar Crashes the Wii's Party
At the same time as Wii's popularity began taking off—the Wii has set many new records for console sales that dwarf the competition—the value of the U.S. dollar began tanking in worldwide markets. "When [Nintendo executives] priced the thing in fall of '06," Pachter says, "I don't think they expected the dollar to drop 20 percent against the yen."
And that is one reason, Pachter contends, why the Wii is in supply-demand balance in Europe and Japan right now, while the U.S. still has chronic shortage. "The dollar has been so putrid that it actually costs them profit," he says. "It's less profitable to sell the Wii in the U.S. than it is in Europe and Japan. So as long as demand is higher than supply, they would rather satisfy 100 percent of demand in Europe and Japan before satisfying demand here."
Pachter says that Nintendo has denied this claim. "They've called me to tell me I'm wrong," he says. (Nintendo media relations did not return a call seeking comment for this article.)
But the numbers don't lie. According to Pachter, the Wii has been in supply-demand balance in Japan since roughly six months after the Wii came out; it's been in supply-demand balance in Europe for the last year. "And it's been sold out here," he says. "It's clear from the numbers that they're starving the U.S. And they're not doing it to screw with us, they're just doing it because as long as they're going to be sold out, they'd just rather be sold out here."
How Much Does the U.S. Shortage Actually Hurt Nintendo?
Even with the fluctuating currency issues, Nintendo is far outpacing its rivals in console profitability. A May 2007 analysis of the profit/loss derived from the consoles of Microsoft, Sony and Nintendo showed that Microsoft lost at least $126 per Xbox 360 unit and maybe as much as $300; Sony's PS3 lost $300 per console; and the Wii delivers a $92 of profit for each unit sold.
Nintendo announced in its most recent quarterly results that it had sold 5.2 million Wii consoles in the quarter, a 50 percent increase compared to the same period in 2007, and that profits jumped 34 percent. In Japan, however, Wii sales were cut in half. In total, Nintendo said that it had sold nearly 30 million Wiis since 2006.
Recent NPD Group data showed that since January 2008, Nintendo has sold 4 million Wii consoles, compared with Sony's 1.8 million PS3s and Microsoft's 1.6 million Xbox 360s.
So while Nintendo's financials look good overall, has the shortage affected the long-term prospects of the Wii in the ultracompetitive U.S. market? "Well, it depends on if you think that a loss sale of a Wii results in someone buying a competitive product or substitute, so they won't buy a Wii in the future," Pachter says. "And they [Nintendo] don't think so, nor do I."
In addition, because manufacturing costs are high, he adds, Nintendo appears to be reasoning that a "deferred sale" in the U.S.—meaning that consumers will most likely wait for a Wii and eventually buy one—is a strategy that's working quite well.
AMR's Richardson is less convinced. "I think you lose your lead—for every product that exists on the market they'll soon be a better version," he says. "In consumer electronics, you've got to be very fickle and pay close attention to the product lifecycle. You have to take a much more holistic approach from linking all of that demand sensing back to supply planning. And if this stuff is all coordinated inside Nintendo, it doesn't appear that way in the U.S. market."
So when will the U.S. shortage end? Nintendo pledged in mid-2008 to increase manufacturing capacity over the summer to meet the ongoing demand. It plans to sell 25 million Wiis during its upcoming fiscal year (which ends March 2009). Pachter expects Nintendo to manufacturer around 27 million consoles.
But, he adds, "It's just a question of when are they going to start showing up."